CCIEE Holds 74th Monthly Economic Talk
Time:2015-08-28
source:CCIEE
On the afternoon of 28 August 2015, CCIEE held its 74th Monthly Economic Talk at the World People's Palace Hotel under the theme of "New-Type Urbanization and Ecological Footprints". CCIEE Executive Vice Chairman Zhang Xiaoqiang presided over the meeting. Speeches were heard from Pan Jiahua, Director of the Institute for Urban and Environmental Studies of the Chinese Academy of Social Sciences (CASS), Li Lin, Executive Director of Programs at World Wildlife Fund (WWF) China, Jiang Nanqing, China National Officer of the United Nations Environment Programme (UNEP), Li Liyan from Climate Change Department of National Development and Reform Commission (NDRC), Dr. Tong Hefeng from the Institute of Scientific and Technical Information of China, and Zhang Huanbo, Assistant Research Fellow of the Economic Research Department of CCIEE.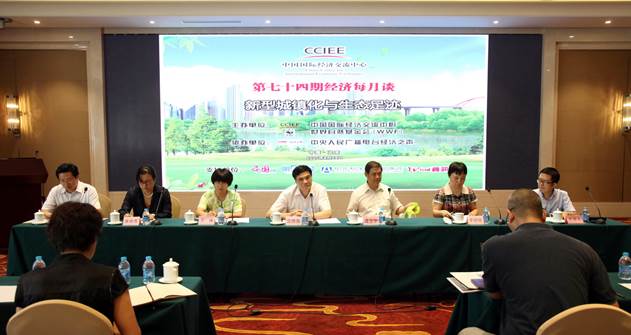 Pan Jiahua expressed the view that the economic transformation China is undergoing calls for a new type of urbanization led by the tertiary industry. It should be quality-oriented and driven by consumption and domestic demand. It requires us to realize balanced resources distribution, change our way of thinking and fully appreciate the rigid constraints posed by the environment. Li Lin identified a positive correlation between the urbanization rate of Chinese cities and the growth rate of ecological footprints during the surging period of ecological footprints in China. Given its firm resolve, rapid development, effective management system and keen understanding of the constraints of natural recourses, China is in a good position to find a low-carbon path of development. Jiang Nanqing explained that the key to sustainable urban development is to build environmentally sound, energetic and sustainable cities. Improvement need to be made on the basis of the principle of responsible, transparent and good governance. Li Liyan underscored the importance of green low-carbon development, especially low-carbon development, and suggested the use of clean and carbon-free energy. Tong Hefeng pointed out that how to mitigate the enormous pressure of urbanization on eco-environment is a pressing issue China has to consider in pursuing the new type of urbanization. Zhang Huanbo noted that the large-scale and high-speed urbanization will continue for many years to come in China and pose many challenges. It is therefore important to give greater publicity to the concept of low-carbon consumption.
After giving the speeches, the experts answered questions from the press and audience. Some CCIEE research fellows and representatives of some CCIEE member organizations, businesses, research institutions and the media attended the meeting.