CCIEE Holds 73rd Monthly Economic Talk
Time:2015-07-22
source:CCIEE
On the morning of July 22, 2015, the 73rd CCIEE Monthly Economic Talk, themed Economic Analysis in the First Half of 2015, was held in Beijing Media Centre Hotel. It was chaired by Chen Wenling, CCIEE Chief Economist, and addressed by Ren Haiping, Deputy Director of CCIEE Strategic Research Department (SRD), Wang Tianlong, Associate Research Fellow of SRD, and Liu Xiangdong, Associate Research Fellow of CCIEE Economic Research Department.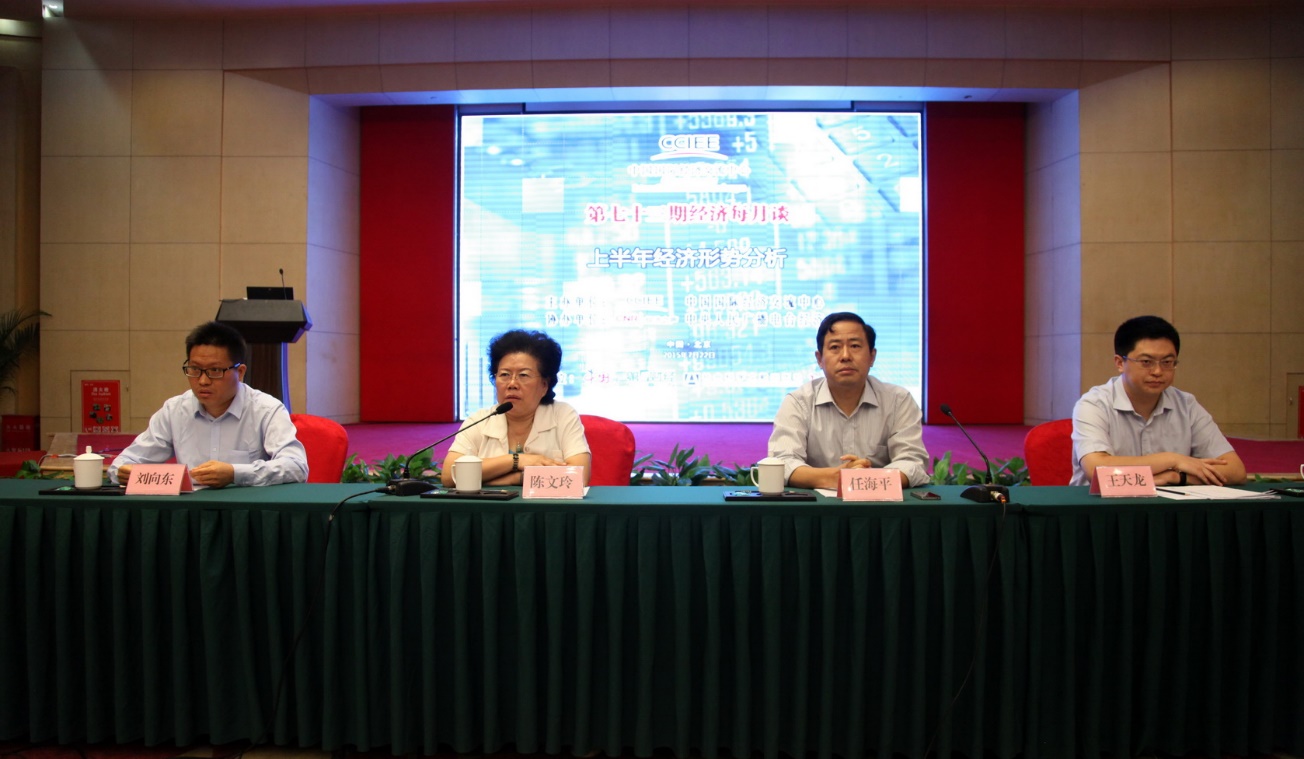 Ren Haiping examined the frequently changing international landscape. As he put it, accelerating transformation is seen worldwide in politics, military power, science & technology and culture; the reshuffling of global balance of power and the evolution of international and regional orders are two underlying trends; Ukraine, the Middle East, and the Asia-Pacific region constitute three major hotspots; four bilateral relationships—China-US, China-Russia, US-Russia, and European-US– are critical to the world's development and settlement of regional hot-button issues. In response to such situation, China should play a greater part in the evolution of international order, strive for better relationships with major countries, value its comprehensive partnerships with other developing countries, aim at good neighbourliness, proactively participate in multilateral activities, and win more say in the international arena.
Wang Tianlong analysed global economy and current concerns. He noted that major developed countries were preoccupied with their own problems while emerging economies subject to increasing turmoil. Against this backdrop, what require our close watch are the debt crisis, Federal Reserve's interest rate hike, diverging central bank policies worldwide, joint regulatory efforts of US and European countries, and accelerating technological and industrial revolution. According to Liu Xiangdong's analysis of China's economy, the GDP growth in the past six months is not overrated and signs of steady recovery after bottoming out are manifest. This trend will continue if policies to maintain steady growth are leveraged properly.
At the end of the talk, experts took questions from the audience and media. Researchers and representatives from member entities of CCIEE, enterprises, institutes and the media attended the meeting.