CCIEE Holds 80th Monthly Economic Talk
Time:2016-02-29
source:CCIEE
On 23 February 2016, CCIEE held the 80th Monthly Economic Talk on the theme of "Implementing Free Trade Area Strategy at a Faster Pace". Mr. Zhang Xiaoqiang, Executive Vice Chairman and CEO of CCIEE, presided over the talk. Mme. Chen Wenling, Chief Economist and Assistant CEO of CCIEE, Mr. Huo Jianguo, former president of Chinese Academy of International Trade and Economic Cooperation (CAITEC) of MOFCOM, and Mr. Zhang Huanbo, Division Chief for Reform and Opening up of the Economic Research Department of CCIEE, respectively gave a speech.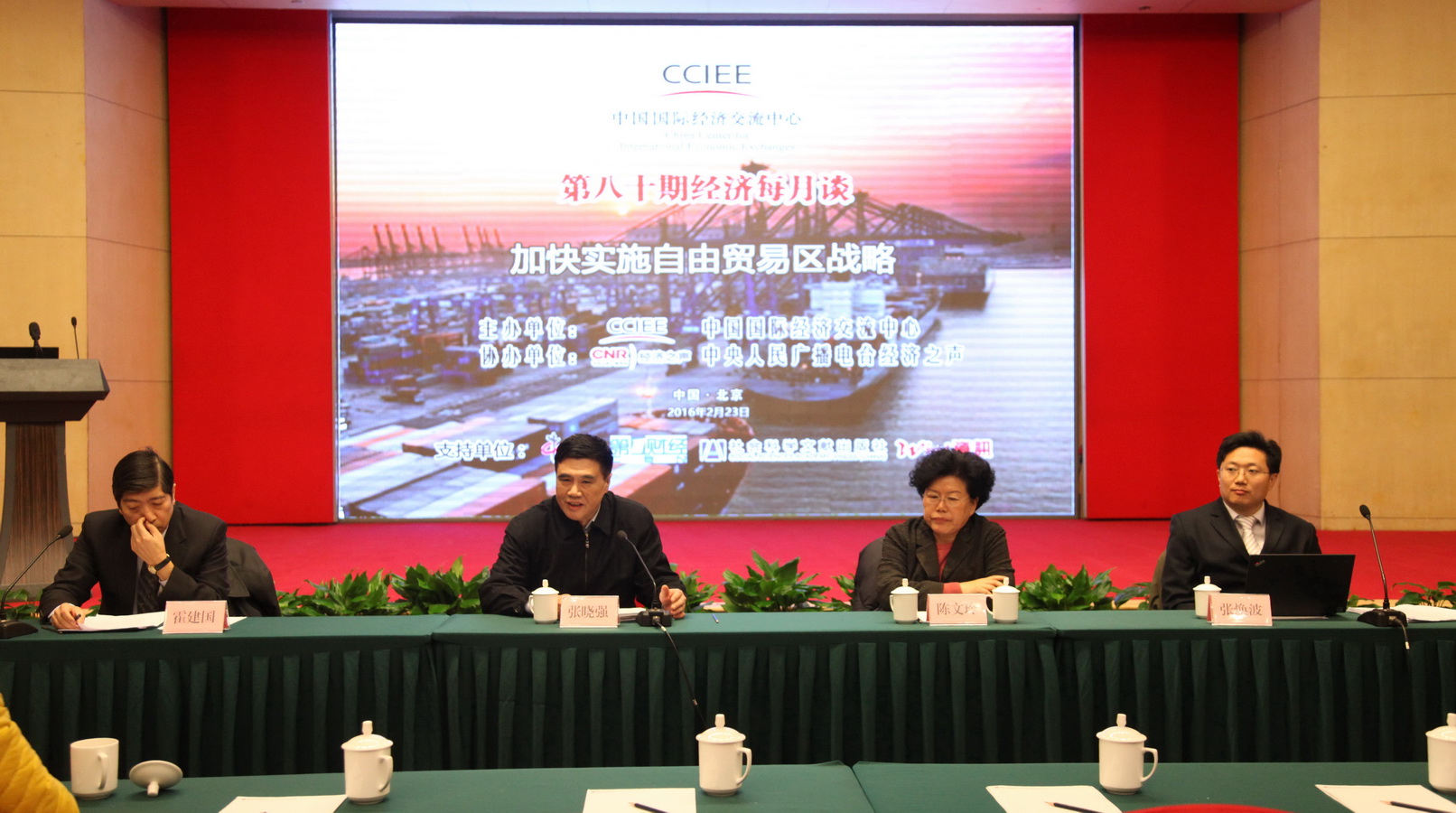 Mme. Chen Wenling gave an update on the global trade situation and China's free trade area (FTA) strategy, and shared her thought on how to speed up implementation of the strategy. She noted that the development of free trade areas has become a global trend of the time. To form a FTA strategy and a pathway to implement it and establish a FTA network is an important part of China's opening-up endeavor. She suggested that China adopt such a FTA format in regions with the right conditions and develop purpose-specific free trade zones to leverage regional advantages and disseminate best practices. Only in this way can we adapt to more stringent trade and investment rules and bring our reform and opening up to a higher level.
Mr. Huo Jianguo made a special presentation on the successful experience of Shanghai Pilot FTZ and how it has been applied elsewhere. He also analyzed the significance of the pilot zone's success for China's effort to transform and upgrade economy and build a new open economic system. He believed that in the process of opening up, we need to keep proper pace, get priorities right and take a scientific and rigorous approach. He was confident that bold reform measures will not only firm up our confidence in the reform and opening up, but also generate new momentum of growth, for ground-breaking reform measures, once fully implemented, will play a pivotal role in maintaining stable economic performance for this year and lay a good foundation for the implementation of the 13th Five-Year Plan.
Mr. Zhang Huanbo introduced China's pre-establishment national treatment plus negative list management model of foreign investment. By analyzing the distinctive foreign capital management systems developed in the US and UK, he elaborated on how China can build a sound negative list system while upholding national security. He noted that we can improve regulation during and after investment under the negative list model by improving the security review mechanism, implementing the Anti-Monopoly Law more effectively, building better social credit and legal systems and fostering diversified social platforms of joint regulation.
After giving speeches, the experts answered questions from the media and audience. Some CCIEE researchers and representatives of its member organizations, relevant businesses and research institutions and the media attended the meeting.