On 26 October 2016, CCIEE held the 88th Monthly Economic Talk. The theme is Analysis of Economic Situation in the Third Quarter. The meeting was chaired by Mr. Zhang Xiaoqiang, Executive Vice Chairman and CEO of CCIEE, speakers included Mdm. Chen Wenling, Chief Economist of CCIEE, Mr. Zhang Liqun, research fellow at the Development Research Center of the State Council, and Mr.Xu Hongcai, Deputy Chief Economist of CCIEE.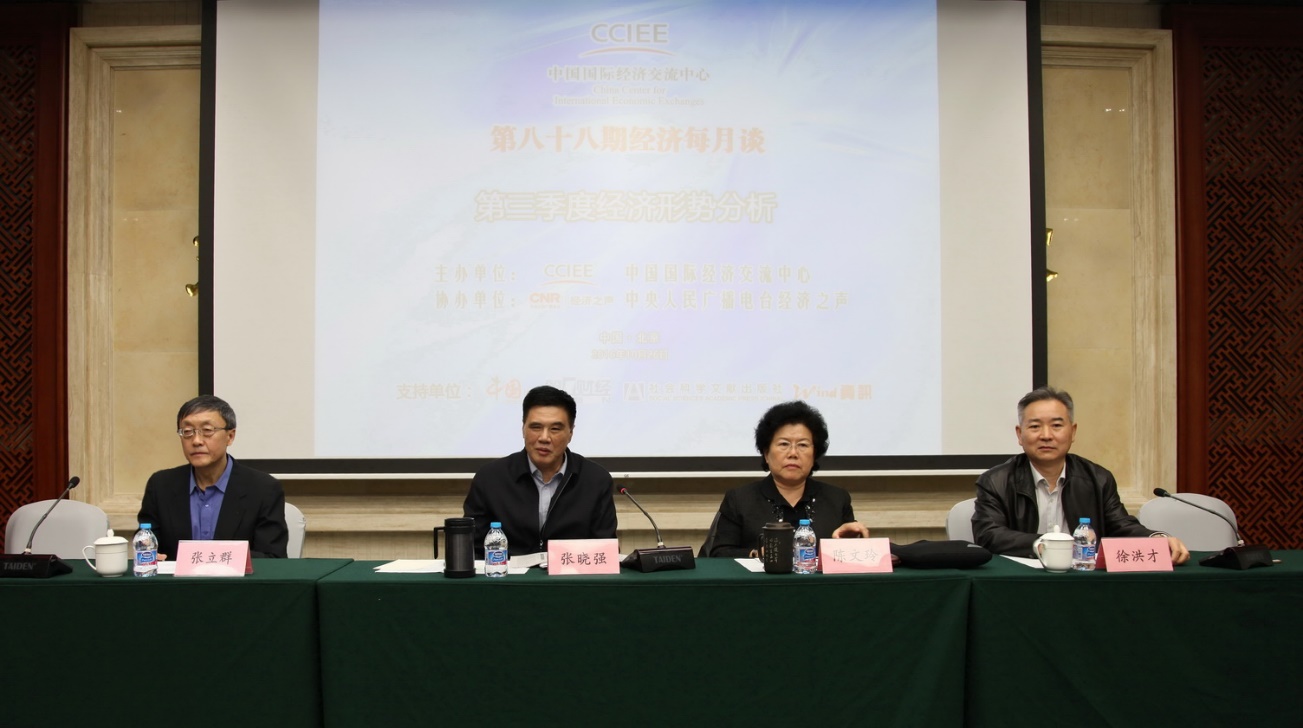 Mdm. Chen Wenling reckons that the world economy is still in a slump, and economic recovery is unlikely to happen in the short-term. The world economy is in a process of restructuring and upgrading, and has encountered varying degrees of challenges. Different countries have actively taken different policy measures to respond to the situation. She believes that China is playing a more important role on the world stage. The impact of the Chinese factor on the growth of the world economy and its influence on the world economic structure is growing day by day.
Mr. Zhang Liqun analyzed the aspects of infrastructure investment, real estate investment, manufacturing investment and new urbanization, and came to conclusion that our economy has just reached the trough. It is essential for us to start managing both the demand and the supply side, combine short-term and long-term goals together with stable demand and steady growth. We should put effort into promoting supply side structural reforms, constantly consolidate the basis for middle and high-speed economic growth, and improve the quality of economic growth.
Mr. Xu Hongcai perceives mixed feelings for the current macroeconomic situation in China, however he thinks the positives outweigh the negatives. Whilst the positive factors are accumulating, multiple challenges are to be faced in the near future. He suggested that the future macroeconomic policies should focus on achieving steady progress, and the principal policy pace should remain unchanged.
After the speeches, experts exchanged views with the media and audiences on the issues raised. Researchers and members of CCIEE, enterprises, research institutes and news media participated in the event.