Executive Vice Chairman Zhang Xiaoqiang meets with ENGIE President for Global Natural Gas Jean Marc Leroy
On 29 September 2016, Mr. Zhang Xiaoqiang, Executive Vice Chairman and CEO of CCIEE, met with Mr. Jean Marc Leroy, ENGIE President for Global Natural Gas. Mr. Jean Marc Guyot, President and CEO of ENGIE China, Ms. Zhang Ying, Executive Vice President of ENGIE China and Mr. Liu Hengwei were present at the meeting.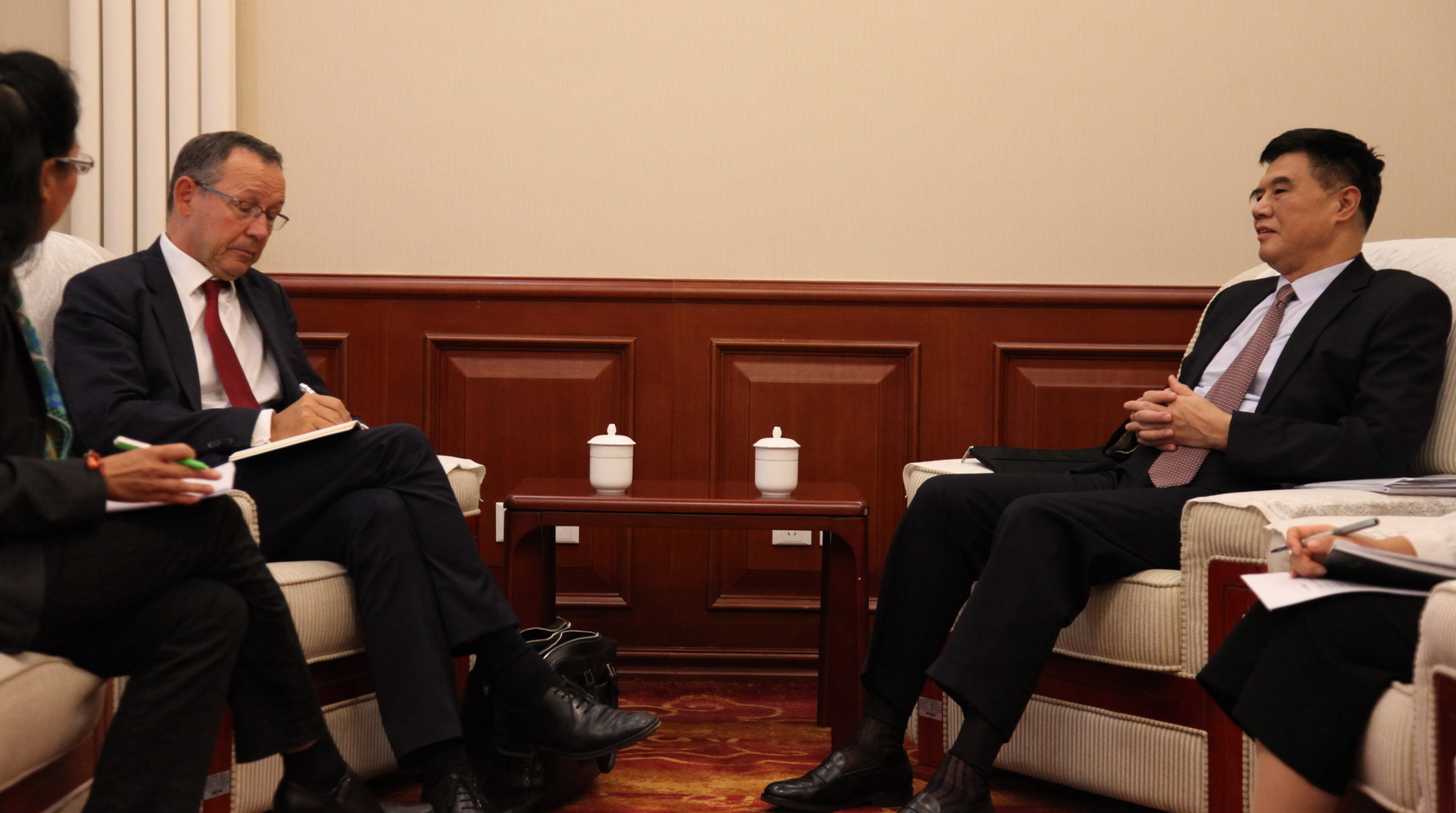 Mr. Zhang Xiaoqiang said that France has made great achievements in energy development and ENGIE occupies an important position in the energy world, especially in the LNG field. Mr. Zhang briefed him on the changes taking place in China's energy production and consumption structure, its vision for energy development as enshrined in the 13th Five-Year Plan, and China's efforts to bring its carbon emission to peak and the progress it has made. He noted that it is particularly important for China to increase the proportion of renewable energy by developing new energy like wind and solar. It also needs to accelerate the development of LNG and strengthen infrastructure building for natural gas. This means greater room of cooperation between China and ENGIE.
Mr. Jean Marc Leroy agreed to Mr. Zhang's opinion. He briefed him on ENGIE's business in China, including its cooperation with Beijing, Shanghai, Chongqing and Chengdu in distributed energy and efficiency management of natural gas, and cooperation with CNPC in building gas storage facility, both of which have achieved good results. He said that ENGIE's development strategy conforms to that of China, which lays a solid foundation for future cooperation. Looking ahead, ENGIE will focus on enhancing the flexibility of natural gas supply to meet seasonal demand. Meanwhile, it will integrate power, gas and heat supplies by giving full play to the role of natural gas as an adjustment tool to balance different systems so as to achieve win-win results and the maximum benefits. ENGIE also plans to make a difference in the fields of LNG retail, biogas, geotherm and hydrogen energy.
Mr. Zhang fully recognized what ENGIE has achieved in its cooperation with China, and pointed out that the concept of integrating power, gas and heat supplies for coordinated development is particularly noteworthy. In the future, as China pays more attention to clear energy, its cooperation with ENGIE will further deepen.