On 21 November 2016, CCIEE held the 89th Monthly Economic Talk with the Theme of Facing Future China- US Relations: Challenges and Opportunities. Mr. Zhang Dawei , Vice Chairman and Secretary General of CCIEE chaired the meeting. Speakers included Mdm. Chen Wenling, Chief Economist and Deputy CEO of CCIEE, Mr. Ruan Zongze, Executive Vice President and senior fellow at CIIS, Mr. Wang Huiyao, Chairman of Center for China and Globalization and Mr. Sun Zhe, Researcher and Co-director of the China Project, Institute of international relations and public affairs, Columbia University.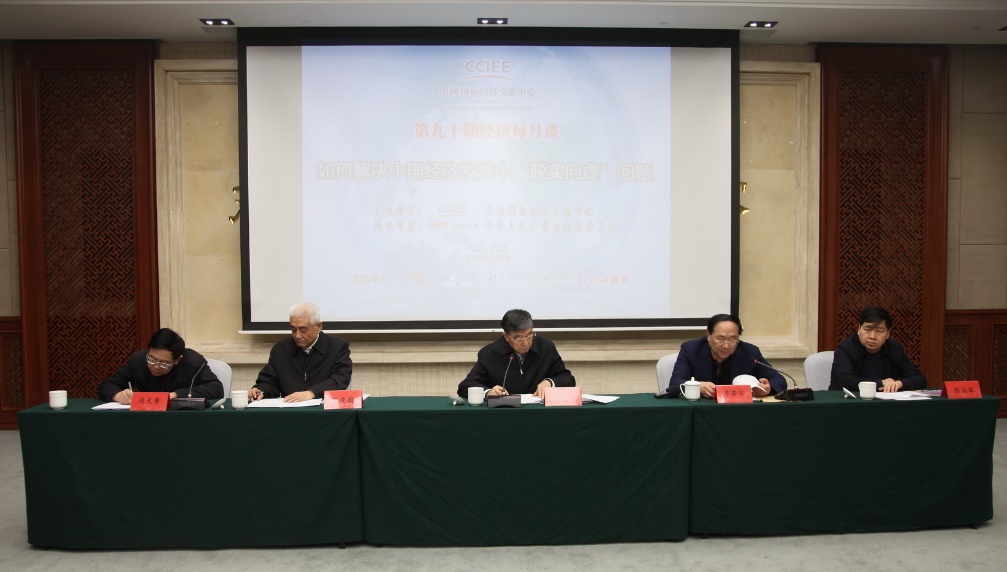 Mr. Ruan Zongze introduced the Black Swan Event in the US election in 2016 and the underlying reasons why Trump could take weakness into strength. Mr. Ruan pointed out that China- EU relations would encounter both challenges and problems, however, the cooperation between China and U.S. should be still the mainstream.
Mdm. Chen Wenling considers that China and the US are community of common destiny under the circumstance of economic globalization. Cooperation is the unique way between China and the US. She suggested that both sides should eliminate strategic distrust, enhance communication and coordination and improve policy effectiveness in cooperating in the future to look after chances by building new consensus, new opportunities, new paths and new patterns.
Mr. Wang Huiyao proposed that China- US relations are faced with both certain uncertainties and major opportunities as well after Trump's election to the presidency. He gave eight pieces of advice for the future China-US relationship and believed that China and the US may play greater influence when both side could make efforts to further enhance strategic distrust and improve the global governance mechanism.
Mr. Sun Zhe perceived the changes to the world and to the bilateral relations caused by President elect in the US from a long-term historical perspective. He suggested that we should catch our historical opportunity to play china's leading role in globalization and improve global governance by analyzing and rethinking US election thoroughly and profoundly.
After the speeches, experts exchanged views with the media and audiences on the issues raised. Researchers and members of CCIEE, enterprises, research institutes and news media participated in the event.