Ms. Chen WenLing, CCIEE Chief Economist Meets with Mr. Nelson NG, Singapore Embassy Counselor
On 15 December 2016, Ms. Chen WenLing, CCIEE Chief Economist met Mr. Nelson NG, Singapore Embassy Counselor in CCIEE.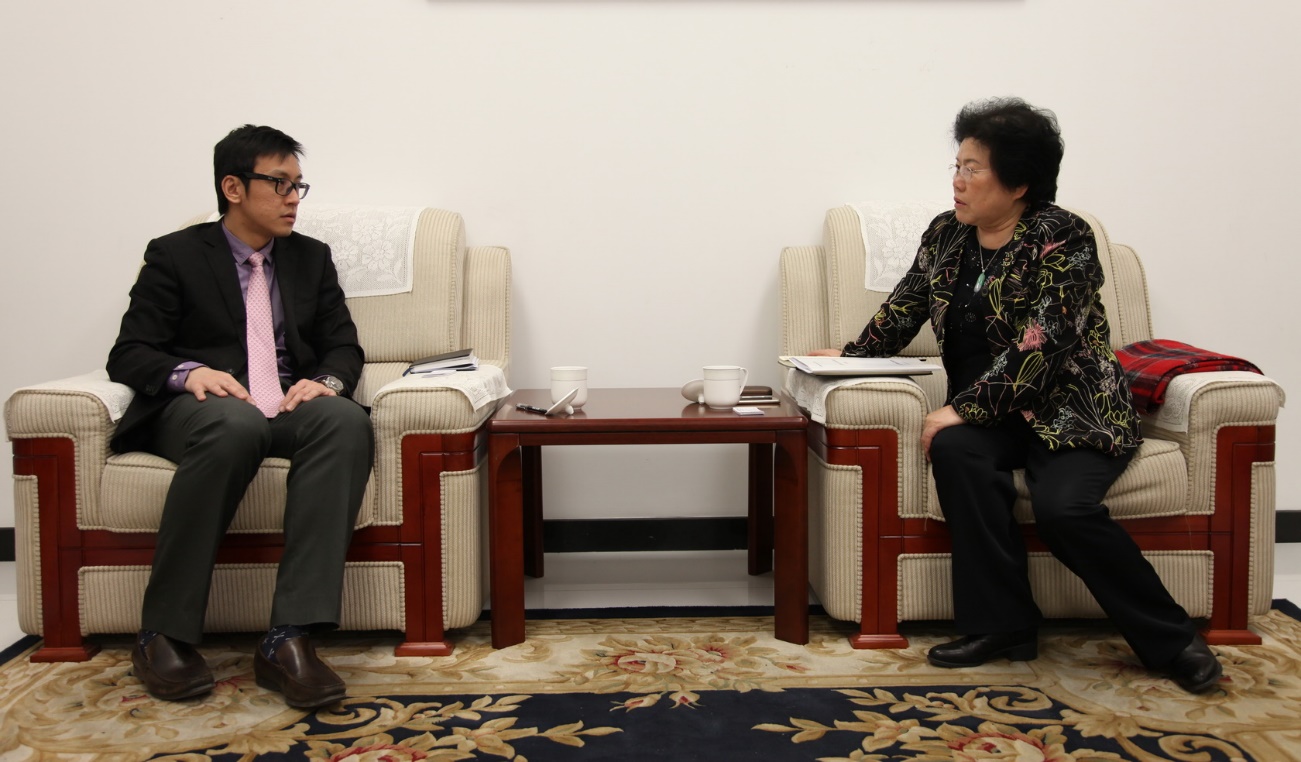 Ms. Chen Wenling briefly introduced the Thirteenth Five-year Plan and the current economic situation in China. She said that China would make supply side structural reform as the main line, guided by innovative, coordinated, green, open, and shared development philosophy and advance in a Five-in-One approach, using the five major tasks of de-capacity, destocking, deleveraging, cost reduction and improving weak links as the gripper. The Chinese government has done a lot of work in the recent G20 summit, aiming to vigorously promote the global structural reforms. Supply side structural reform needs to do four operations of "addition, subtraction, multiplication and division", which means to increase effective supply, to enhance enterprises' competitiveness driven by innovation, and to achieve industrial restructuring and upgrading by structural adjustment. The Chinese government has made arrangements for the unemployment problem in the process of structural adjustment. Through the establishment of special funds to solve training, re-employment, subsidies and other resettlement work to promote the smooth transfer of unemployed persons.
They two made deep discussion and exchanges in terms of bilateral and regional economic cooperation. Ms. Chen Wenling pointed out that under the current international situation, countries in the Asia-Pacific region should unite to promote the development of the Asia-Pacific free trade area for common goals and interests so as to achieve sustained economic prosperity in this region.
Mr. Nelson NG expressed that the bilateral relations between China and Singapore were advancing with the times with extensive cooperation. Besides the Suzhou Industrial Park and the Tianjin Eco-City, the two countries started the third intergovernmental cooperation project with Chongqing as the center, aiming at connecting China's western development and the Belt and Road strategy to achieve interconnectivity among China's western region, Singapore and other neighboring countries.
Ms. Chen Wening agreed with Mr. NG's viewpoint and she thought that this would play a leading exemplary role among Asia-Pacific and Asia-Europe interconnection。
In addition, they also exchanged views on deepening cooperation between the two organizations and further strengthening cultural exchanges.