On March 16, 2017, CCIEE held the 93rd Monthly Economic Talk under the theme of Interpretation of the 'Two Sessions' (NPC & CPPCC). Wei Liqun, Executive Vice Chairman and Director of the Academic Committee of CCIEE, presided over the meeting. Zhang Xiaoqiang, CEO and Executive Vice Chairman of CCIEE, Zhang Dawei, Vice Chairman, Secretary General of CCIEE, Chen Zuxin, Director General, party member of the Research Office of the State Council and member of the drafting group of China's Government Work Report, and Fu Chengyu, member of the CPPCC Standing Committee and former Chairman of China Petrochemical Corporation (Sinopec Group), delivered speeches respectively.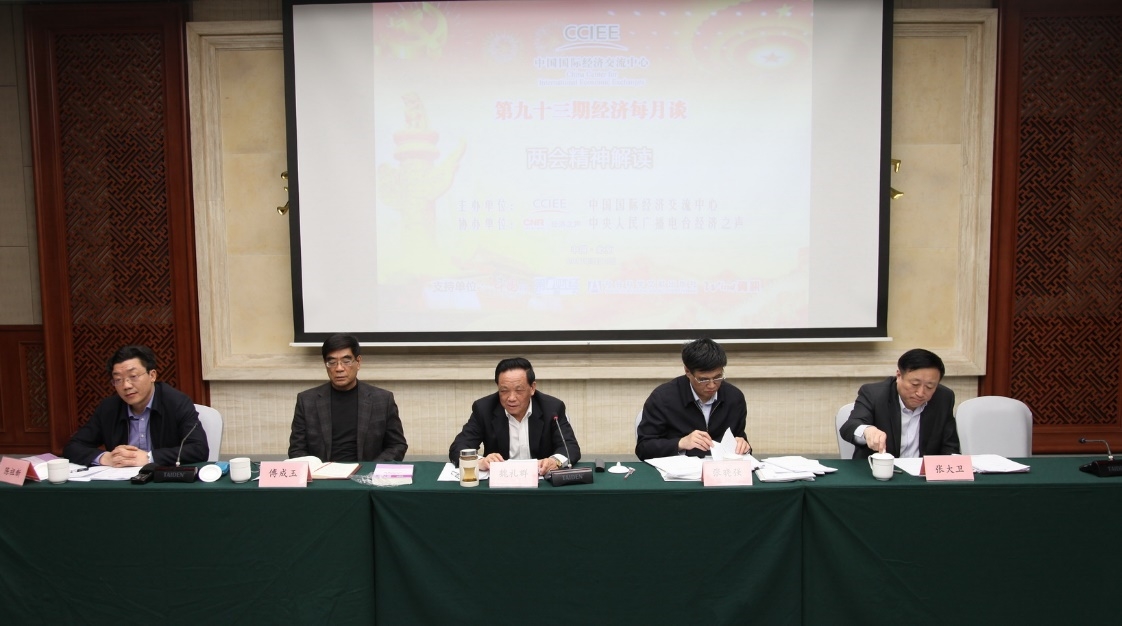 Zhang Xiaoqiang gave an interpretation of the content "Chinese economy was stable and moving in a positive direction in 2016", which is written in the 2017 China's Government Work Report. He believes that we should cut excess capacity in the coal industry and promote innovation to lead the transformation and upgrading of the real economy.
Zhang Dawei said that this year's government work report is very pragmatic and elaborates many important issues such as the relationship between the supply-side reform and the demand-side, streamline administration and delegate power to the lower levels, reform of state-owned assets and improve people's livelihood. Furthermore, the report has quite a few new features and highlights, while making many new deployment and expressing China's confidence in its development prospects.
Chen Zuxin expressed that the current Chinese economy is quite healthy, for instance, the employment rate is good, companies' economic benefit is rising and new momentum for economy has been generated quickly. We should implement the requests of the government work report, retain the spirit of the 3rd, 4th, 5th, 6th Plenary Session of the 18th CPC Central Committee, focus on cutting excess capacity, destocking, reducing taxes, expanding consumption and promoting urbanization.
Fu Chengyu believes that this year's government work report has three highlights, the first one is the importance of maintaining stability. Secondly, the works are pragmatic and lastly, improving employment and people's livelihood. The report reflects well Xi Jinping's governance theory and the theory of people-centered development.
In the Q&A section, experts answered various questions from the media and audience. Researchers from CCIEE, representatives from enterprises, research institutions and news agencies took part in the event.