On February 22, 2017, CCIEE held the 92nd Monthly Economic Talk under the theme of "2017 Finance and Taxation System Reform". Liu Kegu, Deputy Director of the Academic Committee of CCIEE, presided over the meeting. Gao Peiyong, Director of the Institute of Economics and Academician of Chinese Academy of Social Sciences, Xu Shanda, Director of SEEC Research Institute and former Deputy Commissioner of the State Administration of Taxation, and Zhang Yongjun, Deputy Chief Economist of CCIEE delivered speeches respectively.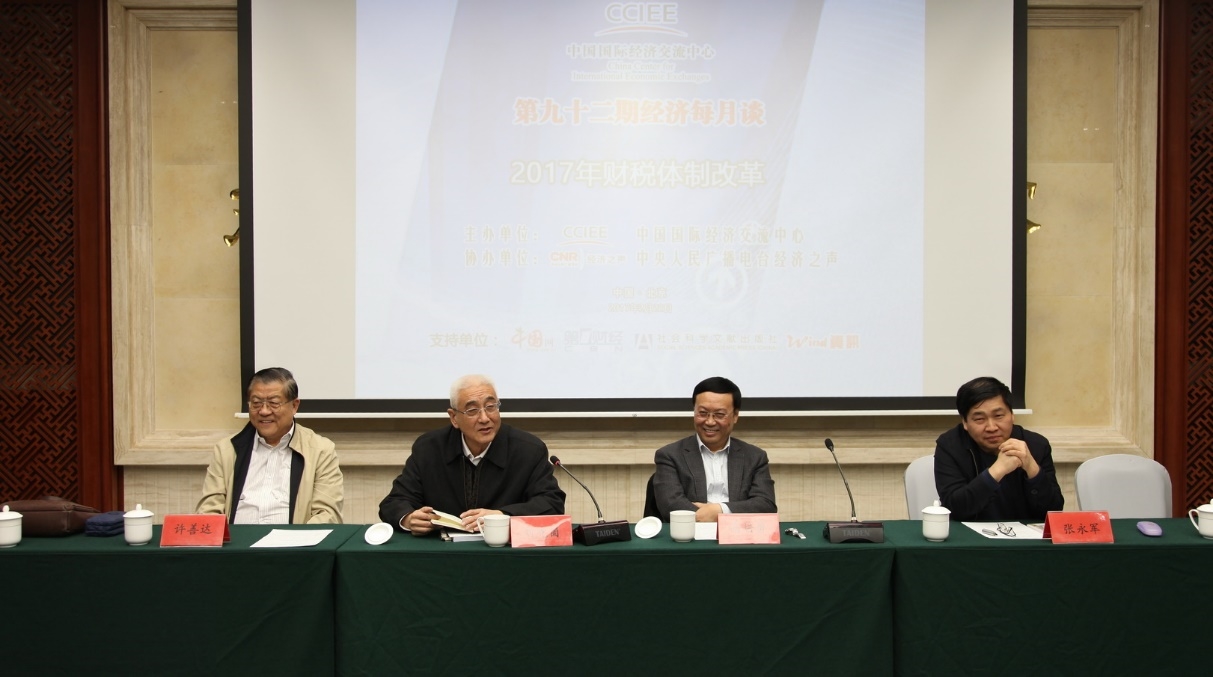 In his presentation, Gao Peiyong introduced reform in four aspects, namely, taxation system, budget system, relationship between central and local public finance as well as reform steps. He said that the current tax reform should concentrate on tax structure adjustment and fairness. The distribution of tax burden should be linked up with income level and property ownership. By doing so, the tax system will meet the requirements of fairness and justice.
Xu Shanda expressed that reducing macro tax burden is a vital new strategy for finance and taxation. In 2017, the authorities should make important decisions to implement three types of reform, social security payment, housing policy and consumption tax because this will bring China a better outcome in its future economic development.
By comparing the taxation systems in the US and China, Zhang Yongjun pointed out that there is a big difference between the two countries. China's tax revenue is mainly generated from enterprises. The proportion of production tax in added value is higher than that of the US, which is why Chinese entrepreneurs feel that China's tax burden is too heavy.
In the Q&A section, experts answered various questions from the media and audience. Researchers from CCIEE, representatives from enterprises, research institutions and news agencies took part in the event.