Vice Chairman Zhao Jinjun Signs Cooperation Agreement with Teresa Ribera of IDDRI
On May 13, 2017, shortly before the opening of the fifth Global Think Tank Summit, Zhao Jinjun, Vice Chairman of CCIEE, met with Teresa Ribera, Director of the Institute for Sustainable Development and International Relations (IDDRI). Xu Hongcai, Deputy Chief Economist of CCIEE and other researchers from the Information Department were present at the meeting.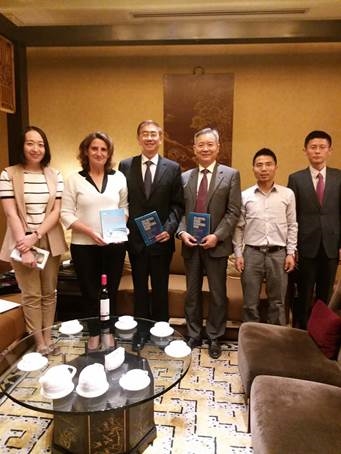 Zhao Jinjun introduced the research project of Asian Infrastructure Investment Bank Facilitates Connectivity and Industrial Cooperation in Eurasia, saying that the research cooperation between the two organizations is of great success and mutual beneficial. Teresa Ribera thanked CCIEE for the invitation to the fifth Global Think Tan Summit. She is satisfied with the outcome of the research cooperation completed last year and expressed her willingness to conduct further cooperation with CCIEE. The two sides agreed to undertake a joint research in 2017 on how can China and France cooperate in the African market. Furthermore, the research team will make field trip to Morocco and Madagascar.
At the end, they exchanged views on such hot issues as the current international economy, the presidential election in France and China's Belt and Road Initiative.