On the afternoon of July 18, 2017, CCIEE and Xinhua News Agency National High-end Think Tank co-hosted the 10th "CCIEE Economic Forum", under the theme of "The Outlook of Global Governance Reform at the G20 Summit Hamburg". Wei Jianguo, Vice-Chairman of CCIEE, gave an opening remark. Zhang Yansheng, Chief Economist of CCIEE, Zha Daojiong, Professor of School of International Studies at Peking University, Jin Canrong, Deputy Dean of the School of International Studies at China's Renmin University, and Huo Jianguo, former President of Chinese Academy of International Trade and Economic Cooperation under the Ministry of Commerce, delivered their presentations respectively. Lu Xiaoming, of the research center at Xinhua News Agency National High-end Think Tank, presided over the meeting.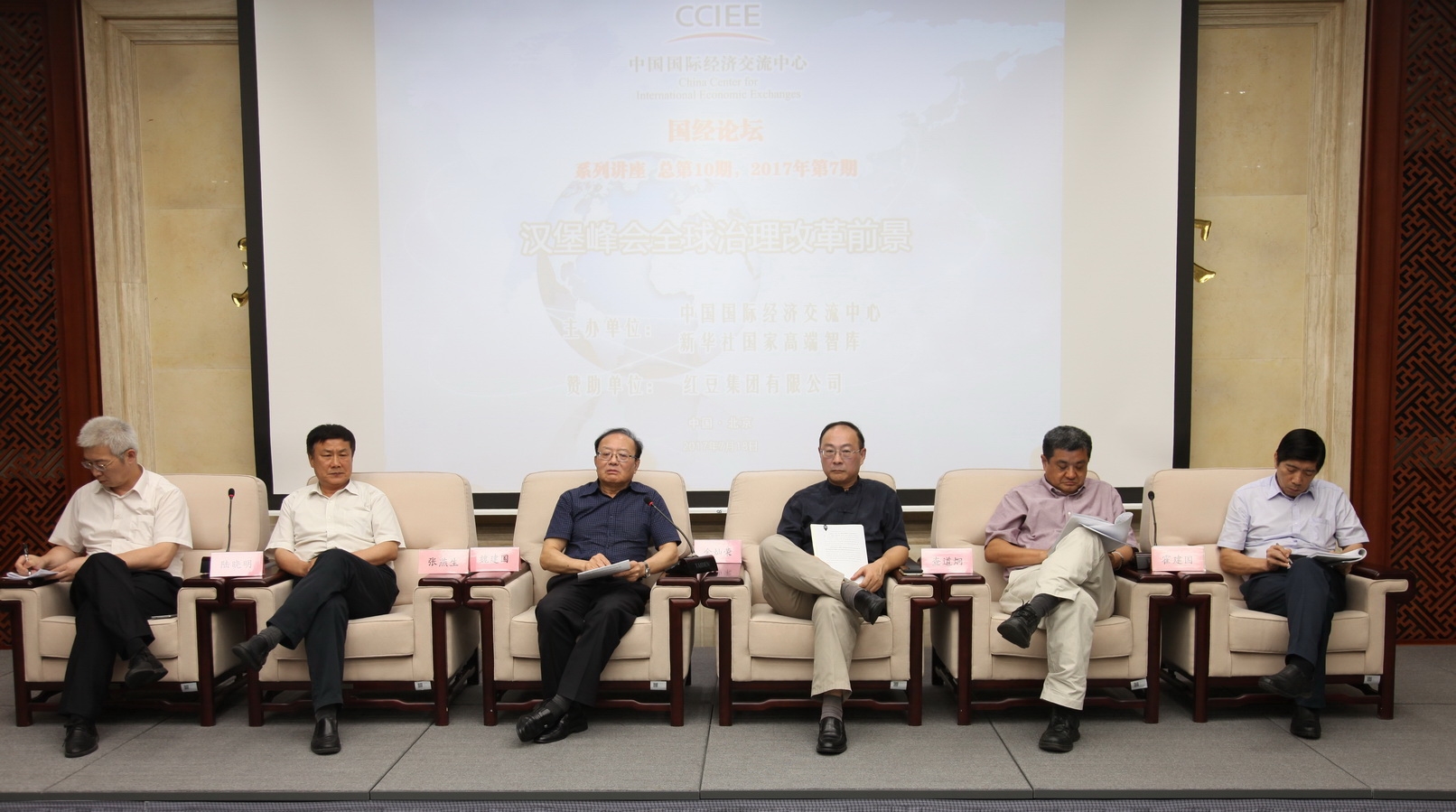 Wei Jianguo pointed out that the G20 should acts as a main platform for actively promoting the reform of global economic governance, and strengthen cooperation with international organizations like WTO. As for China, it should make contribution to lowering global governance deficit, reshaping globalization and establishing a long-term mechanism.
Zhang Yansheng expressed that the consensus and divergence demonstrated at the G20 Summit in Hamburg reflects a clear rift in world order. In 2007, the economy has been stabilized and is moving in a positive direction, nonetheless, the competition among nations is getting increasingly fierce, the willingness to cooperate with each other has declined and therefore, the global governance reform has a long way to go. China should build up its strength, continue to promote its opening up, minimize risk, stress on cooperation to foster open and inclusive global governance.
Huo Jianguo believes that the G20 was born with certain defects, such as its legitimacy, positioning, representation and agenda's continuity. The development of the G20 should serve as the main body implementing the UN 2030 sustainable development agenda. As for China, it should bring its opening up to a higher level and remain active in competition.
Zha Daojiong asserted that the forms governance include international organizations like the UN, World Bank and different forums. In terms of China's participation in global governance reform, China ought to integrate itself with the open and inclusive international environment, establish better contact with OECD, International Labor Organizations and other organizations, share the fruit of opening up and focus on the detail of cooperation.
Jin Canrong claimed that China's participation in global governance is meaningful to China's revitalization. The unwillingness of some major countries to bear the costs of globalization and global governance has brought more uncertainties. The deteriorating geopolitics and negative impact of big nation relations represent a huge challenge for global governance. China could engage in global governance through the platforms of the UN, G20 and Shanghai Cooperation Organization.
At the end of the symposium, the experts took various questions from the press and audience.