From 22 to 23 September, 2017, the first EU-China CEO and Former Officials' Dialogue (hereinafter referred to as the dialogue) was held in Beijing. Delegates from China and the EU conducted candid exchanges on such issues as the EU-China Economic trend, the status quo of the EU-China economic and trade relations, the belt and the road and the EU-China cooperation on trade and economy, investment and finance, innovation-driven development and industrial cooperation. Zeng Peiyan, Chairman of CCIEE, former Prime Minister Dominique de Villepin of France, Director General of Business Europe Markus J. Beyrer addressed the opening ceremony. 40 participants took part in the dialogue, including Chinese and European business leaders, former governmental officials, scholars and experts.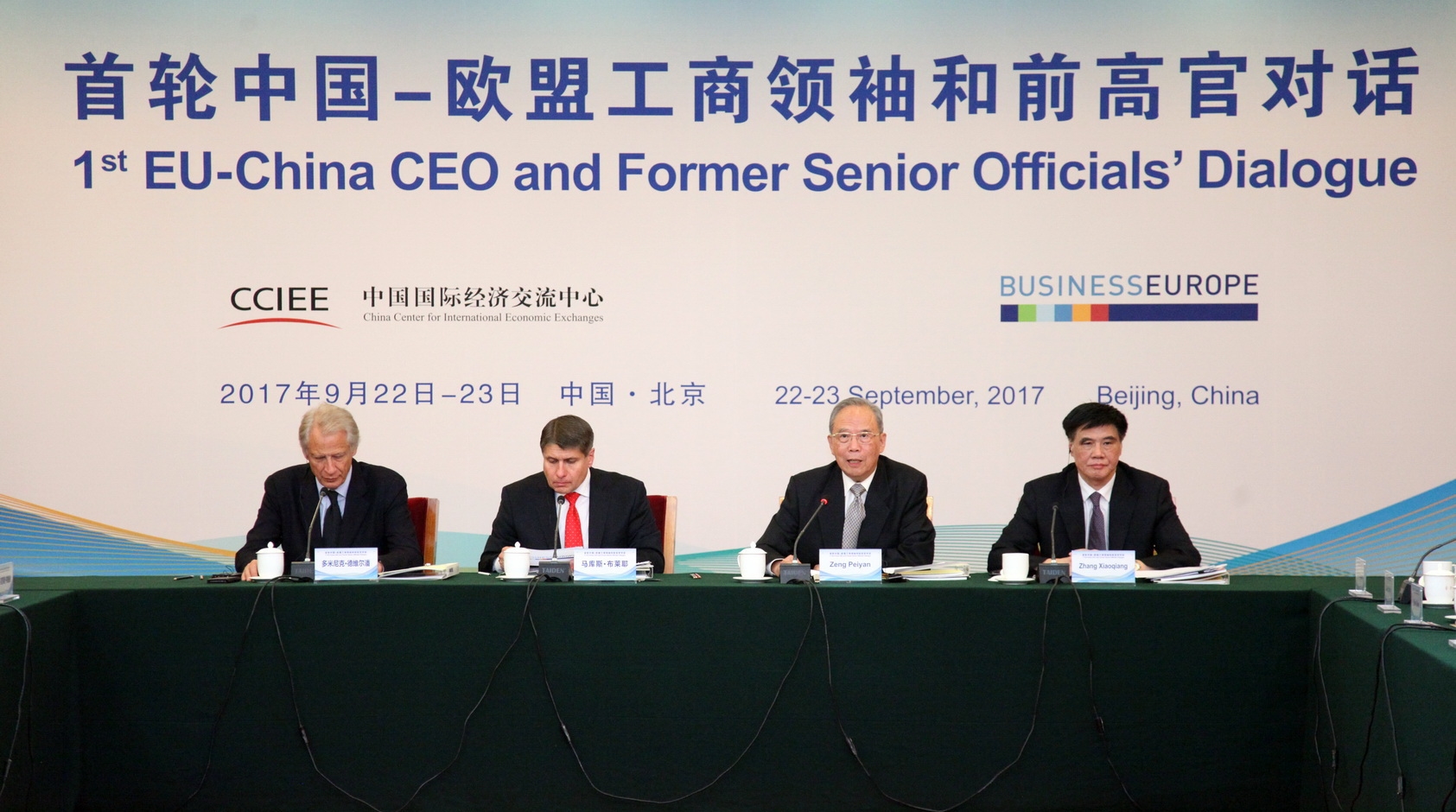 The participants pointed out that uncertainties remain despite the fact that the world economy began to pick up. The policy orientation of major economies has been variable, anti-globalization and protectionism started to rise and non-conventional security issues continues to spread, all these have brought great challenges to the development and cooperation of countries around the world. In spite of the existing obstacles in the EU-China economic and trade cooperation, the bilateral relations have become increasingly important to one another and therefore, the two sides should actively seek more common interests, reinforce complementary advantages and achieve win-win cooperation.
The first EU-China CEO and Former Officials' Dialogue is jointly launched by CCIEE and Business Europe, with the aim of conducting in-depth exchanges, seeking common interests proactively and promoting healthy development of the bilateral economic and trade relations. At this special and forward-looking dialogue, participants can have in-depth and frank exchanges, make constructive recommendations to governments and send a positive message in the aspect of EU-China cooperation. The dialogue covers a wide range of topics, such as enhancing cooperation on bilateral trade, trade and finance, manufacturing, modern agriculture and services, as well as climate change so as to establish a platform for the EU-China connectivity.
A press conference was held at the end of the dialogue, at which both sides called for healthy development of the mutually beneficial EU-China economic and trade relations, acceleration of the investment agreement negotiations, consolidation of multilateral trading system, cooperation on climate change, sustainability and energy, digital economy and connectivity.