CCIEE Vice Chairman Zhang Xiaoqiang Meets with Fumio HOSHI, Advisor for Sumitomo Mitsui Banking Corporation
On 24 October 2017, Zhang Xiaoqiang, Vice Chairman of CCIEE, met with Fumio HOSHI, Advisor for Sumitomo Mitsui Banking Corporation. The two sides exchanged their views on economic development and bilateral trade and economic relations between China and Japan. Xu Chaoyou, Director General of the Department of External Affairs, Liu Xiangdong, Deputy Director of the Economic Research Department, and Dr. Lin Jiang were also present at the meeting.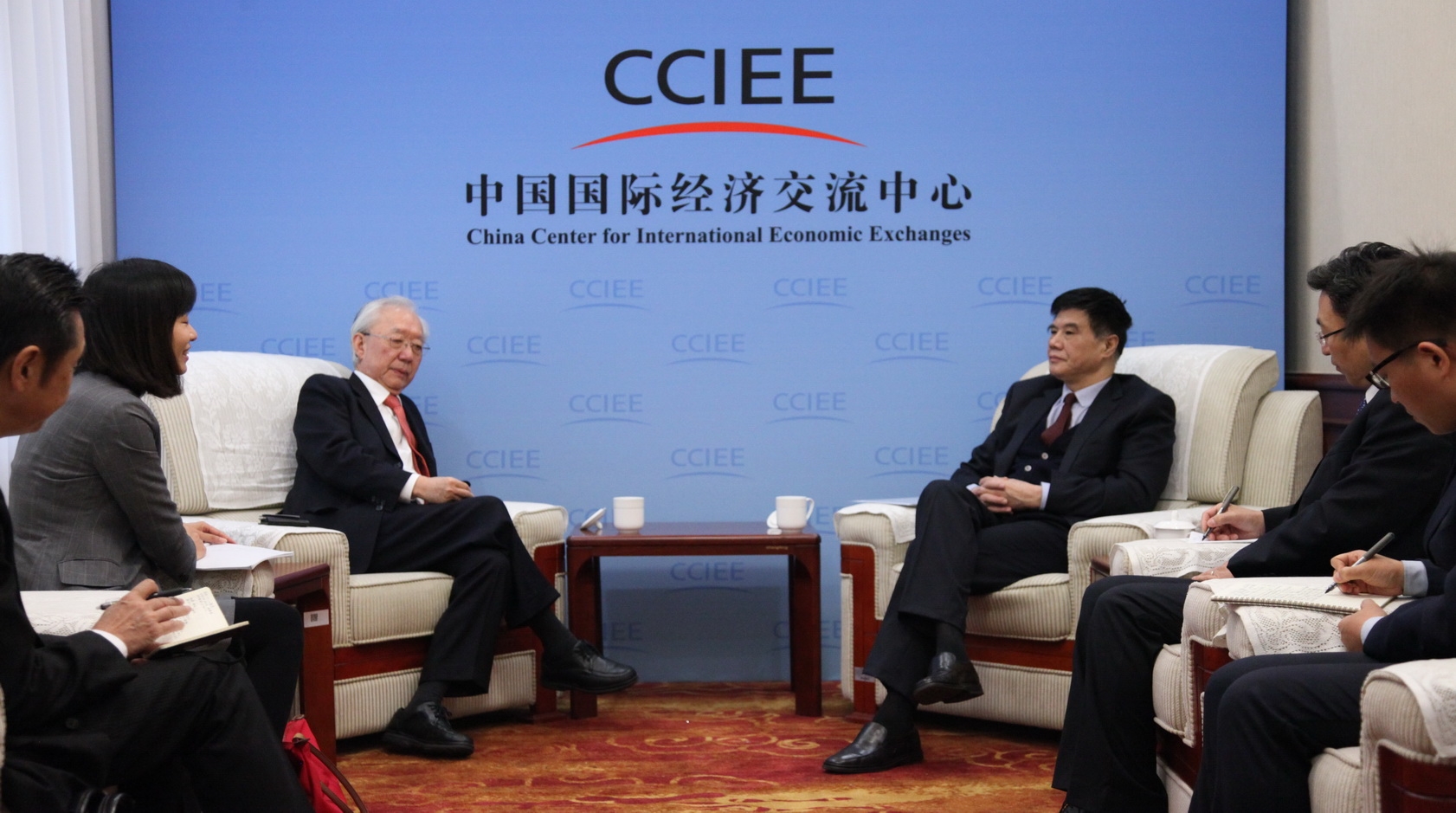 Zhang Xiaoqiang introduced China's recent economic performance. In the first three quarters of 2017, China has maintained a medium-to-high GDP growth rate of 6.9%, achieved remarkable progress in the supply-side structural reform and the commodity price level was kept at 1.5% approximately. Nonetheless, China's economy also faces several problems. For instance, the debt ratio of Chinese enterprises is relatively high, the hidden financial risks, unbalanced economic development and an aging society.
Fumio HOSHI explained that Japan's economy has seen a turnaround due to the financial and fiscal measures adopted by the Abe government. The employees' salary, however, remains largely unchanged, domestic consumption is still sluggish and the 2% inflation target can hardly be realized. The reasons can be summarized as the severe shortage caused by an aging society, weak private consumption due to the stagnant population growth and a relatively low productivity. To resolve these problems, the government needs to adjust its policy for importing overseas labor.
Zhang Xiaoqiang briefed the Japanese delegations on the preparation of the third China-Japan CEO and former Senior Officials Dialogue, to be held this December, at which exchanges and discussions on such issues as the economic development in the two countries, macro policy coordination, trade and investment, financial cooperation, technological innovation and cooperation in medical care and tourism as well as joint cooperation in the third markets will be included in the dialogue, so as to push forward a healthy development of the China-Japan relations.
Fumio HOSHI spoke highly of the efforts made by CCIEE and the Japan Business Federation to promote the exchanges between China and Japan, saying that the two neighboring countries should continue to strengthen bilateral trade and investment as well as cultural exchanges. Furthermore, the two sides shared their viewpoints on the 19th National Congress of the CPC party and the parliamentary election in Japan, and agreed to maintain communication and promote more bilateral cooperation.