On 21 September 2017, CCIEE held the 99th Monthly Economic Talk under the theme of Research Findings of "The Next Generation of Trade: E-international Trade". Zhang Dawei, Vice Chairman and Secretary-General of CCIEE, presided over the meeting. Long Yongtu, former Vice Minister of the Former Ministry of Economic and Trade Cooperation, Chen Wenling, Chief Economist of CCIEE and Xu Ping, President of Henan Bonded Zone Group delivered their speeches respectively.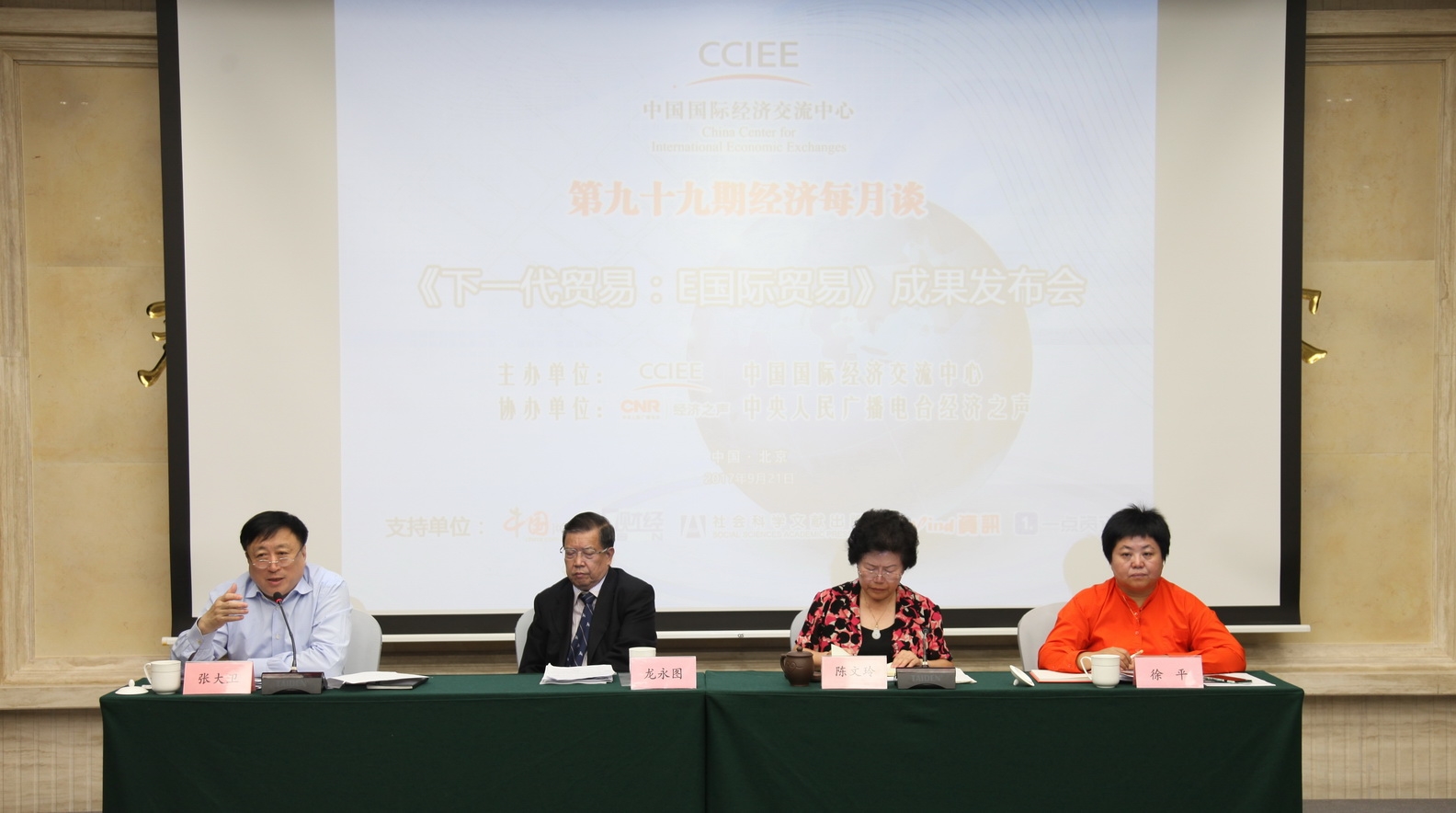 Long Yongtu pointed out that globalization is the inexorable trend of the development of history. As a combination of the international trade and the internet, the Cross-border e-commence has become a major force driving the development of globalization because it will play a vital role not only in the building of the Belt and Road Initiative, but also in the areas of global governance, launching China' s proposals and facilitating international e-business. He hopes that China can transform itself from a mere executor to one of the designers of the WTO rules and ultimately improve its position in the global trading system.
Chen Wenling noted that the e-international trade is based on the EWTP (Electronic World Trade Platform) and includes producers, suppliers and consumers. It has changed the direction of trade due to the massive scale and flow of trade it produced. She also believes that China has the first-mover advantage as it has the largest number of internet users in the world and the cross-border e-commerce has already become a "New Normal" of the economy. China will become an advocate and leader of the new globalization. E-international trade is bound to lead the next generation of trade and will promote the development of trade vigorously in the future and therefore, countries around the world should work together to push its development.
Xu Ping argued that the difficulties associated with enterprises' development, high transaction costs and impeded customs clearance are three major challenges facing countries around the world. Regarding how we can solve the problems in relation to the e-international trade under the current WTO system, she offered three recommendations. Firstly, we should work on improving the rules and system of the e-international trade under the existing WTO system, and other countries should also value the development of the EWTP. Secondly, China must adopt more liberal policies for the B2C import, which have a very strong correlation with the conditions of export. Last but not least, we should accelerate the industrial upgrading of the B2B platform.
In the Q&A section, experts answered various questions from the media and audience. Researchers from CCIEE, representatives from enterprises, research institutions and news agencies took part in the event.