On 18 January 2018, CCIEE held the 103rd Monthly Economic Talk under the theme of "Economic Review of 2017 and Outlook of 2018". Li Deshui, Deputy Director of the CCIEE Academic Committee, presided over the meeting. Lu Xiangdong, Deputy Director of the Economic Research Department, and Mei Guanqun, Associate Researcher of the Strategic Research Department delivered their speeches respectively.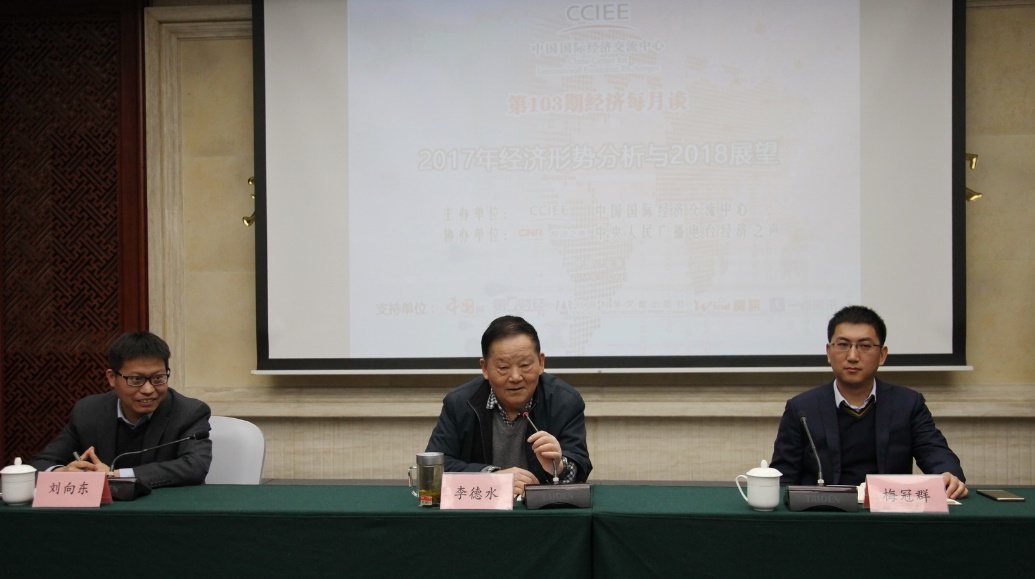 Liu Xiangdong believes that the improvement of China's foreign trade in 2017 made a great contribution to the GDP growth, and the tertiary industry also provided strong support for China's economic growth. China's steady economic growth has played an important role in the global economic recovery as its contribution to the world economic growth exceeded 30%. In 2018, high-quality development has become an important feature of China's economic development. In response to the new development requirements of the new era, we should take such new measures as optimized structural policies, proactive fiscal policies, prudent and neutral monetary policies to create a sound business environment and be prepared for external uncertainties. Furthermore, we should develop new impetus for the economy and realize the goal of making China a powerful socialist modern country.
Mei Guanqun pointed out that according to the forecast of the International Monetary Fund, the global economic growth is 3.6% in 2017 and will reach 3.7% in 2018, which will be the largest increase in the last ten years. The year-on-year growth of the global consumer price index (CPI) remained stable, but we can see a clear growth in manufacturing industry and the emerging economies and developing countries enjoyed rapid economic growth. He predicted that from 2016 onwards, the world economy will gradually enter the recovery cycle. In 2017, China's annual economic growth reached 6.9%, which is better than expected. In 2018, we still need to firmly promote the new globalization strategy, enable China to play a major role in the WTO, reduce costs, and make good arrangement for the new economy and new technologies, so as to cope with the new round of trade protectionism.
In the Q&A section, experts answered various questions from the media and audience. Researchers from CCIEE, representatives from enterprises, research institutions and news agencies took part in the event.