On the afternoon of January 29, 2018, CCIEE and Xinhua News Agency National High-end Think Tank jointly organized the 17th CCIEE Symposium under the theme of "The Impact of the Global Monetary Policy Contraction in 2018". Wei Jianguo, Vice Chairman of CCIEE, Zhang Yongjun, Deputy Chief Economist of CCIEE, Zong Liang, Chief Researcher of Bank of China, Tan Xiaofen, Vice Dean of the School of Finance at the Central University of Finance and Economics, Bian Quanshui, Chief Macroeconomic Analyst of Sinolink Securities, delivered their speeches respectively. Lu Xiaoming, Researcher of Xinhua News Agency National High-end Think Tank presided over the meeting.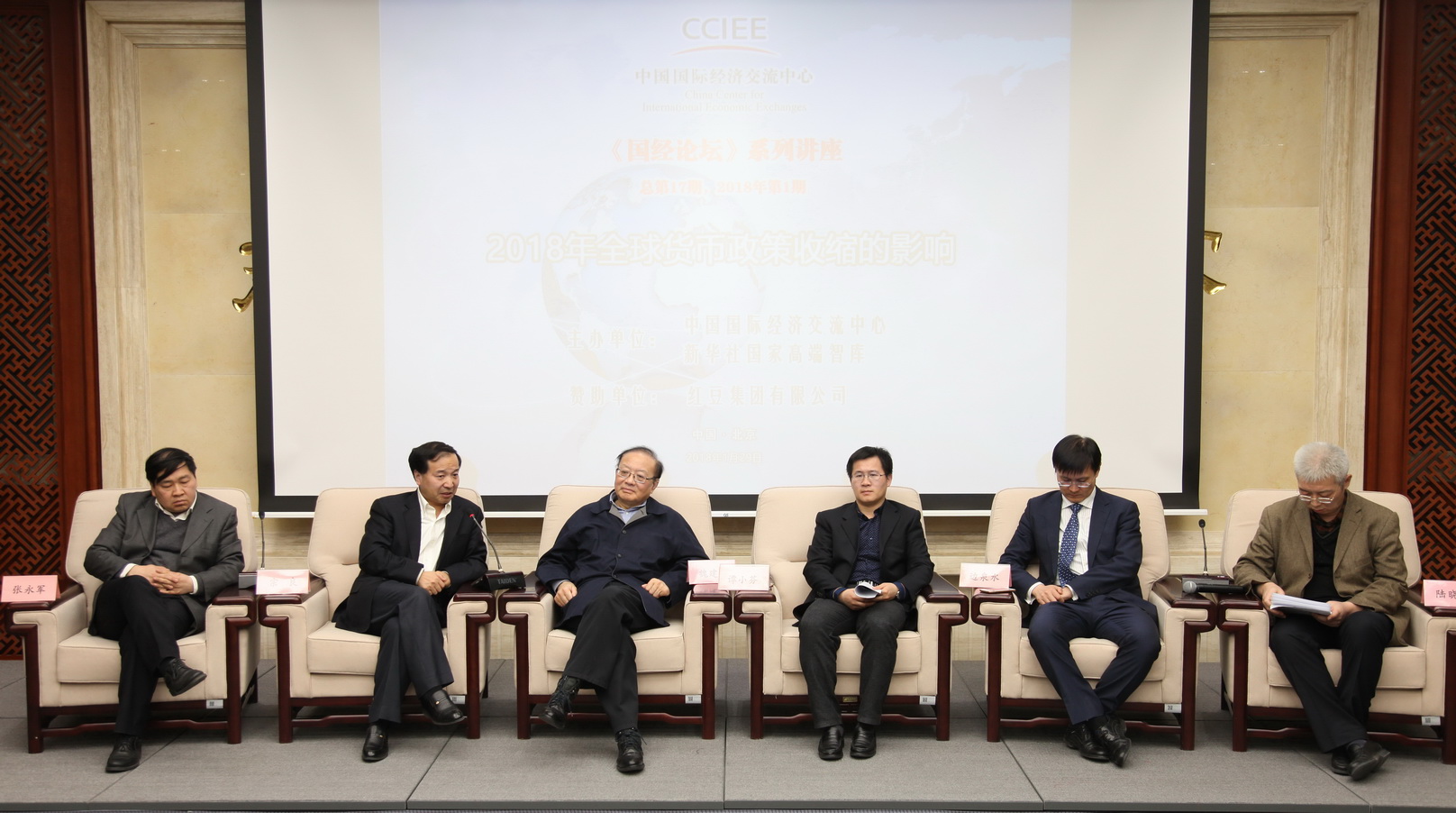 During the seminar, the participants discussed the impact brought by the global monetary policy contraction in 2018. Experts believe that the currency normalization of major economies marks the withdrawal of the quantitative easing monetary policy adopted by the world's major economies since 2008, which will have an important spillover impact on the global economy and financial market. At present, the monetary policy of the central banks such as the Federal Reserve, European Central Bank and Bank of England are in different states of shrinking, raising interest rates and exiting quantitative easing. The contraction of monetary policy will directly push up the return of medium-and long-term bond yields in developed countries, cause large-scale cross-border flow of global capital and lead to price fluctuation of crude oil and other commodities. We should closely follow the movements of monetary tightening in major economies and assess their impact, improve our capital flow and foreign exchange management. Apart from that, we should take the initiative to actively respond to the fluctuations in the capital markets, direct investment and foreign exchange markets, improve financial supervision to prevent major financial risks.
In the Q&A section, experts answered various questions from the media and audience. Researchers from CCIEE, representatives from enterprises, research institutions and news agencies took part in the event.