Executive Vice President Zhang Xiaoqiang Meets with Chey Tae-won Chairman of SK Group
Date:2018-01-24
Source:CCIEE
On the morning of January 19, 2018, Zhang Xiaoqiang, Executive Vice Chairman and CEO of CCIEE, met with Chey Tae-won, Chairman of the SK Group. Yuan Youwei, Deputy Director-General of the Department of External Affairs of CCIEE, and Wu Zuoyi, President of SK (China), were also present at the meeting.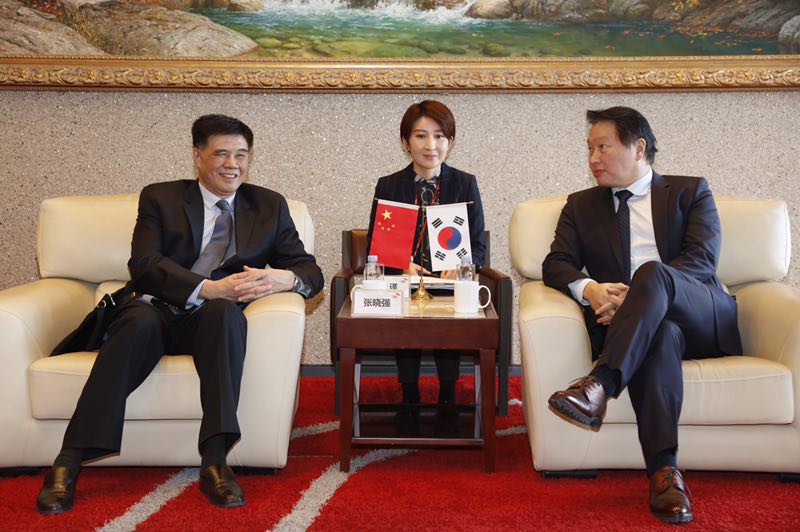 Zhang Xiaoqiang said that during the meeting between leaders of China and Korea in the middle of last year, they agreed unanimously on that the two countries will further promote industrial cooperation, launch FTA negotiations in due course, promote innovation and the development of industrial parks in China and Korea, expand financial cooperation and develop artificial intelligence, big data, 5G and other emerging fields to create a fair and sound investment environment for enterprises in both countries and discuss the possibility of third-party cooperation. All these have pointed out the direction for dialogue and cooperation between the two sides. CCIEE is willing to strengthen cooperation with the SK Group to jointly promote the development of economic and trade relations between China and Korea.
Chey Tae-won said that SK Group attaches great importance to the relationship with CCIEE and is ready to actively promote and participate in the economic and trade exchanges as well as cooperation between the two countries.
Both sides also exchanged their views on the "second track" dialogue between China and Korea and agreed to strengthen cooperation in the research and exchange between the two organizations.