Zeng Peiyan Meets with Vice Chairman of the National Economic Advisory Council of Korea (NEAC)
Date:2018-03-22
Source:CCIEE
On March 19, 2018, CCIEE Chairman Zeng Peiyan met with Kim Kwang-doo, Vice Chairman of the National Economic Advisory Council of Korea(NEAC). They shared opinions on international affairs, exchanges and cooperation between the two countries. CCIEE Vice Chairman Wei Jianguo and members of the NEAC were aslo present at the meeting.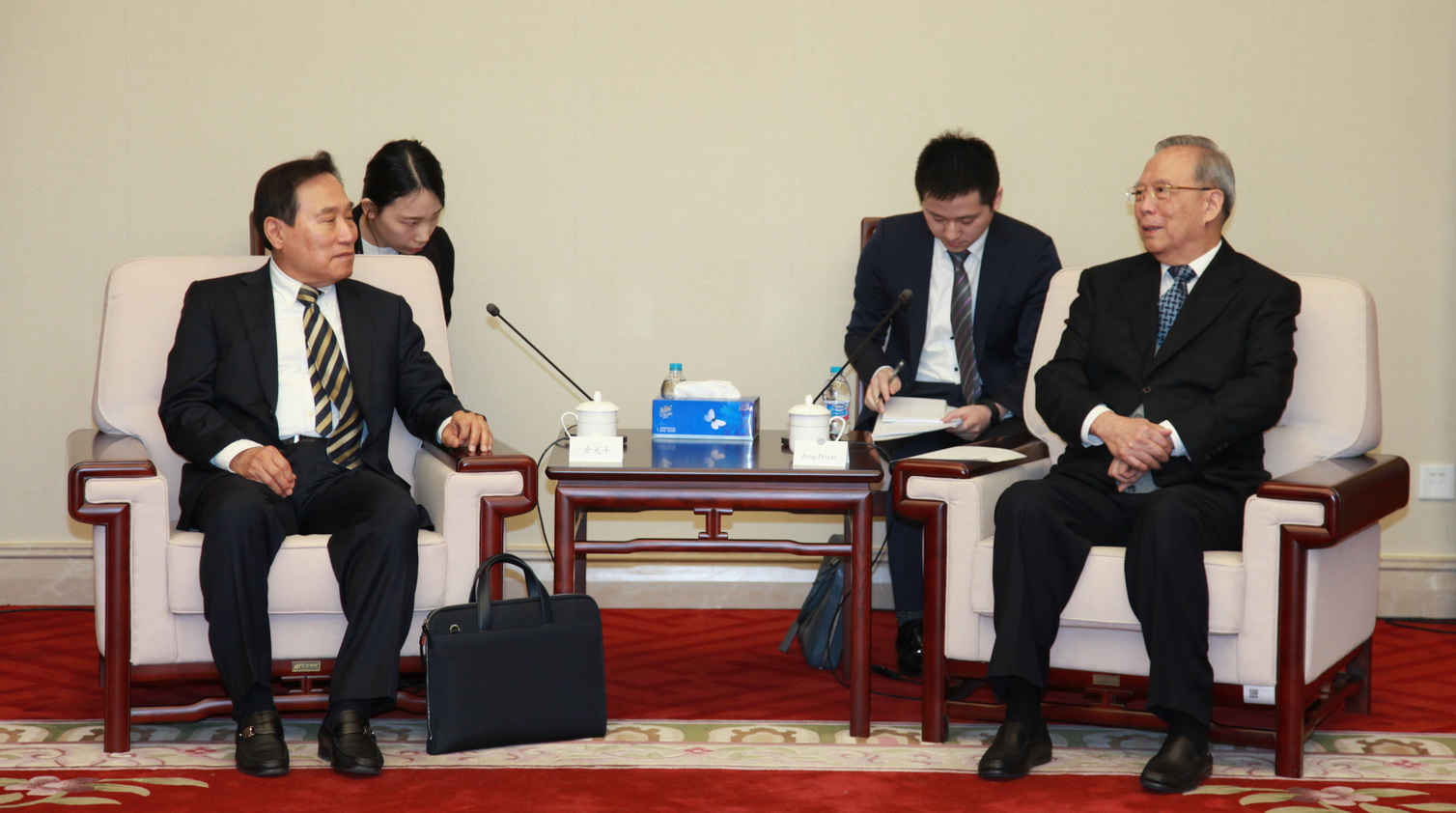 Zeng Peiyan said that the current "two sessions" implies that China will soon start a new five-year journey, and China's economy will shift from the high-speed growth to high-quality growth. The international economy and trade are doing well, however, the problems such as America's trade protection and the security issues on the Korean Peninsula are still outstanding. We should encourage the use of dialogues and negotiations to resolve these problems. The political relations between China and Korea has made some progress, and the bilateral trade has rebounded sharply since President Moon Jae-in visited China at the end of last year. China and Korea should strengthen non-governmental economic and trade exchanges, continue to promote free trade and cooperation, so as to make continuous improvement. In addition, he also briefed the Korean delegation on the development of the business CEOs and former senior officials' dialogues organized by CCIEE and its partners in the US, Japan, the European Union and Korea.
Kim Kwang-doo introduced Korea's economic development policy and stated that the government will implement a people-centered income growth strategy to protect their basic living right, increase HR investment, and improve the skills of the labor force. Korea is willing to maintain the international order of trade liberalization and actively strengthen communication and coordination with China in terms of economic policies.
The two sides also exchanged their views on deepening institutional cooperation and look forward to conducting further exchanges on such areas as global issues, the building of the Belt and Road, and the economic and trade relations between China and Korea, so as to provide valuable policy recommendations to their governments.