On July 17, 2018, China Center for International Economic Exchanges(CCIEE) held the 109th Economic Monthly Talk, under the theme of "Analysis of Chinese Economy in the First Half of 2018". Zhang Dawei, Vice Chairman and Secretary General of CCIEE, presided over the meeting. Chen Wenling, Chief Economist and Deputy Director of the CCIEE Executive Board, and Xu Hongcai, Deputy Chief Economist of CCIEE delivered their speeches respectively.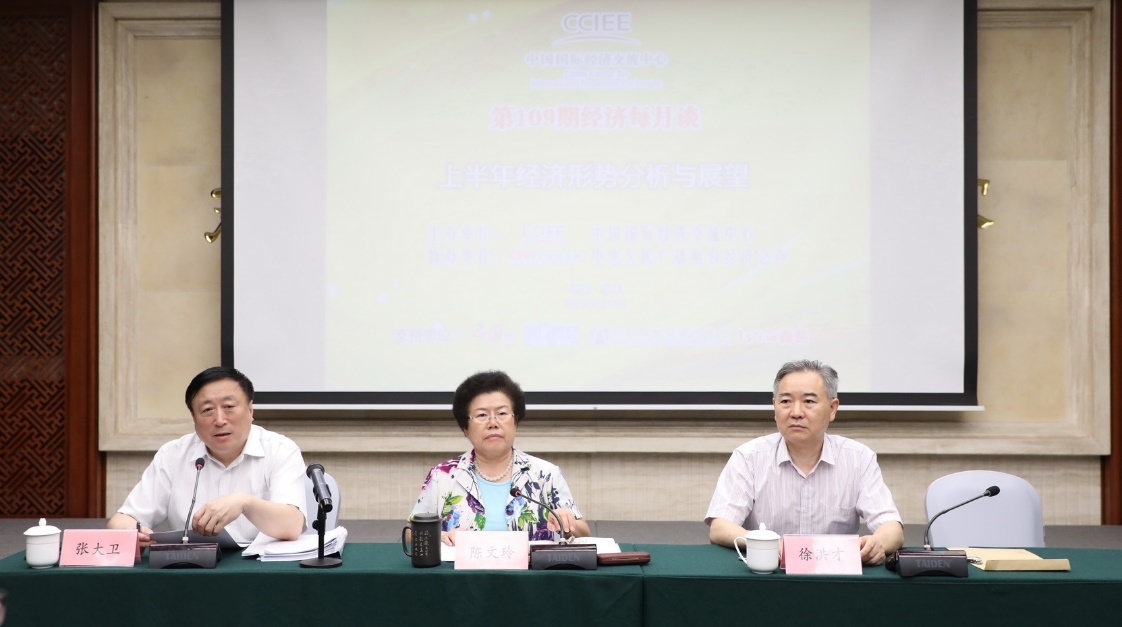 Chen Wenling pointed out that the current world pattern has undergone significant changes. Although "peace", "development", "cooperation" and "competition" remain to be the prominent features of today's world, the advanced economies and some developing countries still face risks in the areas of international trade conflicts, global finance, global debt, inflation and regional war. These factors may reverse the global economic recovery. Amid the current US-China trade frictions, China must take this challenge as a major opportunity to conduct further reform and transform its industries according to the deployment of the CPC Central Committee and the State Council. Furthermore, we should learn from the past experience and promote a steady and healthy development of the Chinese economy.
Xu Hongcai believes that China's economy remained stable in the first half of the year, which can be seen as a continuation of the stable economy in the past two years. China's economic development is full of resilience and faces both opportunities and challenges, such as the escalation of the US-China trade war, lacks innovative momentum, the slow growth of residents' income, weak consumption, declining savings caused by the aging society and insufficient implementation of the reform and opening up policies. In the second half of this year, a proactive fiscal policy and a stable neutral monetary policy will remain and the Chinese economy will continue to grow while maintaining its stability. The annual economic growth is expected to be above 6.5%.
In the Q&A section, experts answered various questions from the media and the audience. Researchers from CCIEE, representatives from enterprises, research institutions and news agencies took part in the event.