Analysis of the International and Chinese Economy in 2019
Date:2019-01-29
Source:CCIEE
On January 24, 2019, China Center for International Economic Exchanges held the 115th Economic Monthly Talk under the theme of Analysis of the International and Chinese Economy in 2019. Zhang Dawei, Vice Chairman and Secretary General of CCIEE, presided over the meeting. Chen Wenling, Chief Economist and Deputy Director of the CCIEE Executive Board, and Xu Hongcai, Deputy Chief Economist of CCIEE, delivered their speeches respectively.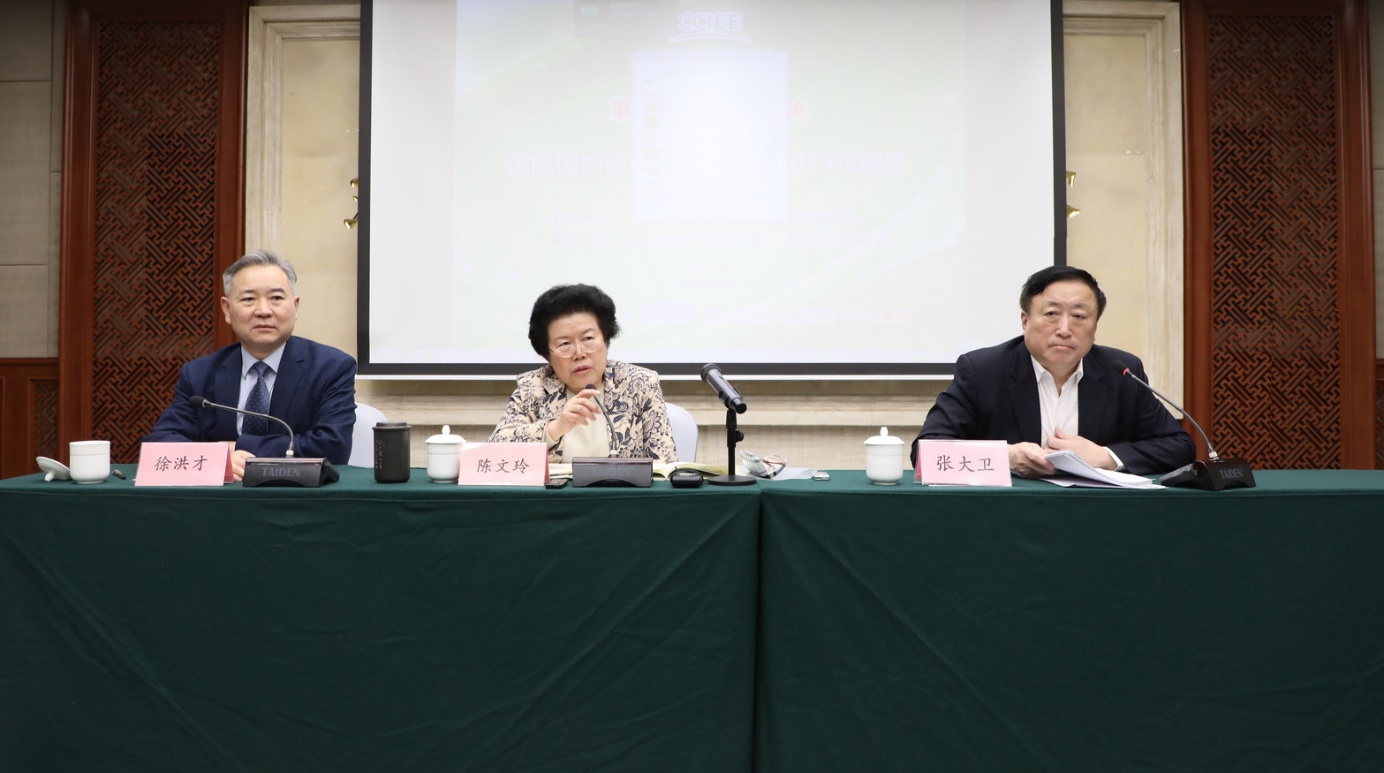 Chen Wenling pointed out that the world economy is likely to experience significant changes from 2018 to 2020. The US-China trade war initiated by the United States not only made people question the credibility of the US dollar, but also brought instability to the US financial policy. It has had a negative impact on the US economy and brought uncertainties to the world economic structure and trade pattern. China should maintain strategic strength and patience, implement reform, and create new theories and rules for future development. Furthermore, China should aim to make substantive breakthroughs in the US-China trade negotiations, and ultimately lead the US-China relations to a healthy track of cooperation and mutual benefit.
Xu Hongcai believes that China's economy remained stable in 2018. The annual economic growth of 6.6% is above the expected target. The slow growth of investment has become a new normal, and economic development has undergone profound changes. In 2019, China will face a complicated external environment and the global economic recovery will slow down. China's economic development is resilient and it faces both opportunities and challenges. He predicted that the downward pressure on China's economy will increase in the first half of 2019 but will stabilize in the second half of the year. The annual economic growth will remain within a reasonable range of 6.0%-6.5%. In the future, China's economy will continue to remain stable and make progress as long as it maintains strategic strength and controls systemic financial risks.
In the Q&A section, experts answered various questions from the media and the audience. Researchers from CCIEE, representatives from enterprises, research institutions and news agencies took part in the event.