CCIEE Holds High-end Seminar on Sino-U.S. Economic and Trade Relations
On May 31, China Center for International Economic Exchanges(CCIEE) held the High-end Seminar on Sino-U.S. Economic and Trade Relations. Zeng Peiyan, Chairman of CCIEE, attended the seminar and delivered a speech. Participants of the seminar analyzed the Sino-U.S. economic and trade issues objectively and rationally, clarified wrong views, pointed out that the US bullying practices are unpopular and its containment strategy against China is futile. They also urged the US to re-launch rational policies toward China.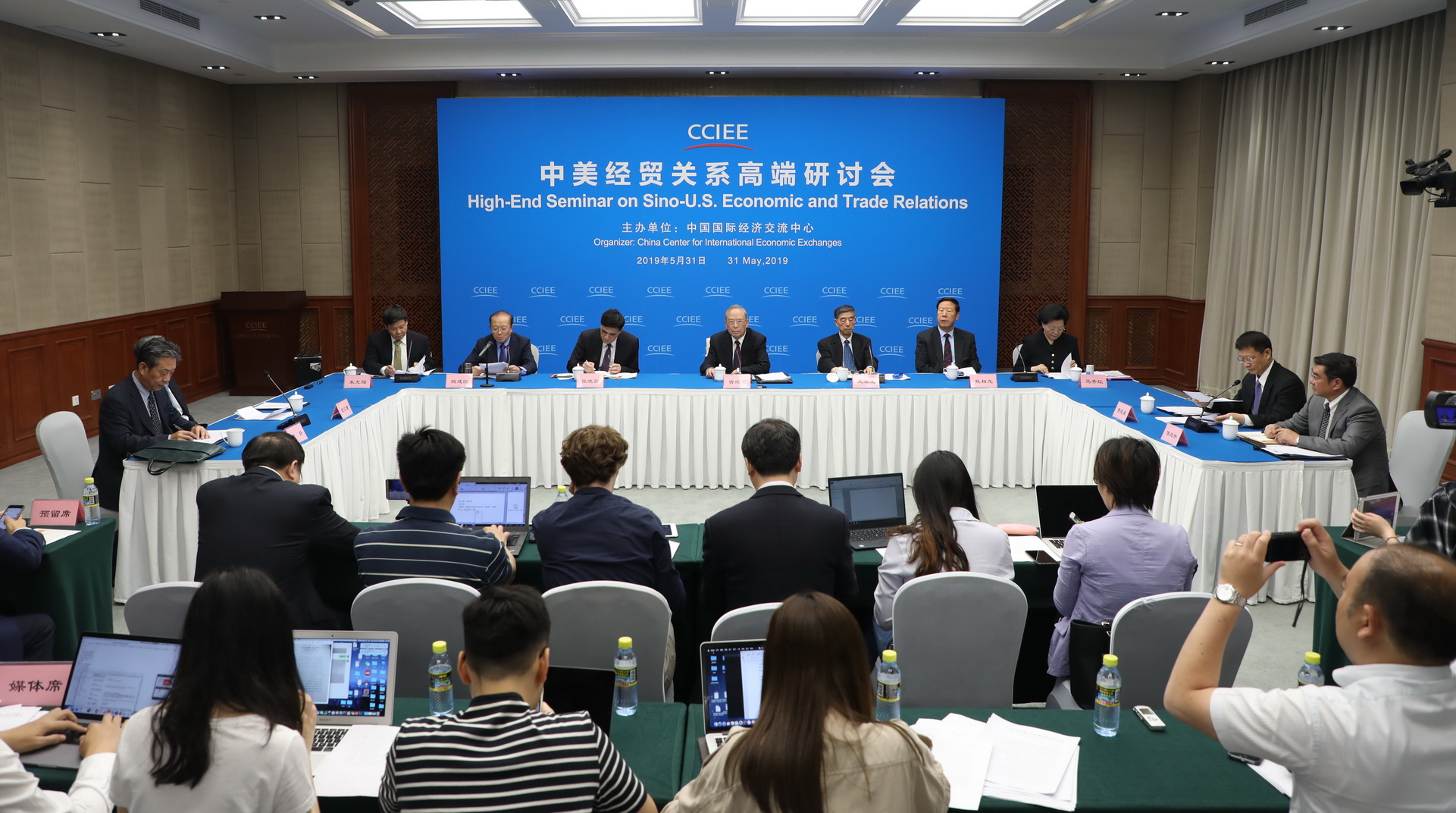 Zeng Peiyan pointed out that the three core concerns raised by China in the Sino-U.S. trade consultations are completely justified. China has consistently advocated that trade consultations should be based on the principles of mutual respect, equality, mutual benefit, and sufficient sincerity. Nonetheless, the US has gone back on its word and insisted on imposing tariffs, causing trade frictions to escalate again. The so-called "the United States has suffered a big loss in its trade with China", "theft of intellectual property rights", "forced technology transfer", "China's breach of trade negotiations commitments" and other arguments which have been used by the US to smear China are completely untenable. The Chinese economy has enormous development resilience, great potential and enough room to maneuver, and the practice of suppressing China's development is futile. China never compromises its principles and will resolutely safeguard its national sovereignty and core interests. He emphasized that the Cold War mentality, unilateralism, and zero-sum games are all outdated products. They will not help us to solve any problems. Only by sitting down and negotiating in an equal manner can we find a way to solve problems. He urged the US to re-launch rational policies toward China, demonstrate their sincerity, and return to the path of rational consultation as soon as possible with the attitude of equal consultation and pragmatic cooperation.
The guests of the seminar believed that the bullyingism of the US has undermined the global economic growth prospects, the global value chain, industry chain and supply chain, the exchanges and cooperation on global technology, as well as industrial technology progress. Furthermore, the US has also damaged the international economic order and multilateral cooperation mechanisms. China is not just a world factory but also a world market. Since the beginning of the trade frictions, the trade volume of agricultural products, energy, and non-ferrous metals has fallen sharply, causing huge losses to both China and the United States, as well as the global economy. As the two largest countries in science and technology innovation and high-tech industries, China and the United States will become more interdependent in the long run. The two sides should play a better role in meeting such challenges as public health, clean energy, food security and environmental protection. Besides, they can cooperate in high-tech industrial systems to achieve complementary advantages and enhance their respective competitiveness continuously.
In relation to the trade friction and technology containment provoked by the US, the participants of the seminar hoped that the two sides can effectively control differences and jointly promote bilateral relations based on coordination, cooperation and stability. If the US is willing to negotiate on an equal footing, China will keep its door open. However, China will fight in the end if the US chooses to exert extreme pressure on China. China will unswervingly follow the development concept of innovation, coordination, green, openness and sharing, continuously deepen reform and expand opening up, and accelerate the promotion of high-quality economic development. Apart from that, it will adhere to a rule-based multilateral trading system to defend its own interests and safeguard the global economic order, and contribute to the cause of peace and development.
More than 100 Chinese and foreign guests took part in the seminar, including media representatives, former senior officials from the departments of macro economy, foreign trade, diplomacy and finance, heads of organizations such as the China Chamber of Commerce for Import and Export of Foodstuffs, Native Produce and Animal, China Petroleum and Chemical Industry Federation, Association of International Automobile Manufacturers, and China Association of Automobile Manufacturers.