CCIEE Executive Vice-Chairman Zhang Xiaoqiang Meets with Helga Zep Laroche, President of Schiller Institute
Date:2019-05-23
Source:CCIEE
On May 21, 2019, CCIEE Executive Vice-Chairman Zhang Xiaoqiang met with Helga Zepp-LaRouche, Founder and Chairman of the Schiller Institute at CCIEE. Xu Zhanchen, Director of the Department of Strategic Research, Xu Chaoyou, Director-General of the Department of External Affairs, and Zhang Monan, Principal Researcher of the US-Europe Institute were also present at the meeting.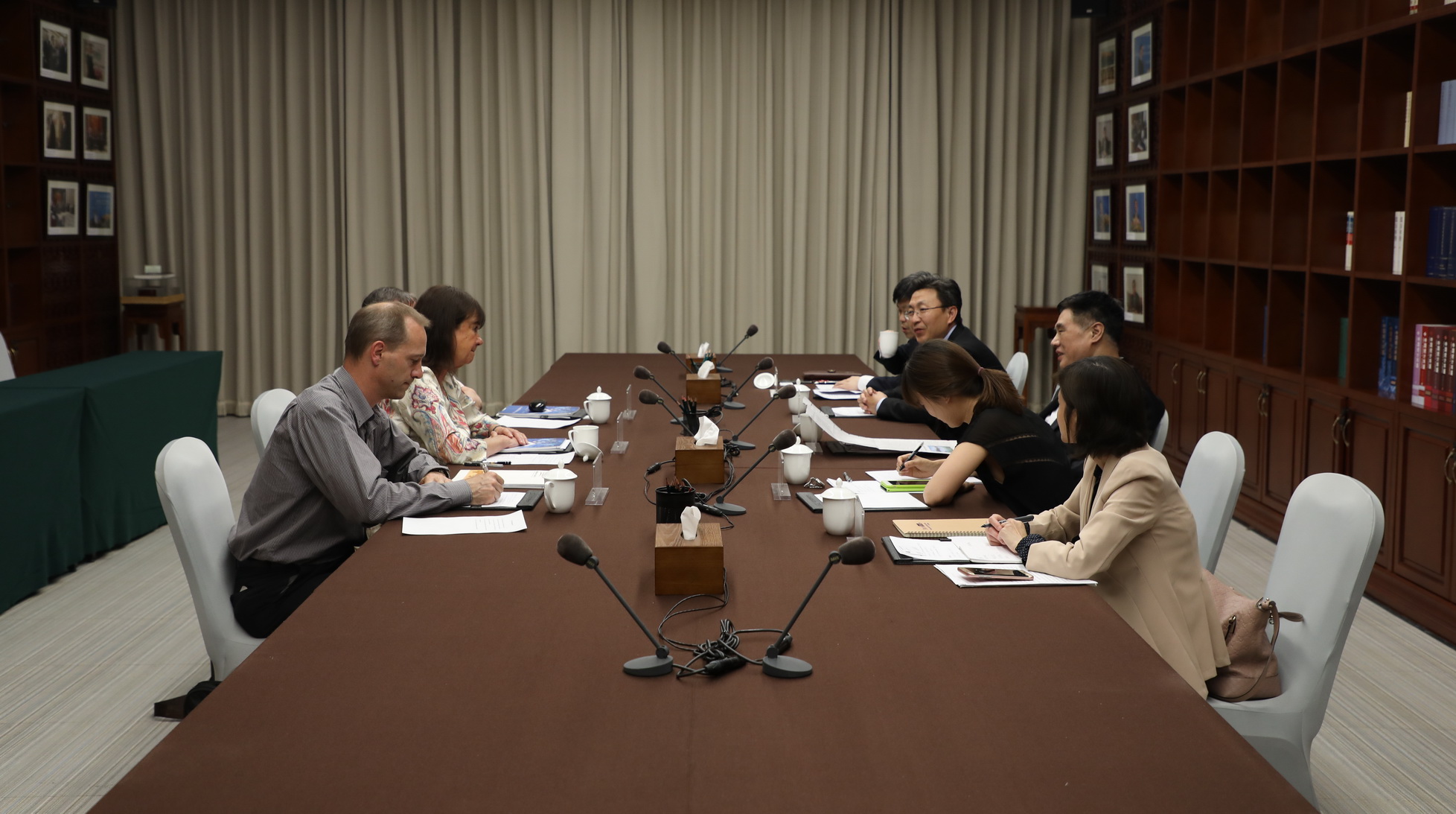 Ms LaRouche introduced the research works relating to the "Belt and Road" of the Schiller Institute, and the work the institute has done in promoting development in Africa, Latin America and Eurasia over the past years. She expressed her willingness to strengthen cooperation with CCIEE and give full play to its unique resource advantages around the world to promote the belt and road initiative and Sino-German cooperation in the above-mentioned regions and fields. At the same time, she also suggested that China should carry out more cultural events to gradually minimize the misunderstandings of other countries on China and the Belt and Road Initiative.
Zhang Xiaoqiang introduced the main work done by CCIEE in the Belt and Road -related research, especially the role played by CCIEE in organizing the Thematic-Forum on Think Tank Exchanges of the Belt and Road Forum for International Cooperation, and the drafting of the new edition of the "Belt and Road" white paper. Furthermore, he interpreted the keynote speeches delivered by Chairman Xi Jinping at the 2nd Belt and Road Forum for International Cooperation, the fruitful achievements of this forum, and the diplomatic, scientific and cultural exchanges between China and Germany, apart from the achievements the two countries have made in terms of trade and investment, technological innovation, industrial cooperation and SMEs cooperation. He suggested that the two sides can further cooperate in the areas of WTO reform, global economic governance and climate change.
The two sides also exchanged views on China-US economic and trade relations and agreed to further strengthen exchanges and cooperation between the two institutions in areas such as the "Belt and Road" research.