CCIEE Executive Vice Chairman Zhang Xiaoqiang Meets with Matthew Murray, Economic Counselor of the US Embassy in Beijing
Time:2019-08-19
source:CCIEE
On August 9, 2019, Zhang Xiaoqiang, CCIEE Executive Vice Chairman and Director of the CCIEE Executive Board, met with Matthew Murray, Economic Counselor of the US Embassy in Beijng. The two sides conducted in-depth exchanges on the current foreign investment policy of China and the policy of the Pilot Free Trade Zone. Xu Chaoyou, Director-General of the Department of External Affairs at CCIEE, Zhang Huanbo, Deputy Director of the US-Europe Research Institute at CCIEE, and other staff from the US embassy such as the Director of the Investment and Development Department were also present at the meeting.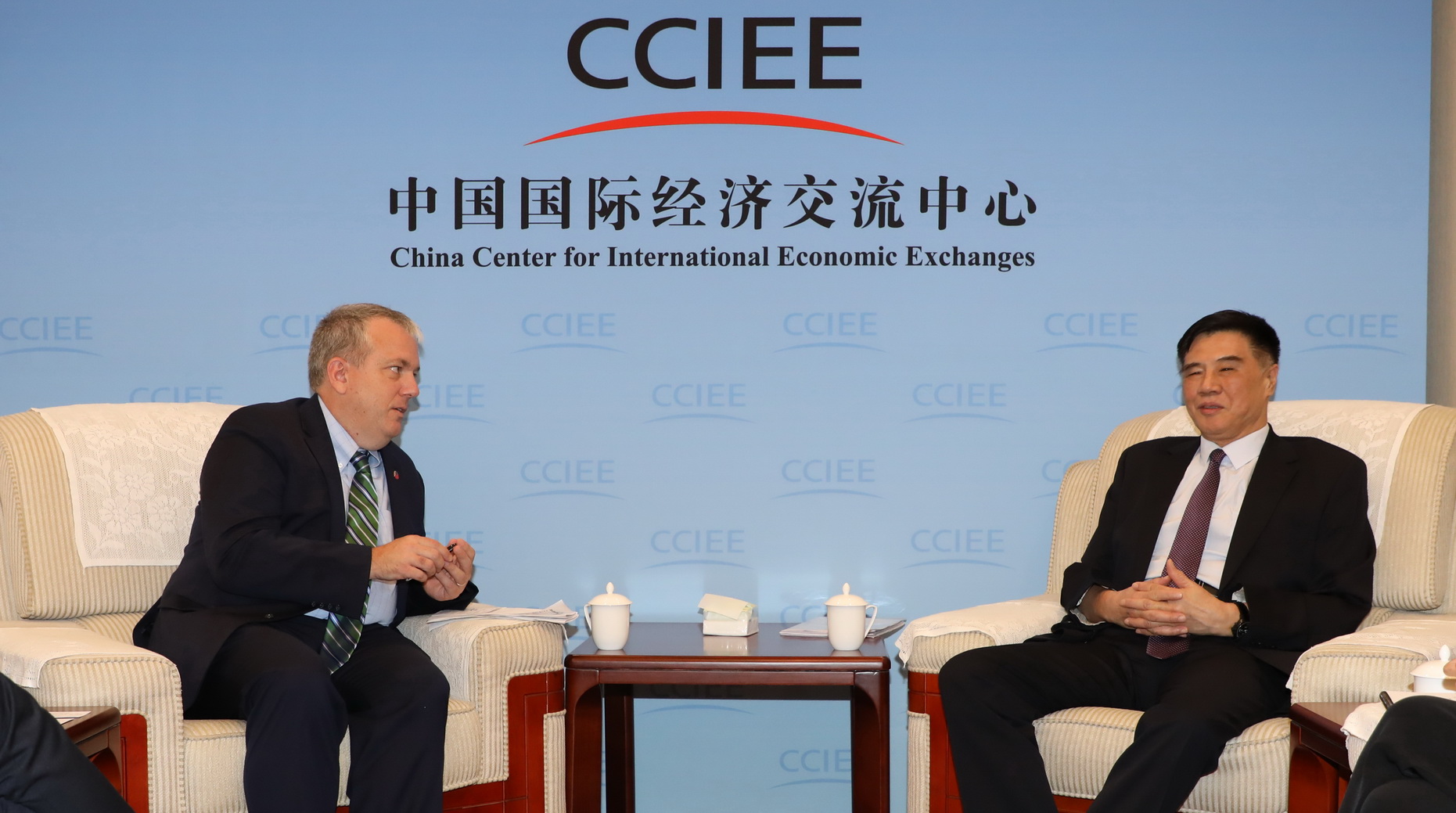 Zhang Xiaoqiang said that opening up is an important part of the basic national policy of China and the report of the 19th National Congress of the Communist Party of China proposed to form a new pattern of comprehensive opening up. In recent years, China has made great progress in the reform of foreign investment. For example, the National People's Congress passed the Foreign Investment Law of the People's Republic of China this March, requiring the administrative organs and their staff not to use administrative means to force technology transfer. At present, the relevant implementation rules are under development. In June, the new version of the national negative list for foreign investment market access was released and the access restrictions were reduced from 48 to 40 fields. At the 13th Summer Davos Forum held in July 2019, Chinese Premier Li Keqiang announced that China will further deepen the opening up of modern service industries such as finance, and remove shareholding limits on foreign ownership of securities, insurance and fund management firms in 2020, instead of 2021. At the same time, the Chinese government continues to work hard to improve the business environment. According to the World Bank report, China's business environment ranking jumped to No.46 in 2018, from the previous No.78. In the first half of the year, China's new foreign investment was 478.33 billion yuan, equivalent to 70 billion US dollars, up 7.2% year-on-year.
In September 2013, the first Pilot Free Trade Zone was launched in Shanghai, which was only 28 square kilometers but has been gradually expanded ever since. So far, 12 Pilot Free Trade Zones have been established in China, including Hainan. At the end of last year, the Central Economic Work Conference proposed to promote the transition from an open system based on goods and factors to institution-based opening up.
In fact, the State Council of China issued a notice on supporting the deepening reform and innovation of the free trade pilot zone in accordance with the spirit of the 19th National Congress. It involves a total of 53 items, such as creating a good investment environment, improving trade facilitation, promoting financial innovation and human resources. The 53 items will be implemented according to different situations: some of them will be implemented on a national basis, while others are specifically designed for certain trade zones. Recently, the State Council has issued an overall plan for the new Lingang area of the China (Shanghai) Pilot Free Trade Zone. The size of the new area is approximately 120 square kilometers and will be managed as a special economic zone, with the focus of realizing facilitation in investment, trade, capital, transportation and personnel between the pilot zone and overseas. Furthermore, the new area will increase its opening up and relax restrictions on registered capital and investment methods in key areas such as health, telecommunications, insurance, securities, scientific research, technical services and education. The new area will also create secure and convenient international internet data. All of these have demonstrated a high level of openness, which is equivalent to the opening up of the free trade port. The purpose of building high-level free trade zones is to achieve high quality development. In the overall plan for the new Lingang area of the China (Shanghai) Pilot Free Trade Zone, we also mentioned the establishment of cutting-edge industrial clusters with core technologies, including smart cars, smart manufacturing, and civil aviation. In November this year, the second China International Import Expo will be held in Shanghai, which is also an important measure of China's opening up.
Zhang Xiaoqiang pointed out that during the "14th Five-Year Plan" period, China will continue to promote a high level of openness in the following seven aspects. First, it will further improve the business environment; second, it will achieve a higher level of regulation- and institution-based opening up; third, it will attach more importance to bring advanced manufacturing and modern service industry to China to promote high-quality development; fourth, it will not only improve the level of openness in the east of China but also in the central and western regions; fifth, the "Belt and Road" is an important platform for promoting international cooperation and thus, more attention will be paid to ensure its healthy development and sustainability; sixth, we must make greater efforts in making China a strong trading country, and focus on improving the quality, branding and after-sales service of Chinese products so as to achieve further optimization in the global value chain; seventh, we will continue to support international trade in economic globalization and regional economic integration, actively promote the negotiation on various free trade agreements and help relevant participants to reach a consensus on the overall plan for WTO reform.
Zhang Xiaoqiang pointed out that there are several development directions for the "Belt and Road". First, Chinese companies will better respect local laws and regulations, folk customs and culture, including ecological environmental protection, and make greater efforts in compliance management when making overseas investment. Second, there will be a good balance between infrastructure construction and the establishment of industrial parks, which will help countries and regions along the route to truly embark on a sustainable path of industrialization and modernization. Last but not least, as a platform for cooperation, joint construction and sharing, the "Belt and Road" will be more open and inclusive.
Mr. Murray put forward some policy consultations on China's foreign investment and free trade pilot zones, raised questions on China's opening up policy during the 14th Five-Year Plan period, and made some suggestions on WTO reform, as well as how to strengthen communication and coordination before China releases its policy.