CCIEE Vice Chairman Zhang Dawei Meets with a Delegation of Japanese Financial Institutions
Date:2019-08-16
Source:CCIEE
On July 26, CCIEE Vice Chairman Zhang David met with a delegation of Japanese financial institutions, led by Yoshikazu Kato, adjunct Associate Professor at Asia Global Institute, the University of Hong Kong. The two sides exchanged views on China-US trade frictions, the prospects of China's technological development, intellectual property protection, and RMB internationalization. Zhang Yansheng, principal researcher of CCIEE, Liu Xiangdong, deputy director of the Economic Research Department, and Ms. Yuan Youwei, deputy director of the Department of External Affairs, were also present at the meeting.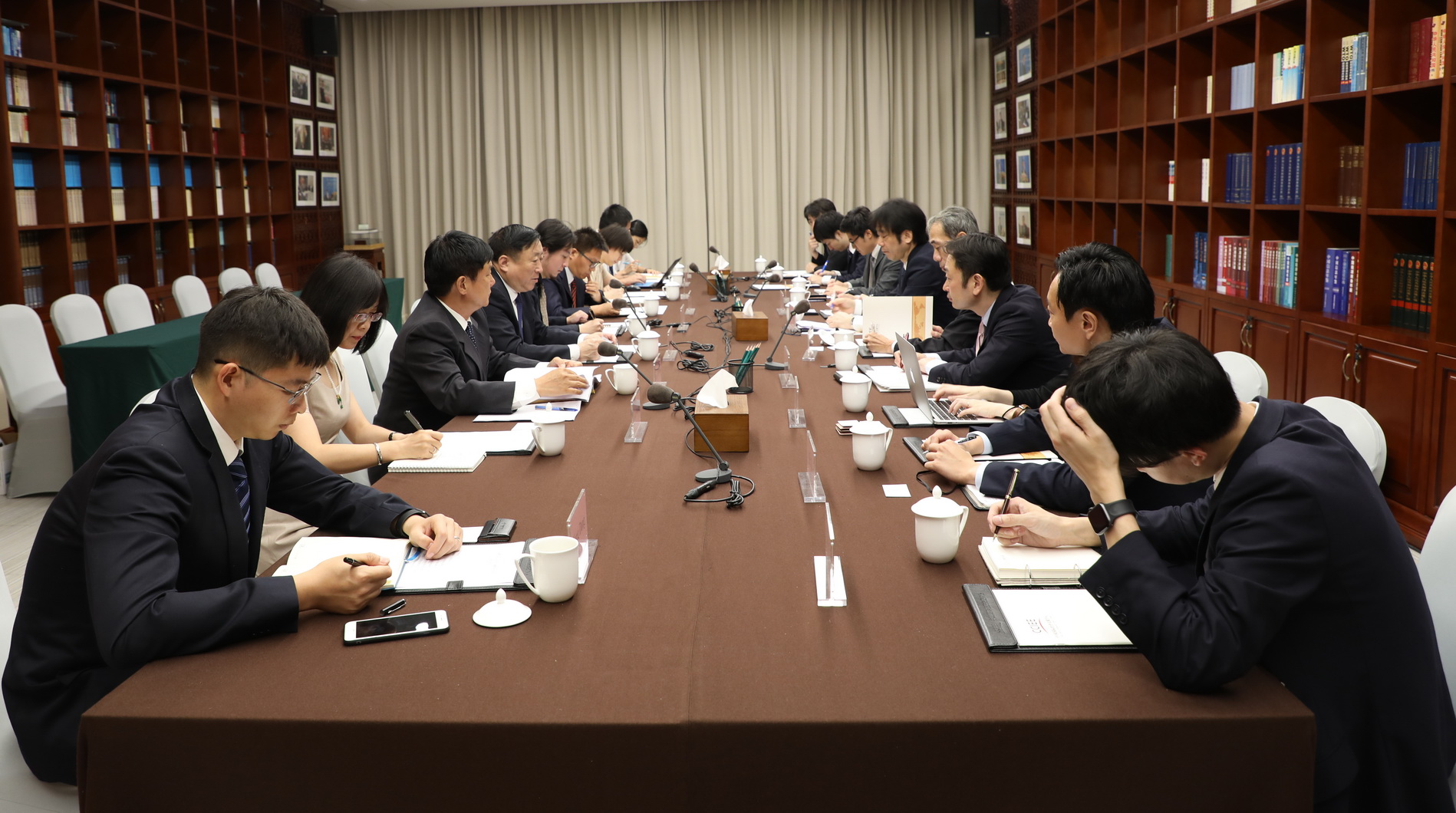 Zhang Dawei briefly introduced CCIEE and said that the China-US trade frictions have had a significant impact on the global supply chain, the Chinese and American companies and other countries. China is deepening its opening up and upgrading its industry and market, which means that China has great potential for economic development and will be able to maintain a stable economy. As for China and Japan, the two countries have strong potential for cultural integration and a good foundation for cooperation, thus, they should clarify the key areas of cooperation, strengthen cooperation in third-party markets, and promote pragmatic cooperation in science and technology, energy, environmental protection, pension and finance. The Chinese government has done a lot of work on intellectual property protection, but it still needs to learn from other countries to improve the existing system.
Zhang Yansheng expressed that China's economy has strong resilience and great potential. Although China is not fully prepared for the trade war, it is not afraid of the trade war. Actually, the China-US trade frictions have allowed China the opportunity to further develop itself and become a strong and responsible country because the Chinese government and enterprises have further expanded their investment in research and development, which is also a new opportunity for China and Japan to strengthen scientific and technological cooperation. The Chinese government attaches great importance to the protection of intellectual property rights and has taken a lot of measures in this regard. What the Chinese government did has gradually gained recognition from foreign companies, but it takes time to establish a sound intellectual property protection system.
Liu Xiangdong reckoned that the general direction of RMB internationalization will not change. As long as China's economy remains stable, with the coordinated development of international economic policies and continuous growth of China's foreign trade, the internationalization of the RMB has a good space for development.