CIEE Chief Economist Chen Wenling Meets A Delegation from the National Committee on US-China Relations
Date:2019-07-25
Source:CCIEE
On the morning of July 12, 2019, Chen Wenling, Chief Economist of CCIEE, met with Ms. Carla Hills, Chair of the National Committee on US-China Relations. Stephen Orlins, President of the National Committee on US-China Relations, Yao Yang, Dean of the National School of Development at Peking University, Stephen Roach, Senior Fellow at Yale University, Professor Kim Schoenholtz of the New York University, Xu Chaoyou, Director-General of the Department of External Affairs of CCIEE, and Ren Haiping, Deputy Director of the Strategic Research Department were also present at the meeting.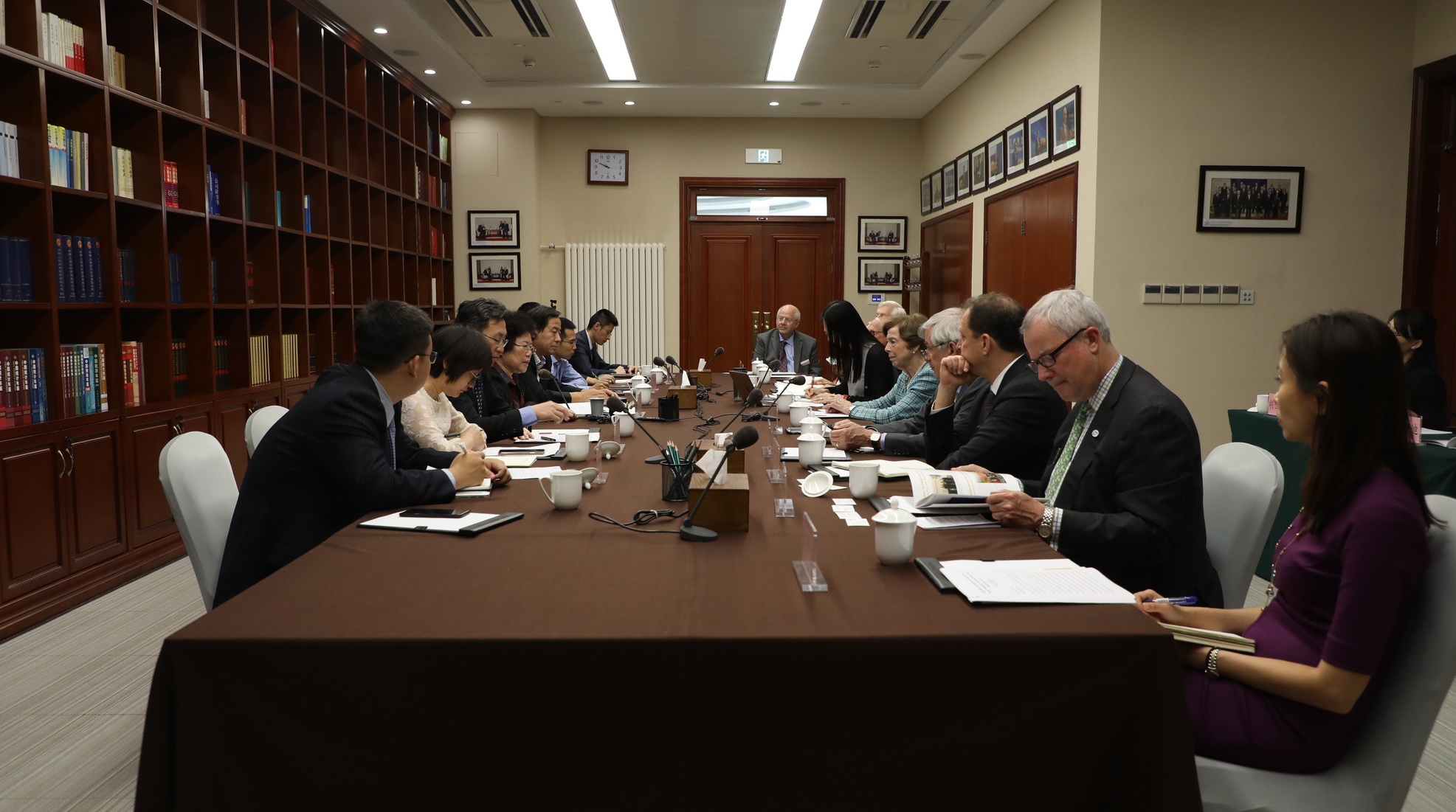 Chen Wenling welcomed the US delegation and exchanged views on the China-US economic and trade relations. She believes that for a healthy China-US relations should jump out of the puzzle. The two countries are two important economies in the world and the frictions between them have a negative effect on the world. Basically, the trade frictions are technical issues, but the US is replacing the strategic issues with technical issues, and replacing the historical long-term problem with the current short-term problem.
Ms. Hills said that the National Committee on US-China Relations has actively promoted the development of a sound US-China relationship for decades. Now that the US-China relations have entered a critical moment, and the economic and trade consultations have entered a rigid stage. The US believes that 90% of the problems have been solved, but we all know that the remaining 10% is the most difficult one. Together with Chinese Think Tanks, the National Committee on US-China Relations hopes to convey rational voices. We should assess the current US-China relationship objectively, and find solutions to the current problems.
Chen Wenling emphasized that four misunderstandings need to be cleared up to solve the trust crisis between China and the United States: is there a Thucydides' trap in the China-US relations? Is there a transfer of hegemony between China and the United States? Is China a threat to the US? The US misunderstood the four issues and brought setback for the China-US relations. We should jump out of the puzzle and come up with a long-term plan for healthy development of the China-US relations. We should implement the consensus reached by the two heads of state: jointly promote the China-US relations based on coordination, cooperation and stability. In the future, an institutionalized and constructive partnership between the two countries should be established. China and the United States have common interests and the potential for promoting global economic growth and governance, and coping with global challenges. China is trying to meet some of America's demands through deepening reform and opening up in accordance with its development. The extreme pressure exerted by the US will not help to resolve any problem and the trade war will also hurt the US itself. The US must respect economic and trade laws and take a long-term and objective view on the development of China-US relations.