CCIEE Holds 123rd "Monthly Economic Talk": Current Economic Situation and Policy Recommendations
Date:2019-11-04
Source:CCIEE
On October 25, 2019, CCIEE held the 123rd "Economic Monthly Talk" with the theme of "Current Economic Situation and Policy Recommendations". Zhang Xiaoqiang, Executive Vice Chairman of CCIEE, presided over the meeting. Lu Zhongyuan, former Deputy Director of the Development Research Center of the State Council, Fan Zhigang, Deputy Director of the Research Institute of the Industrial and Commercial Bank, and Zhang Yongjun, Deputy Chief Economist of CCIEE delivered speeches respectively.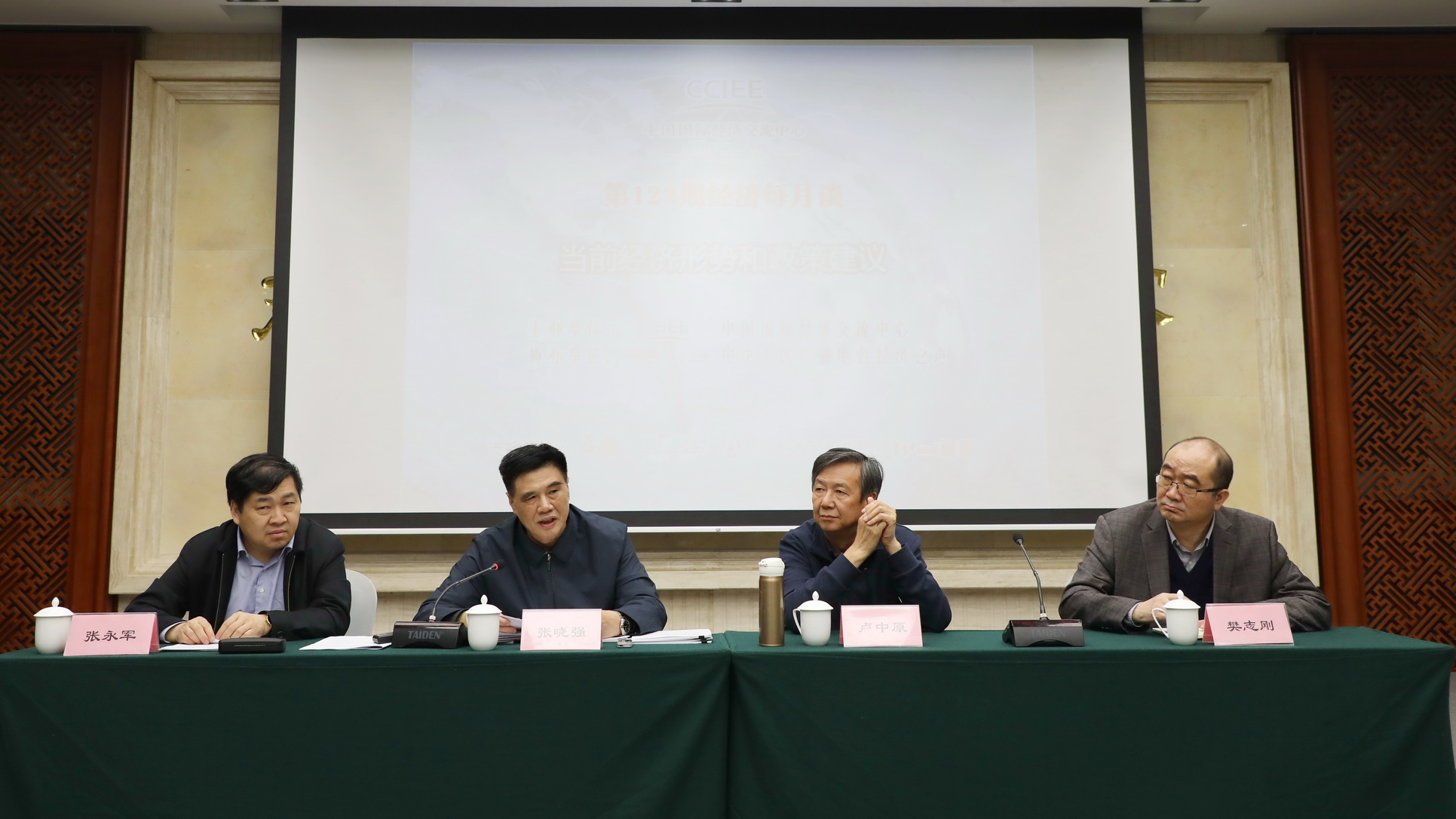 Zhang Xiaoqiang believes that China's economy is making progress while maintaining stability, and has shifted from a high-speed growth stage to high-quality development. China has been a major contributor to the world economy since 2008. In 2019, China's economic growth is expected to exceed 800 billion US dollars and the contribution to the annual world economic growth will be around 30%. In response to the current challenges facing the global economy, especially the developed economies, such as the Sino-US trade disputes and economic downturn, China will strive to make stable progress by transforming its development model, optimizing its economic structure, transforming its growth momentum and expanding its opening-up.
Lu Zhongyuan reckons that the current Chinese economy has four characteristics. First, progress has been made in economic transformation and upgrading. Second, challenges facing the Chinese economy remain. Third, the external environment is changing. Fourth, China needs to unleash its economic potential. In the third quarter, China's economic growth fell to 6.0%, but the economic growth for the whole year can still reach the expected target between 6.0% and 6.5%. In the next stage, we must pay close attention to the improvement of total factor productivity, promote technological innovation, focus on improving the quality of labor force, promote management innovation and institutional change to meet the needs of economic transformation, actively respond to the economic downturn and achieve high-quality development.
Fan Zhigang pointed out that China's financial situation is stable and finance has played an important role in serving the real economy and promoting China's economic growth. Since 2019, key indicators such as China's manufacturing loans, non-performing loan ratio, and local debt have been well under control. Monetary policy has played a positive role in counter-cyclical adjustments. However, banks are under pressure to support stable growth and actively cooperate with counter-cyclical adjustments. They need to solve these problems by issuing perpetual bonds, replenishing capital, and further deepening reforms.
Zhang Yongjun said that the current Chinese economic growth is experiencing a slowdown due to the changing domestic and international environment. We should use domestic macroeconomic policies to further stimulate social demand while adhering to supply-side structural reforms. Furthermore, we should have a positive fiscal policy, further relax monetary policy, unblock the policy transmission mechanism; break barriers affecting urbanization, accelerate the reform of the social security system, improve social security, implement the strategy of rural rejuvenation, and improve public services in rural areas.
In the Q&A section, experts answered various questions from the media and the audience. Researchers from CCIEE, representatives from enterprises, research institutions and news agencies took part in the event.