2019 New Economy Forum Held in Beijing
Date:2019-11-22
Source:CCIEE
On November 21, 2019, the New Economy Forum, a two-day event co-hosted by China Center for International Economic Exchanges (CCIEE) and Bloomberg L.P., was inaugurated in Beijing. The theme of this forum is "A New Economy for A New Future". Zeng Peiyan, Advisory Board Co-Chair of the New Economy Forum, former Vice Premier of China and Chairman of CCIEE, Henry Paulson, Advisory Board Co-Chair of the New Economy Forum and former US Secretary of Treasury, addressed the opening ceremony. About 500 influential government officials, business executives, technology innovation leaders, experts and scholars from 45 countries and regions attended the forum.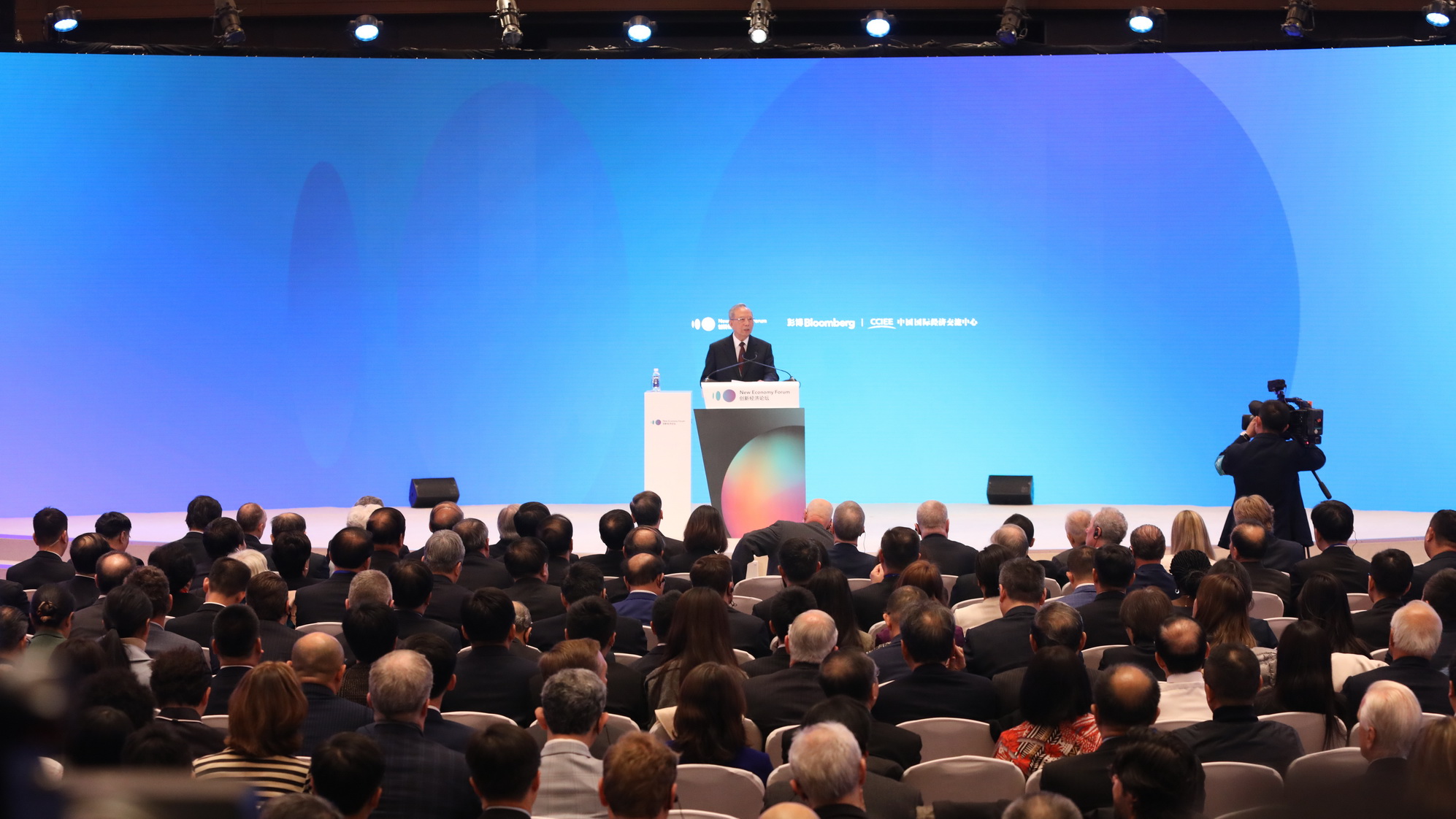 In his speech, CCIEE Chairman Zeng Peiyan stated that innovation is the key to the development and progress of human society. Innovation enables us to share each other's thoughts, opinions, and values efficiently and conveniently. Furthermore, it allows us to join hands, gather wisdom and explore human social progress. Innovation is borderless and we should seize the opportunities and work together to make sure that economic results of innovation will benefit the entire world and humanity.
Henry Paulson said that innovation has changed our way of living and production, apart from the changes it has brought to traditional industries. At present, the business community and the government need to strengthen cooperation and work together to address major economic development issues.
During the two-day conference, the guests will discuss the following issues and offer their solutions: the direction of China's economic development, the balance between industrial and commercial development and social security, the challenges and opportunities of the new economy, how to respond to the next financial crisis, how urbanization can inject new vitality into the world economy, climate change and our actions, how will the new technological revolution redefine competition and cooperation, the impact of regionalization of the supply chain, and the future of economic globalization.
More than 100 senior officials and business CEO attended the forum, including Henry Paulson, Gary Cohn, Fu Ying, Bill Gates, Martin Lau, Lou Jiwei, Nandan Nilekani, Lubna Olayan, Penny Pritzker, David Rubinstein, Kevin Rudd, Xie Zhenhua, Zhang Lei, Zhou Xiaochuan and Zhu Min.
The New Economic Forum is designed to build a unique communication platform for global political and business leaders to discuss major challenges facing the world today, seek solutions and work together to achieve sustainable and inclusive economic growth.