CCIEE and the European Union Chamber of Commerce in China Holds Online Seminar
Time:2020-11-12
source:CCIEE
On the morning of November 3, 2020, Zhang Xiaoqiang, Executive Vice-Chairman of China Center for International Economic Exchanges(CCIEE) and Mr. Joerg Wuttke, President of the European Union Chamber of Commerce in China held a video meeting together, exchanging views on the European Business in China Position Paper 2020/2021 (Hereinafter referred to as the "paper") and matters concerning European companies in China. Xu Zhanchen, Director of the Strategic Research Department of CCIEE, Zhang Huanbo, Director of the US-Europe Institute of CCIEE, Zhang Monan, Chief Researcher of the US-Europe Institute of CCIEE, Yuan Youwei, Secretary-General of the New Economy Forum and Deputy Director of the Department of External Affairs of CCIEE, and staff from both sides participated in the dialogue.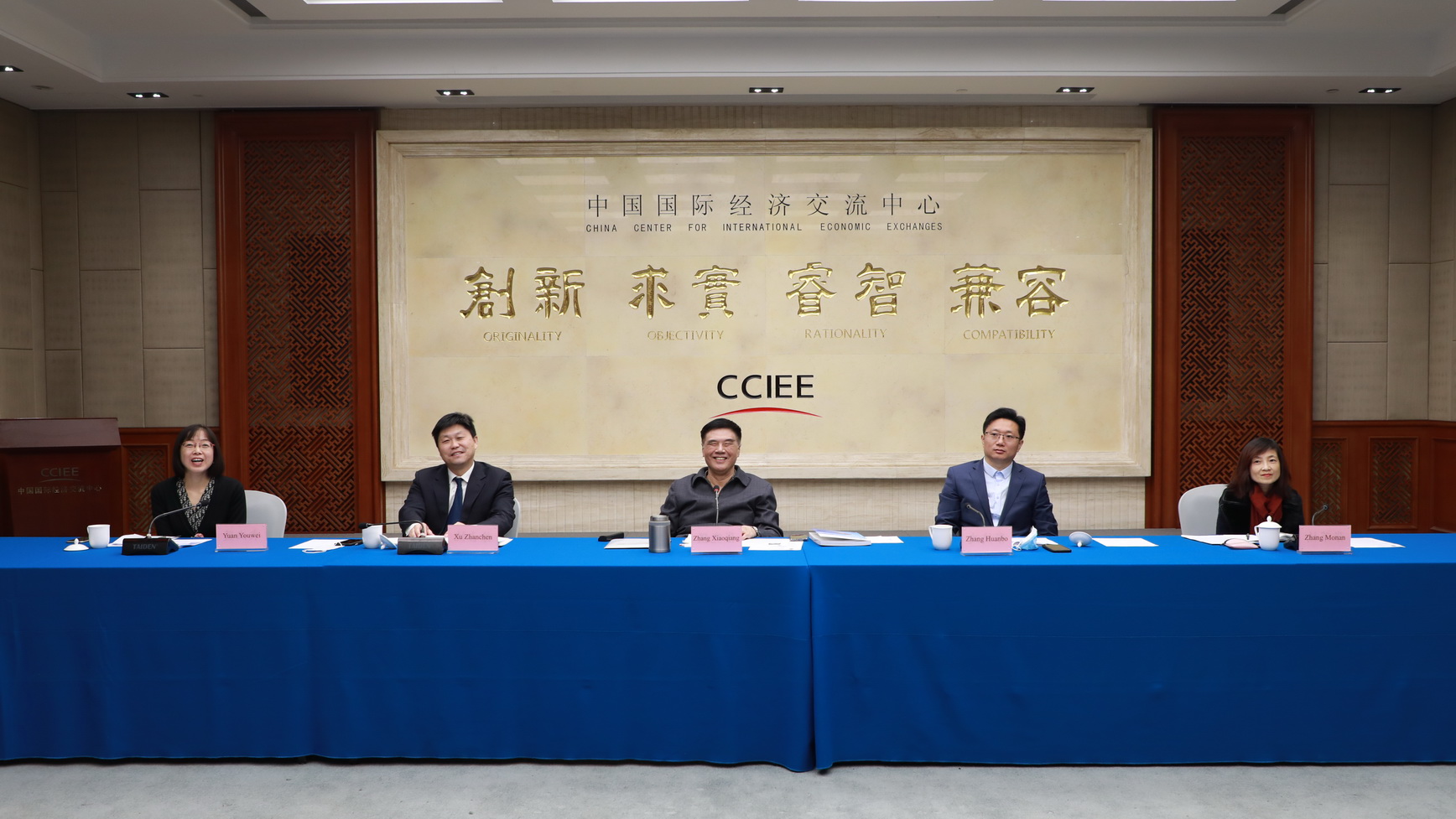 Mr. Wuttke said that the European Union Chamber of Commerce in China has 1,700 member companies and established branches in 9 cities since its establishment in 2000. The paper issued by the European Union Chamber of Commerce in China recently used official data from the World Bank to analyze and compare the economic and trade development of China, Japan, South Korea, and Taiwan. The conclusion is: China's further reforms will boost its rapid economic development in the future. China has made significant achievements in fighting the pandemic and improving economic reforms. Thus, EU companies are very optimistic about the potential of the Chinese market.
This year's survey of its member companies shows that only 10% of them will consider moving out of China, compared with 20% ten years ago, indicating that China's business environment has been improved greatly. For example, the company BASF has invested US$10 billion to establish a new production base in Zhanjiang, Guangdong, demonstrating the confidence of European companies in China's business environment. At the same time, we have also noticed that Chinese President Xi Jinping has made a lot of efforts to achieve carbon neutrality by 2060. Europe strongly supports China in this regard and EU companies are also willing to promote China's rapid development in the field of energy conservation and environmental protection through scientific and technological cooperation. Nonetheless, EU companies have also encountered problems in China. Nearly 80% of the member companies have a negative attitude towards China's business environment, up from 50% ten years ago. External factors such as the COVID-19 pandemic and the Sino-US trade frictions are the main causes of this phenomenon. China's business environment will be further improved through fruitful dialogue, which not only conforms to the interests of EU companies in China but also benefits the long-term development of China's economy.
At the meeting, representatives of the Advisory Committee of the European Union Chamber of Commerce in China pointed out problems encountered by European companies in China and proposed suggestions.
Zhang Xiaoqiang said that this year marks the 20th anniversary of the establishment of the European Union Chamber of Commerce in China, and the Chamber of Commerce has made great contributions to promoting economic and trade cooperation between China and the European Union. Representatives conducted frank exchanges on the problems encountered by European companies in shipbuilding, network security, information and communication technology, pharmaceuticals and many other fields. We are willing to deepen exchanges on relevant issues and make suggestions to relevant government departments. As a responsible country, China is determined to deepen reforms, expand opening-up, improve the business environment and respond to global climate change. At the 75th United Nations General Assembly in September this year, President Xi Jinping proposed that China strives to achieve carbon neutrality by 2060 and will make greater contributions in the field of energy conservation and emission reduction, which is of vital importance to the development of China and other countries. The Paper issued by the EU Chamber of Commerce in China is mainly based on data from January to July 2020, but the international economy and the COVID-19 pandemic led to profound changes from August to October. Under the strong leadership of the Party Central Committee and with the efforts made by the Chinese people, China's anti-pandemic work has achieved remarkable results.
China's economy is making a strong recovery and economic growth has turned from negative to positive. On the contrary, the pandemic is getting worse in many European and American countries. On October 30 alone, the number of confirmed cases of the COVID-19 in the EU and the United States reached more than 300,000 and 100,000 respectively. Some senior officials in the EU and the US often use discriminatory terms such as "Wuhan virus" and "Chinese virus" to slander China, which will not only deter their development, but also slow down global anti-pandemic cooperation.
Countries around the world should unite to fight the COVID-19 pandemic. The Paper states that EU companies have concerns about China's implementation of cyber information security regulations. Such kind of concern is unnecessary.
First of all, we realized the importance of digital technology during the pandemic, which is essential for effective prevention and control of the pandemic, digital transformation and long-term development. Secondly, data security is the cornerstone of digital technology development. At the international Seminar on "Seizing Digital Opportunities for Cooperation and Development" held on September 8 this year, State Councilor and Minister of Foreign Affairs Wang Yi, delivered a keynote speech on Upholding Multilateralism, Fairness and Justice and Promoting Mutually Beneficial Cooperation, and proposed a global initiative on data security, indicating that China is willing to strengthen cooperation with countries including the European Union on data security. China has made remarkable achievements in the 5G field. As of the end of September, the number of base stations reached 690,000 and the number of users exceeded 160 million. While adhering to its development concept, China also welcomes foreign businessmen with a broad mind. European telecom companies such as Nokia and Ericsson have all obtained contracts of large value in China. In contrast, some EU countries, such as Sweden, at the instigation of the United States, refused Chinese companies such as Huawei and ZTE to participate in their 5G construction.
Zhang Xiaoqiang pointed out that China and the EU should have a co-existence of cooperation and competition. According to data from the Ministry of Transport, the China-Europe freight trains reached 8,800 from January to September this year, and the freight volume exceeded 800,000 TEUs, a year-on-year increase of 51%. In terms of automakers, the sales of Mercedes-Benz and BMW in China in the third quarter increased by 23% and 30% respectively, compared with the same period last year. Last week, Airbus China assembly plant delivered the 500th A320 passenger plane to China Southern Airlines. Affected by the difficult market environment, the number of global civil aircraft deliveries has dropped significantly from last year. Nonetheless, Airbus delivered a total of 341 civilian aircrafts form January to September 2020, while Boeing delivered just over 40 airplanes. The data shows that China-EU economic and trade cooperation can withstand the test of the pandemic. The latest World Investment Report 2020 released by the United Nations Conference on Trade and Development (UNCTAD) shows that in the first half of 2020, global cross-border direct investment fell by nearly 40% compared with the same period last year, FDI in Europe fell by 30%, and the United States decreased 61%. In China, however, FDI only reduced by 4%. From January to September, China's FDI grew by 2.5%, demonstrating the strong resilience of China's economic development, development prospects and potential for mutually beneficial cooperation between China and other countries.
Zhang Xiaoqiang said that China is a staunch advocate of economic globalization and it will implement further opening-up. Countries with different systems should seek common ground while reserving differences, learn from each other and respect each other's core interests. We will never accept any kind of slander based on false information and the abuse of "human rights." In the Paper issued by the EU Chamber of Commerce in China, there are biased statements such as the Liu Xiaobo incident and the Norwegian salmon purchase incident, which I think are inappropriate. The exchanges and cooperation between countries should be based on the five principles of peaceful coexistence. We refute the distorted remarks made by senior Western officials. This is to exercise our legitimate rights and safeguard our legitimate interests, not the "wolf war" style of diplomacy proposed in the Paper.
Zhang Xiaoqiang emphasized that the leaders of China and Europe unanimously oppose unilateralism, advocate multilateralism, and uphold the concept of open cooperation. China has made active efforts to improve the business environment, expand market access, promote decentralization, strengthen intellectual property protection, and deepen the reform of state-owned enterprises. The results are obvious.
China and the EU should carry out bilateral and third-party market cooperation based on the principle of equality and mutual benefit. China has become one of the best competitors in infrastructure construction. For example, the Beijing Daxing International Airport was completed in just over 4 years, with an annual capacity of 72 million passengers and an investment of 10 billion euros. The convenient and diversified connections, environmental protection concepts and high-quality humanistic design of the airport have reached an outstanding standard. In contrast, the new airport in Berlin, Germany, started construction in 2006 and was not put into use until October 31, 2020. Its capacity is 25 million passengers, and the budget rose from 1.7 billion to 6 billion euro. The paper mentioned that openness and transparency should be increased in the third-party market cooperation, which is right. Each of the participants should make the best use of their respective advantages to achieve the best result. CCIEE is willing to continue exchanges and cooperation with the European Union Chamber of Commerce in China to jointly promote the sound development of China-EU economic and trade relations.