CCIEE Holds the 137th Monthly Economic Talk
Time:2021-03-03
source:CCIEE
On February 26, 2021, the China Center for International Economic Exchanges (CCIEE) held the 137th Monthly Economic Talk online with the theme of "Analysis of Changes in Domestic and Foreign Demands". The meeting was presided over by Zhang Xiaoqiang, Executive Vice Chairman and Director of the Executive Board of CCIEE. Zhang Guoqing, Director of the Academic Committee of the Circulation Research Institute at the Northeast University of Finance and Economics, and former Special Commissioner of the Ministry of Commerce in Shanghai, Yu Miaojie, Professor of Peking University and Secretary of the Party Committee and Deputy Dean of the National Development Research Institute, Zhang Yongjun, Deputy Chief Economist of CCIEE, delivered speeches respectively.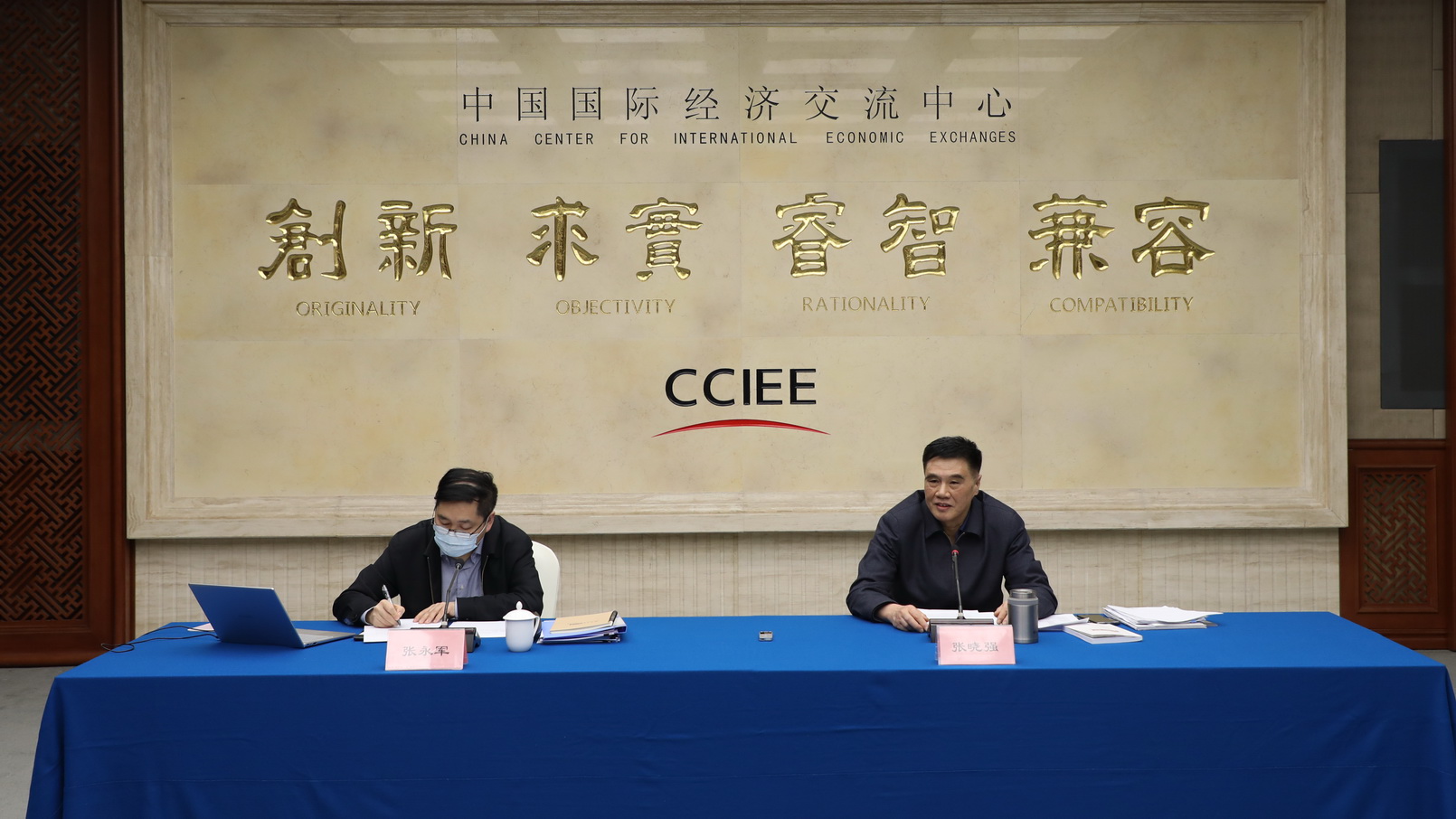 Zhang Guoqing said that the rebound in consumption during the Spring Festival has laid a good foundation for the recovery of China's economy. This year, China's retail of consumer goods will grow more than 10%. China is building a new development pattern based on the expansion of domestic demand, which will release consumption potential, promote the upgrading of consumption structure, and create a favorable environment to meet the diverse needs of consumers.
Zhang Yongjun said that the investment last year played an important role in bringing China's economy back on track. In 2021, the policy of "stabilizing investment" will be implemented continuously. As the profitability of enterprises continues to improve, the willingness to invest will increase accordingly, and there will be more favorable conditions for China to achieve steady investment growth. This year, China should use expanding domestic demand as a strategy to guide residents to effectively convert savings into investment. China's economy will grow rapidly first and slow down later. The domestic demand will continue to grow.
Yu Miaojie believes that Europe, the United States and other countries have not yet come out of the COVID-9 pandemic, but China's import and export industry has already returned to normal. This year, foreign trade will make more contributions to China's economy. In the future, we need to actively participate in the formulation of international trade service rules, use the Regional Comprehensive Economic Partnership Agreement (RCEP) to promote the development of service trade.
After the speech, the experts answered various questions from the audience. Researchers from CCIEE, representatives from CCIEE member units, research institutions, enterprises and media participated in the online conference.