CCIEE Holds a Videoconference on RCEP Cooperation
Time:2021-09-22
source:CCIEE
On September 22, CCIEE held a videoconference with think tanks from RCEP member countries. Experts from CCIEE, Australian National University (ANU), Institute of Developing Economies of Japan External Trade Organization (JETRO), Institute of Foreign Affairs (IFA) of Laos Ministry of Foreign Affairs, Yangon University of Economics, The University of Auckland and The Habibie Center of Indonesia launched discussions on how to promote regional economic and trade cooperation and regional integration under the framework of RCEP, as well as RCEP and industry chain cooperation.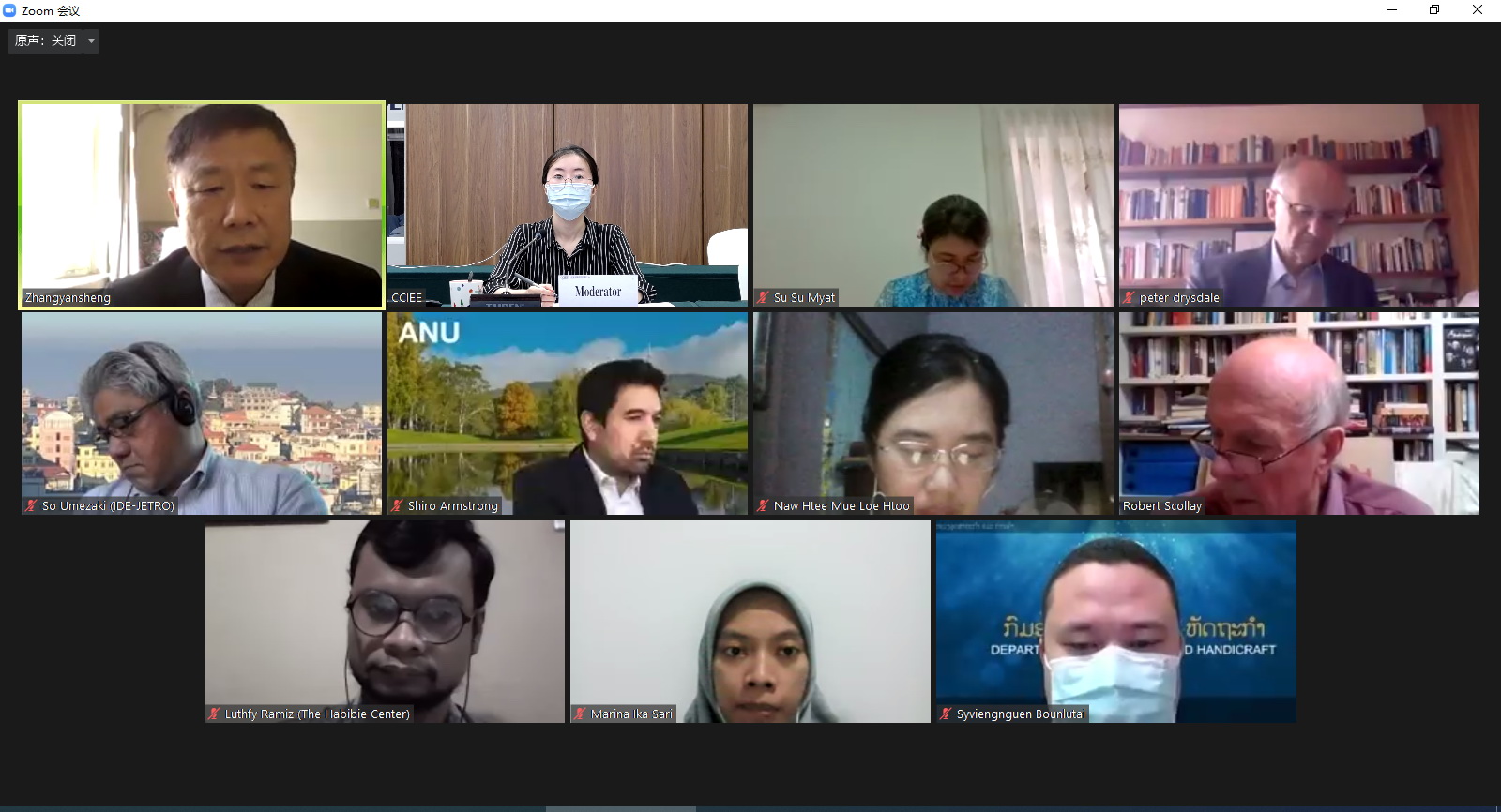 Experts present agreed that against the backdrop of lasting impact from the COVID-19 and sluggish recovery of global economy, intensified trade and industrial cooperation under the framework of RCEP will not only facilitate economic recovery in member countries, but also play an important role in promoting economic globalization and regional integration and reshaping the layout of industry chain and supply chain worldwide. In the future, all countries should work together to enhance mutual trust and macro policy communication and coordination, effectively manage disputes, adhere to open market, and accelerate adoption of unified standards. The focus should be pragmatic cooperation on digital economy, green development, knowledge sharing, capacity building and climate change, so as to constantly inject impetus to regional economy.
Attending the videoconference included Zhang Yansheng, Principal Researcher of CCIEE, Peter Drysdale, Professor of ANU, Shiro Armstrong, Executive Director of ANU Australia-Japan Research Centre and East Asian Bureau of Economic Research in the Crawford School of Public Policy, Umezaki So, Director of Economic Integration Studies Group of Development Studies Center of JETRO, Phoutvichay Linsomphou, Deputy Director of AEC Division of ASEAN Department of IFA of Laos Ministry of Foreign Affairs, Syviengnguen Bounlutai, Deputy Chief of Statistics and Planning Division of Department of Industry and Handicraft of Laos Ministry of Industry and Commerce, Rob Scollay, Associate Professor and Director of New Zealand APEC Study Centre of The University of Auckland, Su Su Myat, Professor and Head of Department of Applied Economics of Yangon University of Economics, Naw Hti Mu Lo Htoo, Professor and Head of Department of Economics of Yangon University of Economics, and Marina Ika Sari and Luthfy Ramiz, researchers at the ASEAN Studies Program of Indonesia's Habibie Center.