Report on the Peak Carbon Emissions and Carbon Neutrality (2021) Releasing Ceremony and Seminar on Carbon Peak and Neutrality Held in Beijing
Time:2021-12-29
source:CCIEE
On 29 December 2021, China Center for International Economic Exchanges (CCIEE) organized the releasing ceremony of Report on the Peak Carbon Emissions and Carbon Neutrality (2021) and seminar on Carbon Peak and Neutrality, and Zhang Xiaoqiang, Executive Vice Chairman and CEO of CCIEE, presided over the event. Qian Zhimin, Chairman of State Power Investment Corporation (SPIC), and Wang Limin, President of Social Sciences Academic Press, delivered speeches respectively.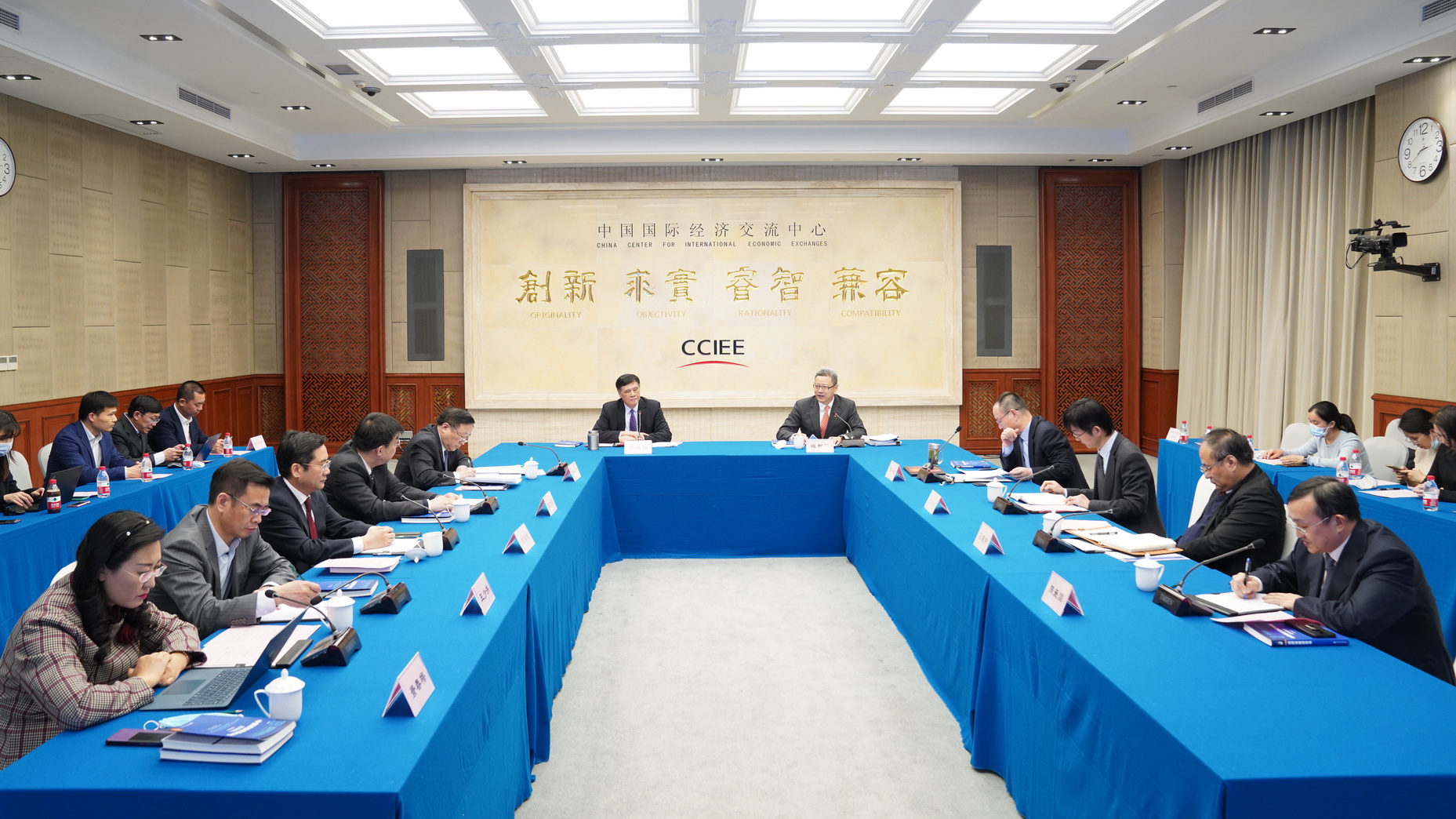 Zhang Dawei, Vice Chairman and Secretary-General of CCIEE, Wang Yiming, Vice Chairman and Chairman of Academic Committee of CCIEE, Zhang Yongsheng, Director General of Research Institute for Eco-civilization of Chinese Academy of Social Sciences (CASS), and other well-known officials and scholars attended the seminar and joined the discussions. On behalf of the research team, Jing Chunmei, Head of Research Management and Information Department and Head of Institute of Energy Policy Studies of CCIE, made the presentation on the progress, challenges and outlook of China's carbon peak and neutrality.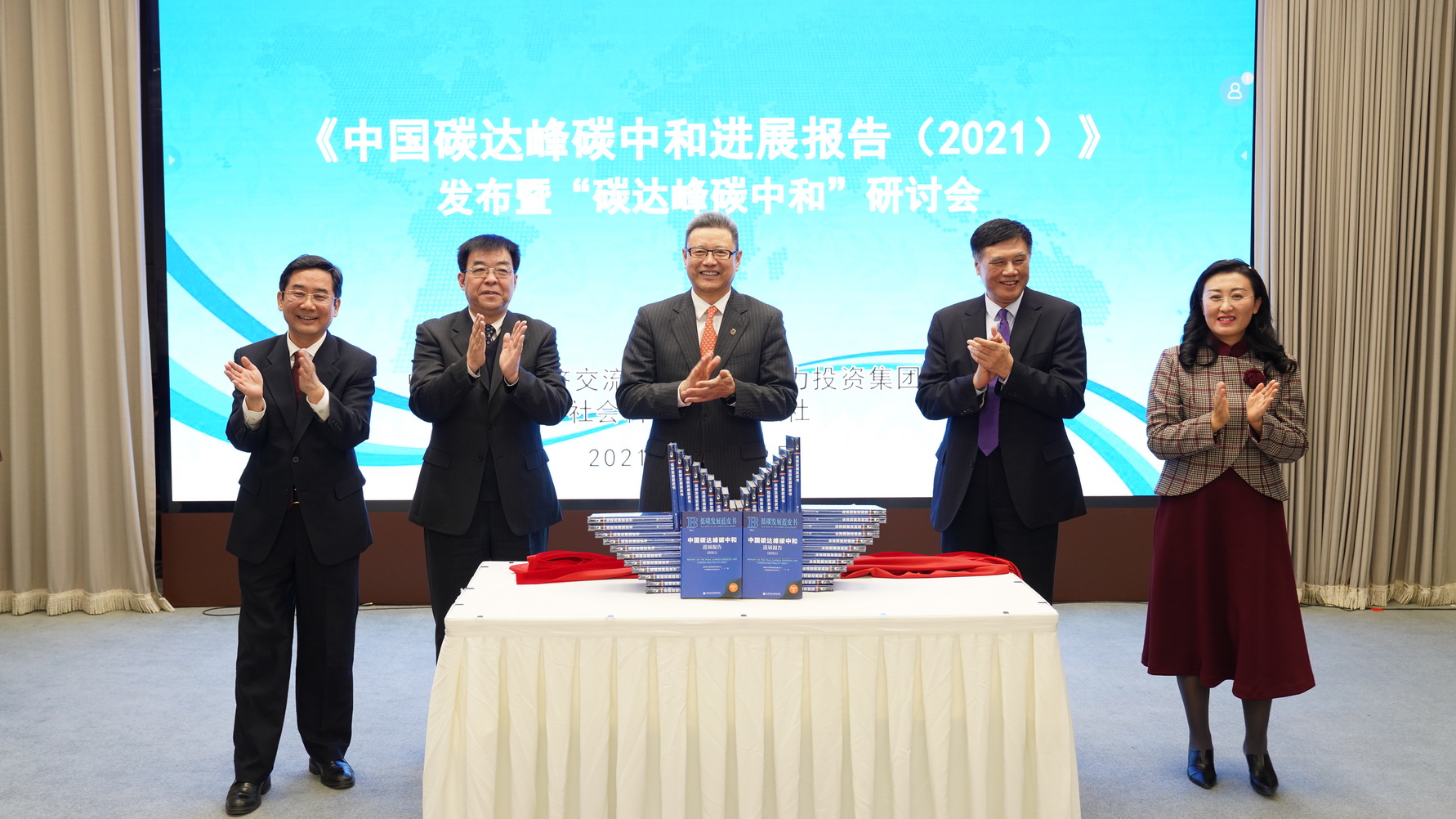 Report on the Peak Carbon Emissions and Carbon Neutrality (2021) is the first domestic bluebook that is themed with "carbon peak, carbon neutrality" and will keep long-term track of it. Apart from the research team, CCIEE and SPIC also invited famous officials of ministerial level and scholars from influential organizations, universities, state-owned enterprises and research institutes to provide valuable, insightful and feasible policy suggestions focusing on "dual carbon" for the joint research, including those from Development Research Center of the State Council (DRC), CASS, Institute of Energy Studies of the Academy of Macroeconomic Research, China Electric Power Planning and Engineering Institute, Peking University, Tsinghua University, China University of Mining and Technology and China National Petroleum Corporation. The whole book consists of one main report and five sub-chapters, namely general views, features, policies, international experience and case studies, containing more than 30 essays in total. Since this year's report, the research team will update the work on "dual carbon" annually and present in-depth explanation, analysis and relevant advice of authoritative experts.
The Report views that achieving carbon peak and carbon neutrality has become an international consensus. In November, 2021, China and the U.S. released the China-U.S. Joint Glasgow Declaration on Enhancing Climate Action in the 2020s, claiming to strengthen cooperation on climate change, which has safeguarded the outcomes of the Paris Agreement, and demonstrated the responsibilities as major powers to make tangible contributions to the Glasgow conference. China is polishing the top-level design of "carbon peak, carbon neutrality" step by step, with the path clearer and clearer. Opinions of the Central Committee of the CPC and the State Council on Carbon Dioxide Peaking and Carbon Neutrality in Full and Faithful Implementation of the New Development Philosophy and Action Plan for Carbon Dioxide Peaking Before 2030, which were released in October, 2021, are the two top-level designs covering the whole course of carbon dioxide peaking and carbon neutrality.
The Report puts forward that constant adjustment in industrial structure and energy structure, promotion of energy saving and improvement in energy efficiency are key paths to the fulfillment of carbon dioxide peaking and carbon neutrality targets. Major points can be concluded as "optimize the industry, cut the coal, stabilize the oil, increase the natural gas, scale up new energy and improve efficiency", meaning that to achieve the dual-carbon goals, China should optimize the structure of its energy industry, gradually reduce the consumption of coal, stabilize the consumption of petroleum oil, scale up the consumption of natural gas, increase the ratio of wind power and solar power in energy consumption, and formulate long-run mechanism to promote energy saving and improve energy efficiency.
The Report indicates that before China realizes carbon dioxide peaking by 2030 and carbon neutrality by 2060, China has to address six major challenges, including the comparatively high ratio of heavy industry to the economy, the large share of coal in total energy consumption, the low energy efficiency, the insufficient green and low-carbon technology, the immature system and mechanism, and the harsh external environment. Considering that China is abundant with coal while oil and natural gas are relatively scarce, China should stabilize the consumption of traditional energy before setting up effective system for new energy, raise up the ratio of new energy to the total consumption while maintaining current level, accomplish the staged replacement of traditional energy with the new as soon as possible, while taking the national energy security and economic growth as the bottom line, so as to advance stable transition of energy and low-carbon transformation.
First, sweeping approach and actions to cut carbon emissions overnight should be avoided as carbon dioxide peaking and carbon neutrality should be advanced in accordance with local conditions. Second, adjustment of industrial structure should be sped up and industries with heavy pollution and large energy consumption should be restrictedly supervised. Next is to adjust the energy structure, creating a modern energy system that is clean and highly efficient. Besides, attention should be paid to energy saving and efforts should be made to improve energy efficiency, shifting the focus from double control of total consumption and intensity of energy to the ones of carbon emissions. Fifth, China should proactively strive for technological breakthroughs and innovation in electrification, new fuel replacement and carbon negative activities. Sixth, international cooperation on technology, policy, standard and rules should be strengthened. Last but not least, China should deepen reform, accelerating the building of electricity system adapting to massive development of new energy.
Officials and experts present at the conference agreed that the Report is high-qualified, high-level and authoritative because it provides in-depth explanation of "dual-carbon" strategy formulated by the CPC Central Committee and the State Council, keeps close track of domestic and overseas "dual-carbon" dynamics, analyzes challenges against the achievement of "dual-carbon" goals and puts forward policy suggestions for "dual-carbon" work comprehensively. It does not only serve as reference for relevant government departments in their decision-making, but also provides precious first-hand materials for insiders to predict the trend of "dual-carbon" development.