Blue Book of Sustainable Development: Evaluation Report on the Sustainable Development of China (2021) Is Released in Beijing
Time:2021-12-24
source:CCIEE
On 21 December, 2021, China Center for International Economic Exchanges (CCIEE), the Earth Institute of Columbia University, AliResearch, Philips (China) Investment and Social Sciences Academic Press held the Symposium on the Sustainable Development of China and releasing ceremony of Blue Book of Sustainable Development: Evaluation Report on the Sustainable Development of China (2021). Zhang Dawei, Vice Chairman and Secretary-General of CCIEE, Zhao Baige, Vice Chairman of the Foreign Affairs Committee of the 12th National People's Congress (NPC), Xu Xianchun, former Deputy Commissioner of National Bureau of Statistics (NBS), Wang Shi, Chairman of Vanke Foundation and Satyajit Bose, Professor of Columbia University, addressed the event.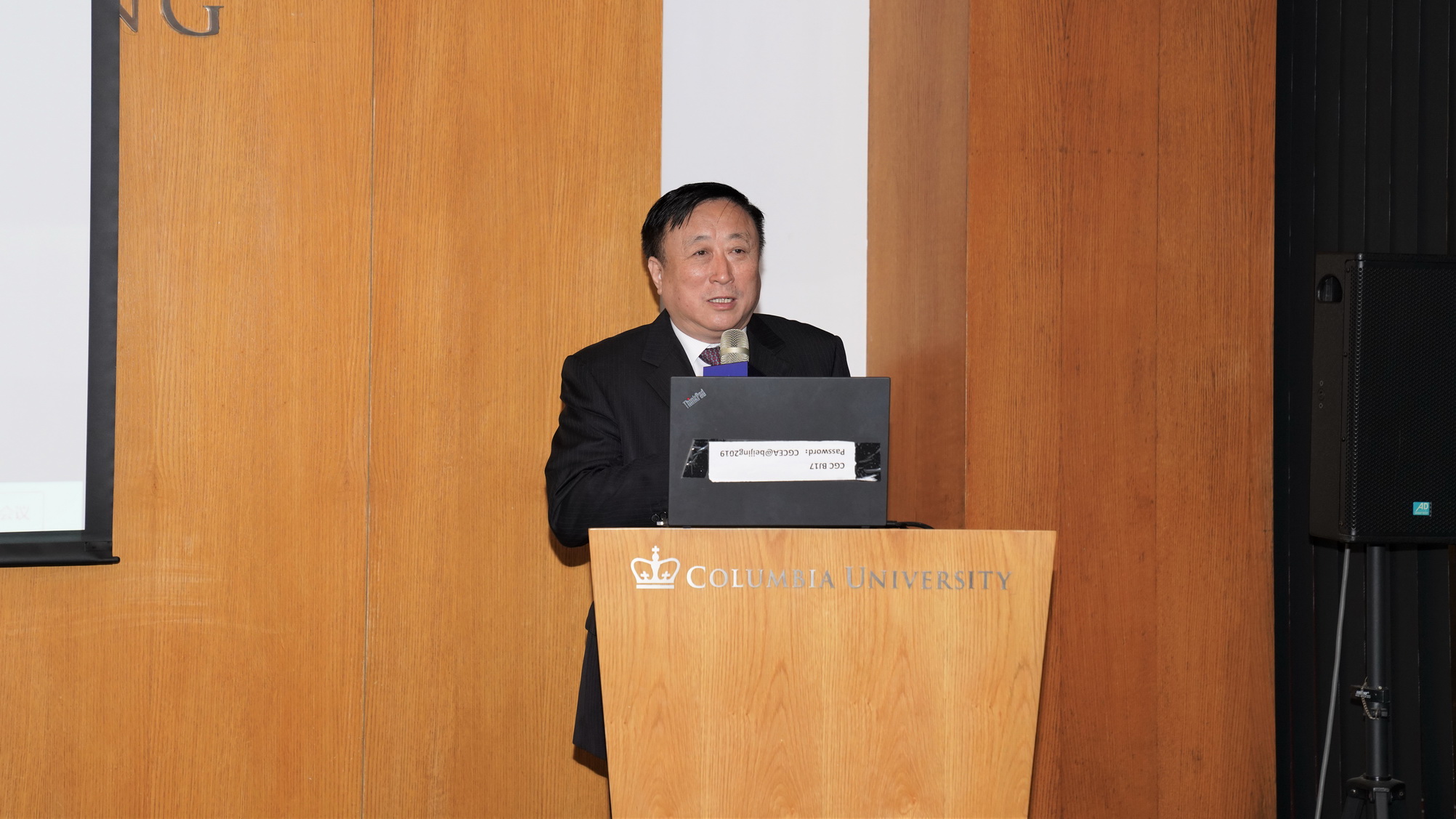 The Symposium introduced and launched Blue Book of Sustainable Development: Evaluation Report on the Sustainable Development of China (2021), which conducts comprehensive data-verified analysis of China's sustainable development in 2019 from national, provincial and major metropolis levels respectively and ranks the provinces, municipalities, autonomous prefectures and cities in terms of sustainable development level based on the framework of China's sustainable development evaluation index.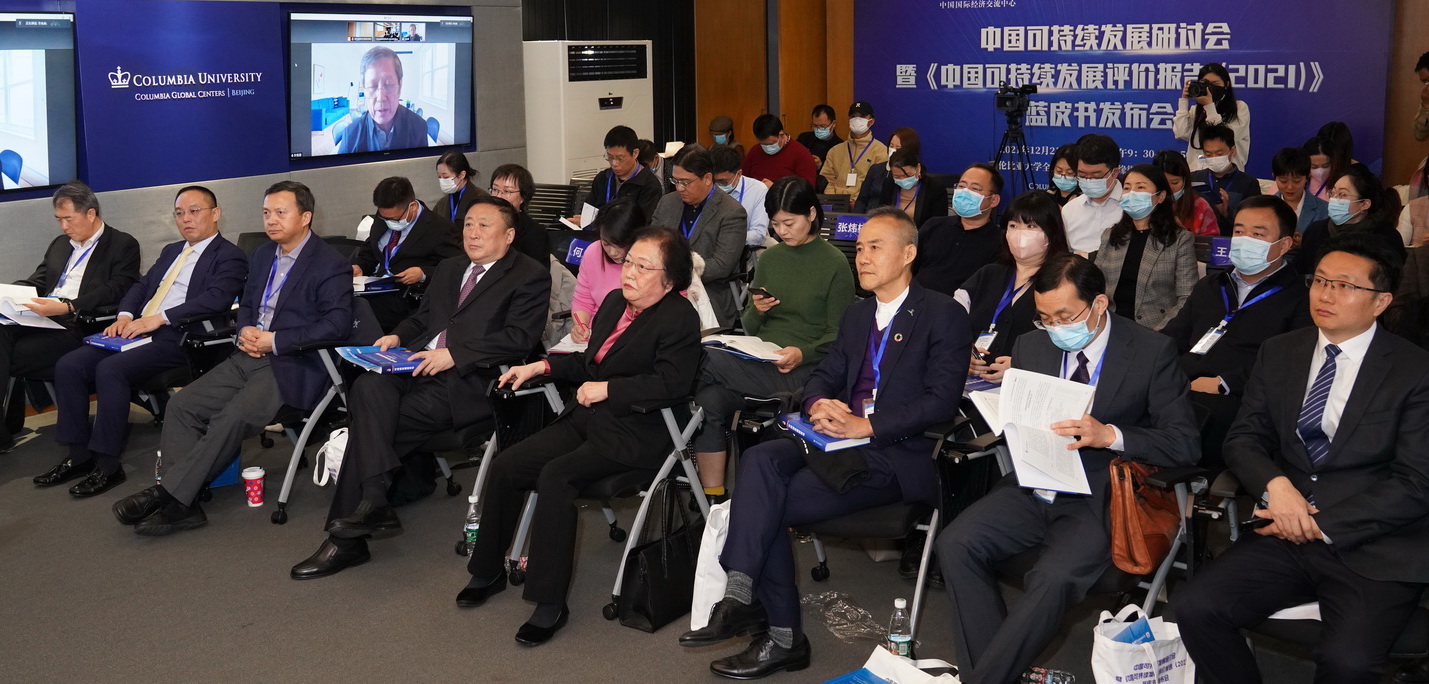 Data-verified result guided by national sustainable development evaluation shows that China has been steadily improving its sustainable development conditions. Years from 2015 to 2019 have witnessed stable improvement in China's sustainable development year by year, outstanding enhancement in economic strength, extensive improvement of people's wellbeing and environment, remarkable achievement in energy consumption and emissions control and accumulating outcomes of management and protective measures.
Provincial data indicates that four municipalities directly under the central government and provinces along the eastern coast rank top in terms of sustainable development level, with first 10 being Beijing, Shanghai, Zhejiang, Guangdong, Tianjian, Fujian, Jiangsu, Hubei, Chongqing and Sichuan.
Data of 100 medium-sized and large cities demonstrates that prominent improvement can be seen in sustainable development of cities in the east, among which Hangzhou ranks first, followed by Zhuhai, Guangzhou, Beijing, Wuxi, Shenzhen, Suzhou, Wuhan, Nanjing and Zhengzhou.
The Blue Book holds that China now has stepped into a new development stage, which is a pivotal transition for sustainable development. During the "14th Five-Year Plan" period, China's sustainable development faces four challenges, namely comparatively large emissions of carbon, large scale of high-carbon industries like steel, weak technology for energy saving and carbon reduction, and insufficient awareness of low-carbon consumption and actions across the whole society.
The Blue Book suggests that China should cement the outcomes of poverty alleviation, advance balanced development among regions, adhere to high-quality development, and lead the industrial transformation with technological innovation. In pursuit of "dual-carbon" targets, China should continue to facilitate ecological development, improve conditions of public health, build a community of common public health for mankind, and push forward the sustainable development in China.
Besides, the Blue Book releases "public health index", which collects, calculates and ranks the data of public health development in 31 provinces, autonomous regions and municipalities directly under the central government nationwide. The Index consists of five first-level criteria: input in public health, resource of public health, public health management, disease prevention and control and public health conditions, 12 second-level and 27 third-level criteria. In the general ranking list of public health development, the first 10 are Beijing, Shanghai, Zhejiang, Tianjin, Jiangsu, Shandong, Shaanxi, Jilin, Hubei and Inner Mongolia.
According to the Report, provincial-level public health conditions are related to local economic development. Public health conditions are to some degree regionalized. Although merits can be seen in different places, there is still much to do to achieve balanced development of public health. China should step up work to strengthen weakness in the future, matching public health services supply with the demand.
The Blue Book also includes specialized researches on "dual-carbon" targets and digital infrastructure, case studies on cities like Hechi, Chengdu, Kunshan, Shenzhen, Zhuhai and Guilin, comparative analysis on performance of Chinese cities in the mainland, New York and Paris regarding to economic development, social development and people's wellbeing, environment and resources, energy consumption and emissions and environment protection, and summary and analysis of some companies' sustainable development practices.