Study the 14th Five-Year Plan on Digital Economy - CCIEE Holds the 148th Monthly Economic Talk
Time:2022-01-24
source:中国国际经济交流中心
On January 19, 2022, China Center for International Economic Exchanges (CCIEE) held the 148th Monthly Economic Talk via video approach, with the theme on the Interpretation and Implementation of the 14th Five-Year Plan on Digital Economy. The Talk was hosted by Zhang Dawei, Vice Chairman and Secretary-General of CCIEE, with keynote speakers including Zhu Guangyao (online), Vice Chairman of CCIEE, Zhang Xinhong, Chief Information Analyst of State Information Center, Cao Ziwei (online), Vice President for Strategy of Airstar, and Zhang Monan, Principal Researcher of Institute of American and European Studies of CCIEE.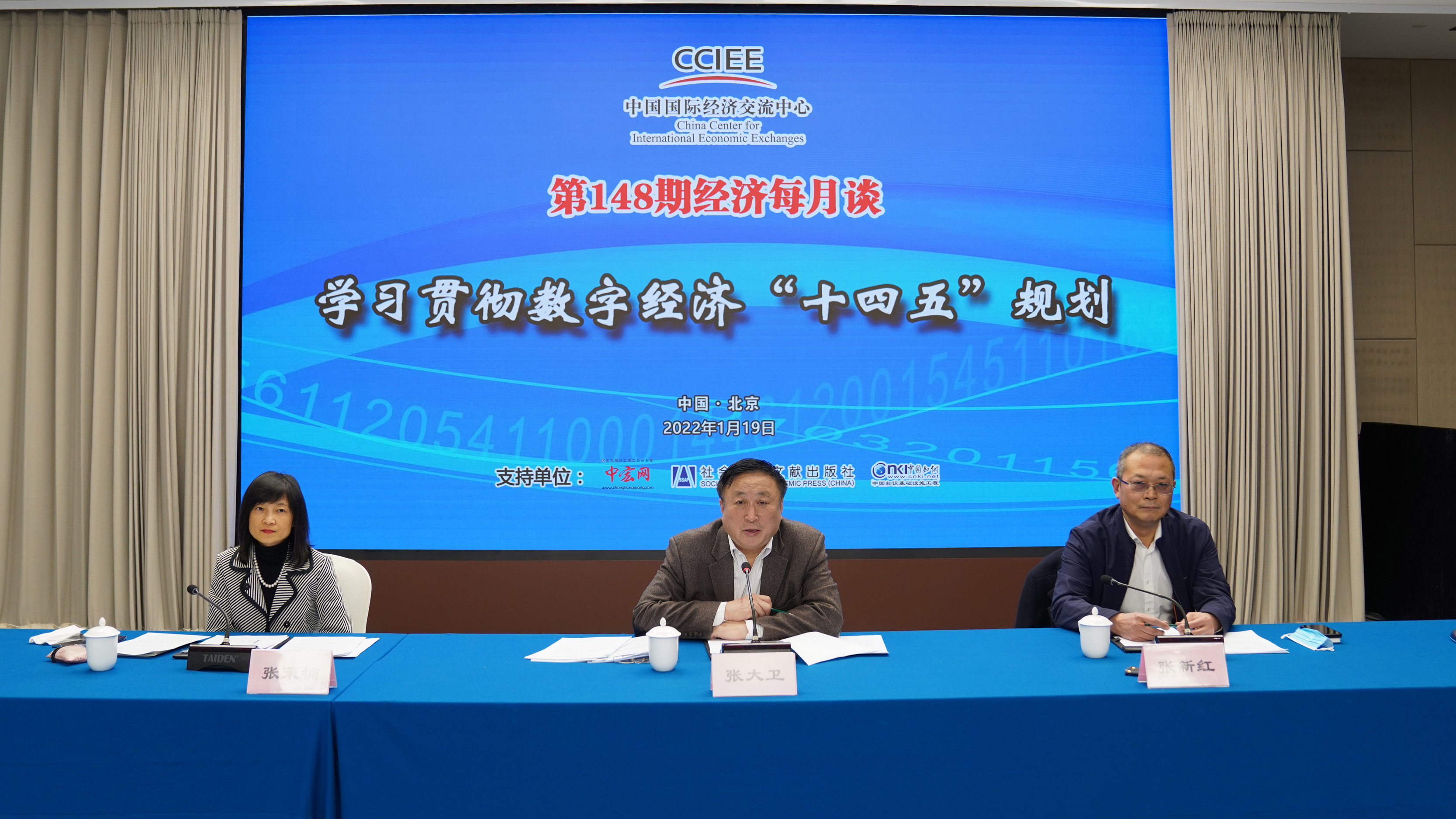 Zhu Guangyao pointed out that accelerating the industrialization of digital sector and facilitating industrial digitalization are active choice in promoting high-quality development in the digital era and creating new advantages in digital economy. International collaboration is essential to developing digital economy. China has officially applied to join the Digital Economy Partnership Agreement (DEPA), and is supposed to further enhance global digital economic cooperation through DEPA, formulate guiding rules which are well-rounded, comprehensive, inclusive and flexible, promote the flow and sharing of data, make enterprises realize data-driven innovation, push forward the development of new products and services, and create safe and reliable digital environment.
Zhang Xinhong held that digital economy has become the new impetus for the social and economic development in the digital era, and is pivotal to establishing a country's competitive advantage in the future. China now is facing a historical development opportunity offered by digital economy, and should follow the trend of digitalization, networking, datafication, intelligentization, platform building, ecology building, personalization and sharing, carry out all-round digital transformation of factors, explore governing approach in correspondence to the sustainable and sound development of digital economy, work out more flexible and effective policies, and renovate the model of coordinating management.
Cao Ziwei believed that digital economy enjoys a promising future. To further utilize digital technologies to boost the real economy, China should first carry out digital financing and publish the credit policies for digital economy development, reducing the possible financial risks for enterprises. Second, China should emphasize the role of market in developing the digital economy and digital industry, strengthening the regulatory capacities. Third, through technological innovation, China should cultivate more talents and seize the strategic opportunity of technological and industrial revolution.
Zhang Monan mentioned that the volume of data and of cross-border flow are booming as the construction of digital infrastructure is accelerating. Large internet platforms are expanding quickly, and digital trade is leading the growth of global trade. All of these demonstrate that the world has entered an era of digital economy. However, due to geopolitics, values, and digital protectionism, the world has not come to a consensus on the governing rules of digital economy. Digital economy has become a commanding height for major power competition. China is expected to give play of its advantages in industry and market, emphasize the digital security of the country, energize the factors for digital production, and raise the core competency of digital industry. Besides, China is supposed to improve its digital governance capacity, promote a high-level opening-up of the digital economic sectors, and actively participate in the global rule-making of digital trade.
After the keynote speeches, experts exchanged ideas with the media. Researchers of CCIEE, and participants from CCIEE's member organizations, research institutes, enterprises, and media attended the Talk online.