On the morning of December 16, 2009, CCIEE held its 6th "Monthly Economic Talk" at China Millennium Park, Beijing, under the theme of "Accelerating Adjustment of Economic Development". The talk was chaired by Liu Kegu, Vice Chairman of CCIEE Academic Committee.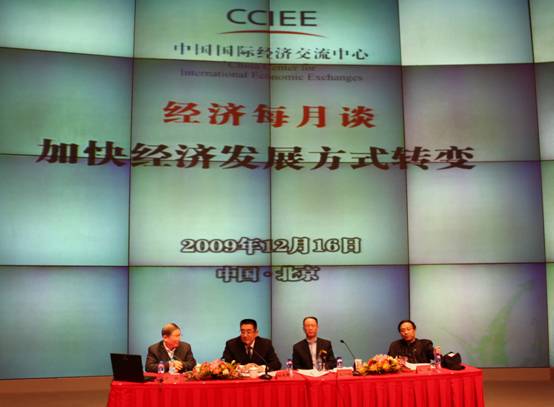 Several renowned experts addressed the talk. Lv Zheng, a research fellow from the Institute of Industrial Economics of the Chinese Academy of Social Sciences and a member of the CCIEE Academic Committee, delivered a speech entitled "Tasks in Adjusting Industrial Structure." Wan Yiming, Vice Chairman of the Academy of Macroeconomic Research of the National Development and Reform Commission, who is also an executive member of CCIEE, made a speech called "Accelerating Adjustment of Economic Development". Wan Jian, General Secretary of the China Society of Macroeconomics and member of CCIEE, gave a speech entitled "2010: A Crucial Year for Implementing Strategic Restructuring."
The 6th "Monthly Economic Talk" came on the heels of the Central Economic Work Conference 2009 that just adjourned in Beijing. More than 140 people attended the talk, including members of CCIEE and representatives from SOEs, private companies, research institutions, universities, and journalists. Also at the talk were staff from the Information Department and the Research Department of CCIEE.