CCIEE Holds the 77th Monthly Economic Talk
Time:2015-11-16
source:CCIEE
The 77th Monthly Economic Talk themed on "How Internet Changes Traditional Business Models" was held by CCIEE on the morning of 16 November 2015, at which CCIEE and Nankai University joint research group released its research report Internet Revolution and Changes in the Business Models in China. Chaired by Mme. Chen Wenling, Chief Economist and Assistant CEO of CCIEE, the meeting heard speeches from Mr. Liu Binglian, Assistant President and Head of the Institute of Economic and Social Development of Nankai University, Mr. Gao Hongbing, Vice President of Alibaba Group and President of Ali Research Institute, and Professor Chai Yueting, Director of the National Engineering Laboratory for E-commerce Technologies of Tsinghua University.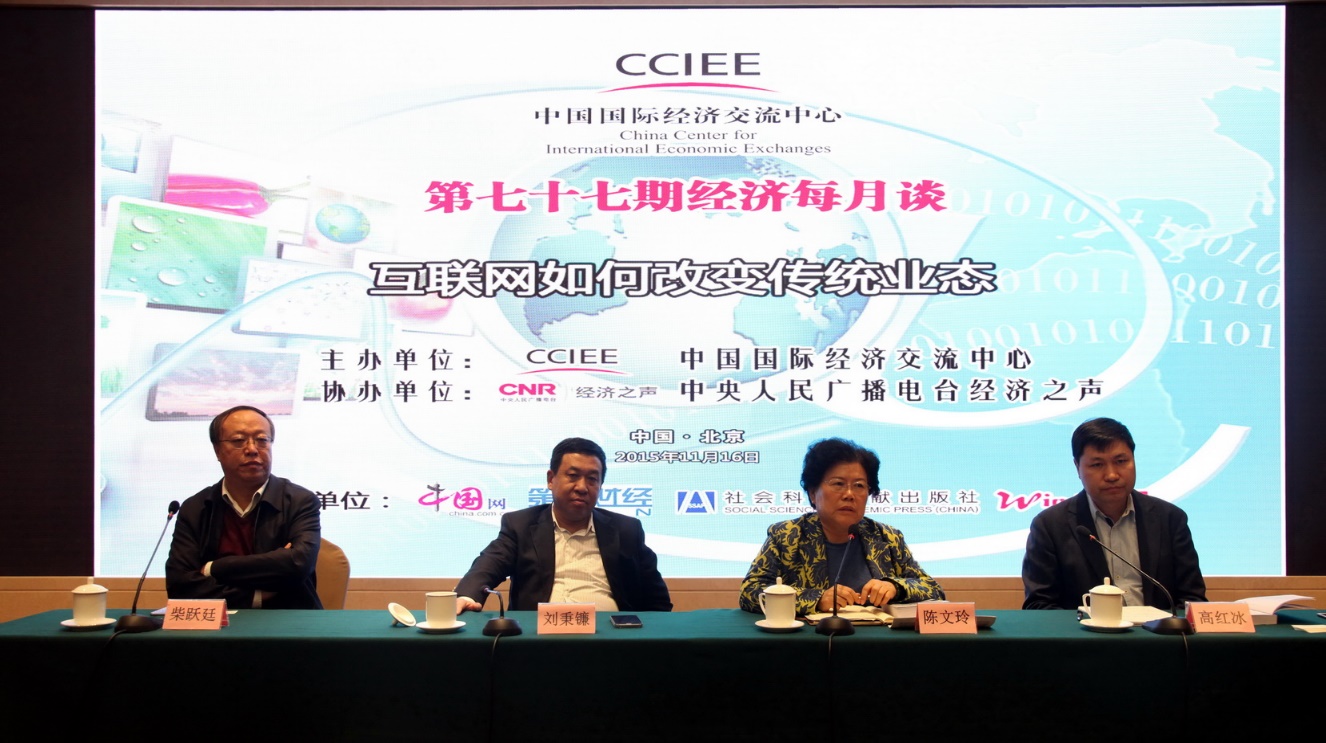 On behalf of the research group, Mr. Liu introduced the main outcomes of the research, summarized the connotation and future trends of Internet revolution, reviewed the theoretical basis of Internet in the economics and analyzed the profound impact of Internet on the service, manufacturing and agricultural industries. He noted that China's Internet development strategy has defined Internet as a basic industry of strategic importance and a basis for China's future development. This calls for focused efforts in six priority areas, namely, technological innovation and industrial transformation and upgrade, equal access to public services, effective governance, convenient and better life for the people, green energy and Internet security and regulation. He also outlined the six major tasks China has set for itself for the 13th Five-Year Plan period. They include building a ubiquitous high-speed next-generation Internet infrastructure, securing an advantageous position in the development of the global Internet industry and cyberspace competition, promoting Internet development as a way to break new grounds in transforming and upgrading China's growth model, using Internet as an important means to conserve energy and disseminate advanced culture, achieving a leading position in the development of the next-generation Internet technology and turning Internet into a major breeding ground for mass innovation and entrepreneurship.
Mr. Gao Hongbing expressed the view that China is at a critical moment of accelerated movement from industrial civilization to information civilization, with many fundamental and long-term changes taking place along the way. Business models are changing from B2C (business to customer) of the industrial age to C2B (customer to business). This has propelled enterprises to change their organization models from the "Taylor system" to the "cloud system". The "axis rule" of the industrial era characterized by standardization, specialization and centralization is also being transformed to be more personalized, flexible, decentralized, multi-directional, dispersed and micro-sized.
Mr. Chai Yueting said that Internet has stimulated the instinctive human needs, including the pursuit of individuality, the desire for self-expression, human inertia and consumers' desire to shop around for a better deal. With the potential human demand unleashed by the Internet, a fundamental driving force for the development of Internet-related industries has emerged.

After giving their speeches, the experts answered questions from the press and audience. Some CCIEE research fellows and representatives of its member organizations, relevant businesses and research institutions and the media attended the meeting.