CCIEE Holds 75th Monthly Economic Talk
Time:2015-09-21
source:CCIEE
On the afternoon of 21 September 2015,CCIEE held the 75th Monthly Economic Talk at the Multifunctional Hall, 2F, Beijing Media Center Hotel, with the theme of "Progress and Outlook of China-Mongolia-Russia Economic Cooperation". Presided over by Mr. Wei Jianguo, Vice Chairman and Deputy CEO of CCIEE, the meeting featured speeches from Li Luosha, CCIEE Research Fellow, Shi Ze, Research Fellow of the China Institute of International Studies, and Lv Guodong, former Chief Correspondent of Xinhua News Agency in Mongolia.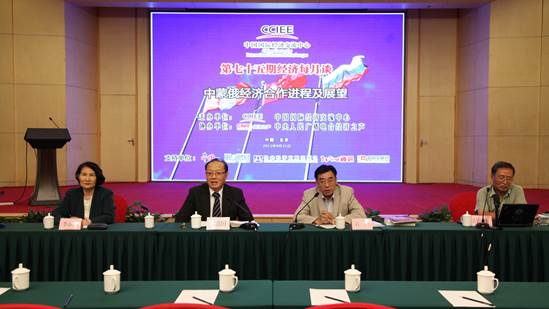 Li Luosha said that given the sound economic cooperation among China, Mongolia and Russia in North Asia since the turn of the new century, it is both strategically important and feasible to build the west line of China-Mongolia-Russia economic corridor. Shi Ze noted that relations among the three countries are at their best time in history, and so long as China and Russia maintain a solid, sound and stable relationship, their economic and trade cooperation could serve as a good foundation and impetus for the construction of the corridor. Lv Guoliang expressed the view that China and Mongolia are highly complementary with enormous potential for investment cooperation. The Chinese government needs to provide more training to enterprises making investment in Mongolia to enhance their employees' qualifications, strengthen corporate financial auditing, and improve the overall quality and performance of the outbound-going Chinese businesses.
After giving the speeches, the experts answered questions from the press and audience. Some CCIEE research fellows and representatives of some CCIEE member organizations, businesses, research institutions and the media attended the meeting.