Executive Vice Chairman Zhang Xiaoqiang Meets with President Joerg Wuttke of the European Union Chamber of Commerce in China
On 2 December 2016, Mr. Zhang Xiaoqiang, Executive Vice Chairman and CEO of CCIEE, met with Mr. Joerg Wuttke, President of the EU Chamber of Commerce in China. Mr. Yang Xuzhen, Head of the Economic Research Department of CCIEE, Mr. Xu Chaoyou, Director-General of the External Affairs Department of CCIEE, and Mr. Denis Depoux, Senior Partner and Vice President of Asia of Roland Berger Enterprise Management Co., Ltd., were present at the meeting.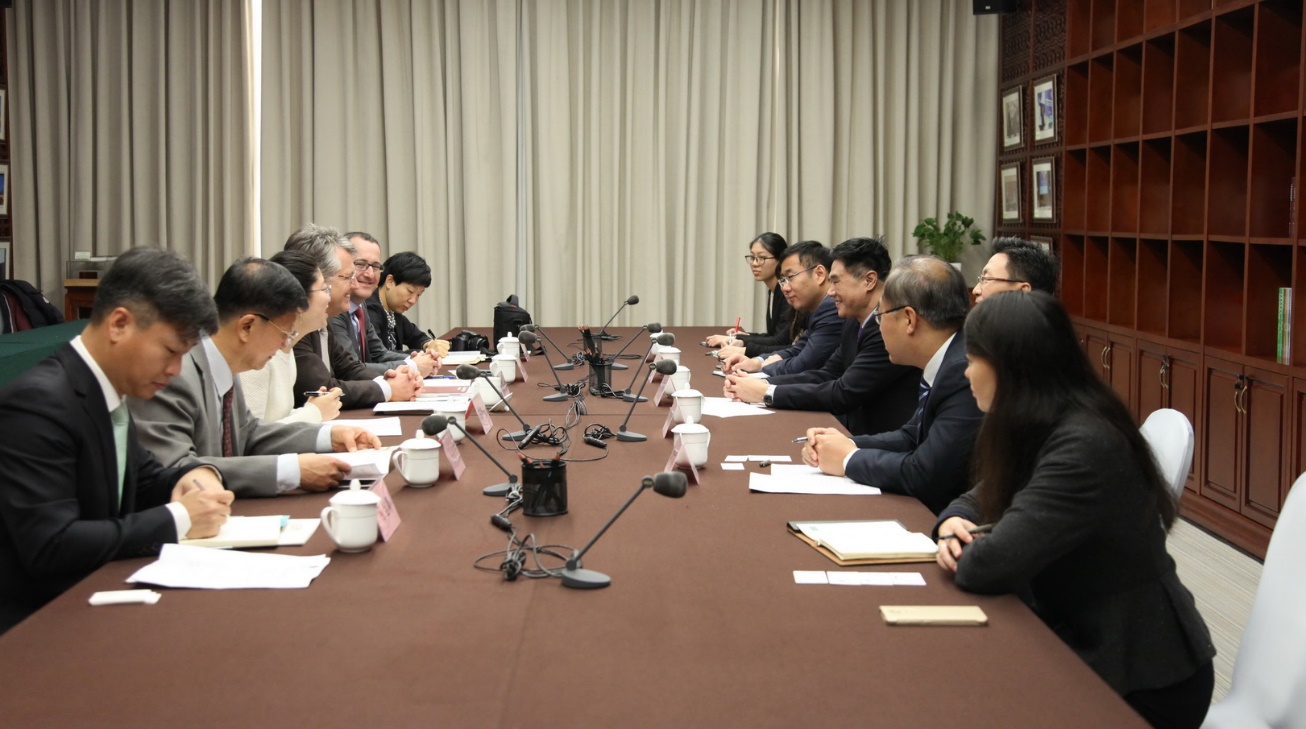 Mr. Wuttke briefed Mr. Zhang on the main content of the European Business in China Position Paper, noting that the EU Chamber of Commerce in China has made 900 specific suggestions on further improving the business environment for EU enterprises in China, involving 50 sectors. He said that while EU enterprises, on the whole, continuing to take a positive attitude about their business operations in China, they hope that China can further open up some areas to EU companies. China and the EU should strengthen cooperation on a reciprocal basis especially at a time when populism and trade protectionism are rising in Europe and the US, so as to jointly move forward the China-EU economic and trade relations.
Zhang Xiaoqiang thanked the EU Chamber of Commerce in China for its contributions to the development of China-EU economic and trade relations. He said that complementarity and win-win cooperation are the defining feature of the China-EU business cooperation, and Chinese enterprises' investment in the EU and other overseas markets is market-oriented. According to the "13th Five-Year Plan", the pre-establishment national treatment plus negative list management system will be fully implemented by 2020, and active efforts will be made to promote the China-EU and China-US BIT negotiations to facilitate mutually beneficial trade relations. As China's reform and opening up further deepen, EU enterprises in China will have more opportunities for development, and China-EU economic and trade cooperation will enjoy a broad prospect. It is hoped that EU enterprises will seize the opportunities and grow their business in China.
The two sides also exchanged views on deepening cooperation between the two organizations, further strengthening people-to-people and cultural exchanges and trade links between China and the EU, and assisting Chinese and European enterprises in jointly developing the third-party markets.