On July 17, 2017, CCIEE held the 97th Monthly Economic Talk under the theme of "Analysis of Chinese and World Economy in the First Half of 2017". Zhang Xiaoqiang, Executive Vice-Chairman and CEO of CCIEE, presided over the meeting. Bi Jiyao, Vice President of the Chinese Academy of Macroeconomic Research and Xu Hongcai, Deputy Chief Economist of CCIEE delivered their speeches respectively.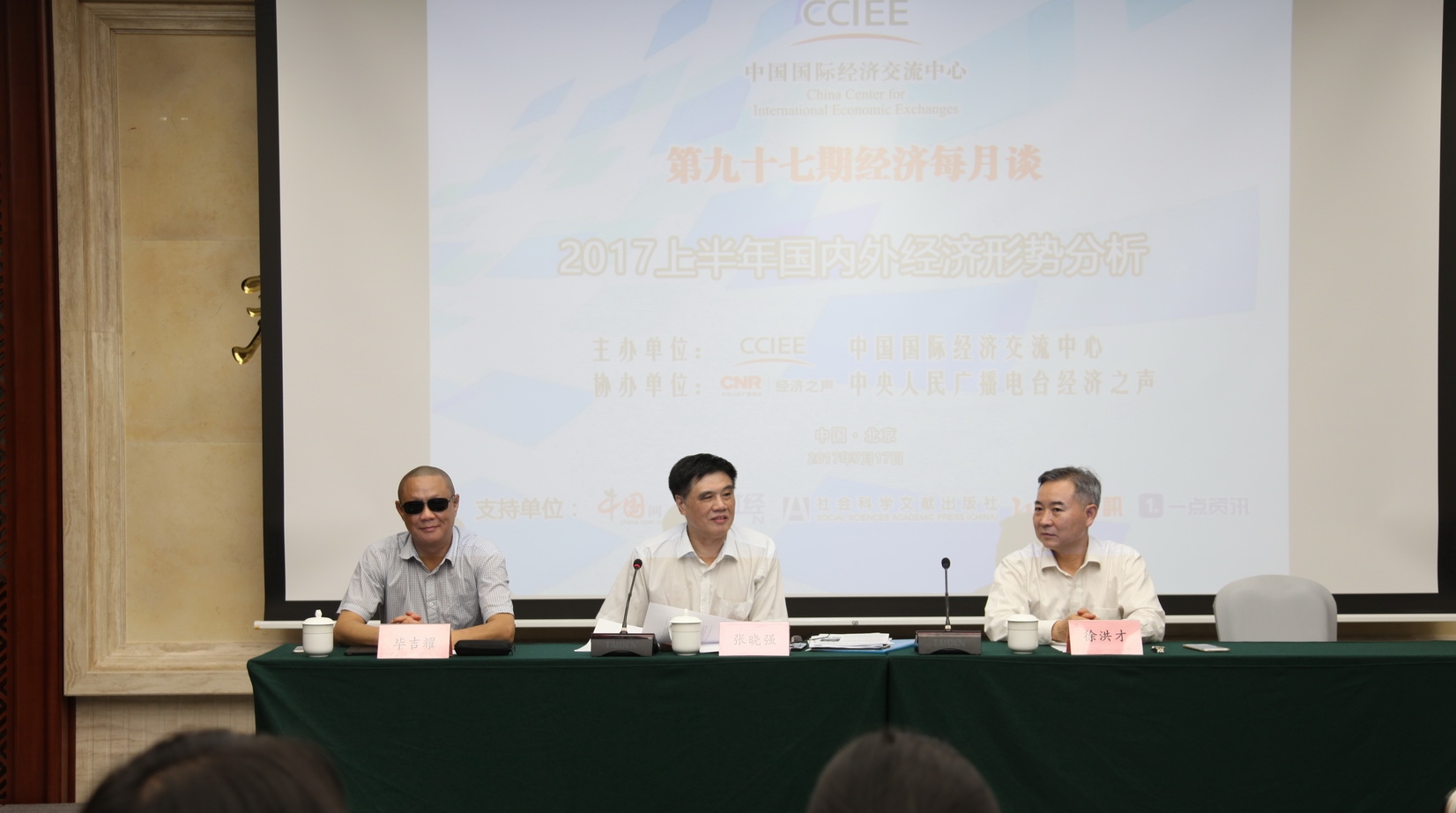 Bi Jiyao pointed out that the World economy has experienced deep self-adjustment and is now moving towards recovery since the 2008 international financial crisis. There have been some active activities in global trade and investment, manufacturing and other industries and the price of oil and other commodities have rebounded after moderate decline. In the medium-and long-term, the world economy will be faced with a slowing labor productivity growth and enlarging income disparity. Taking the new changes in global economy into account, China should adapt itself to the "new normal" of economic development, deepen supply-side structural reform while expanding the aggregated demand moderately. Internationally, China should continue to implement further opening up policy, advance the building of the Belt and Road and international capacity cooperation, deepen multilateral economic and trade cooperation so as to build an open economy.
Xu Hongcai asserted that with a growth rate of 6.9% in the first half of 2017, China's economic performance is better than expected and this figure is likely to be 6.8% in the second half as the economy remains steady and continue to grow gradually. Monetary policy is needed to support economic development. In the near future, China should continue to overcome difficulties, nurture a sophisticated market, optimize industrial structure and make breakthrough in the reform of SOEs, financial and tax system, pension fund and other key areas.
In the Q&A section, experts answered various questions from the media and audience. Researchers from CCIEE, representatives from enterprises, research institutions and news agencies took part in the event.