On 17 November 2017, CCIEE hold the 101st Monthly Economic Talk under the theme of "Developing New Economy and Fostering New Momentum". Chen Wenling, Chief Economist of CCIEE, presided over the meeting. Li Jianhua, Chief Developing Officer of Didi Chuxing, Ou Yangcheng, Director of the Center for Cross-border E-commerce Research at the Ali Institute, Zhang Yongjun, Deputy Chief Economist of CCIEE, delivered their speeches respectively.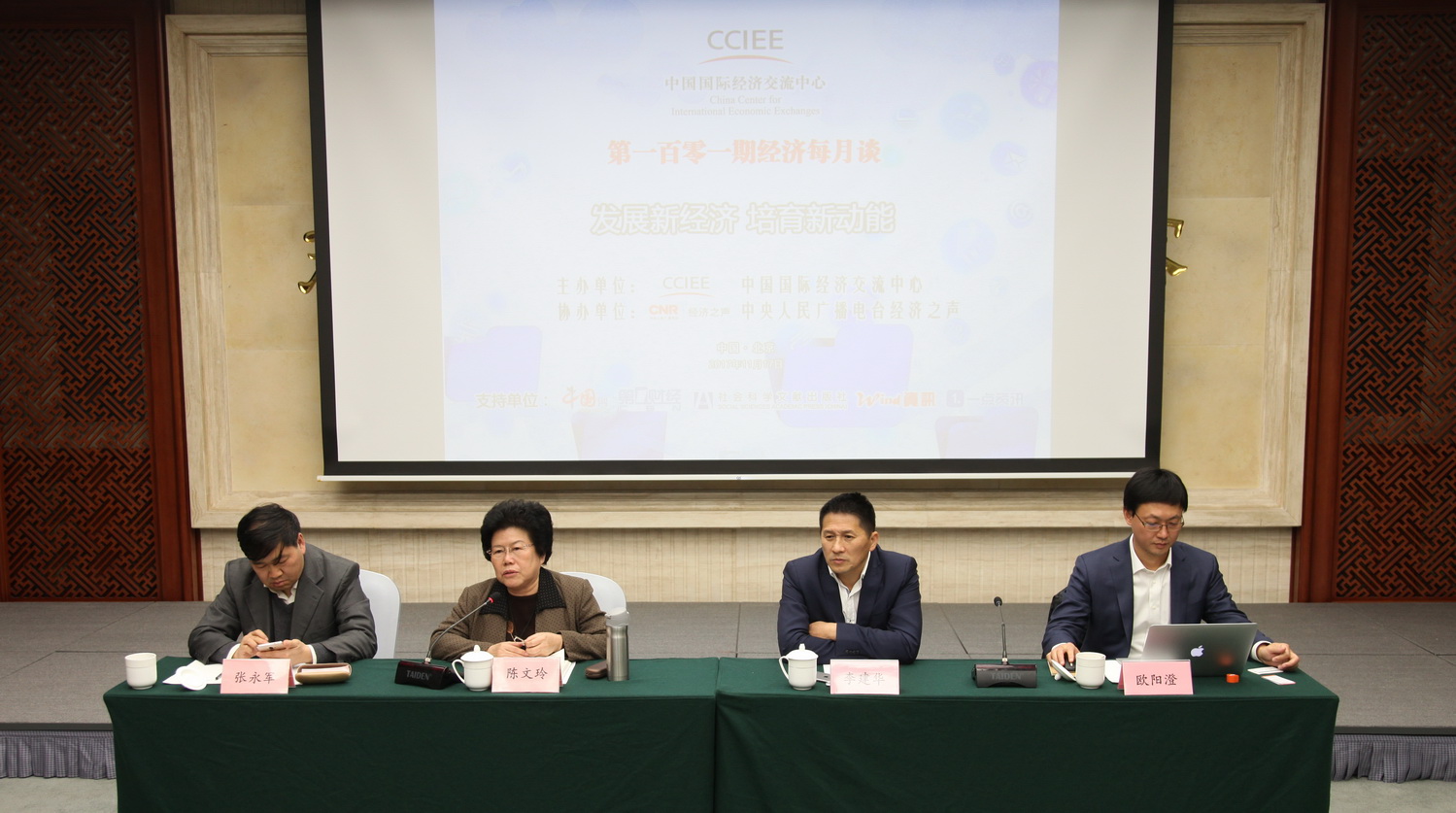 Li Jianhua pointed out that during the past five years, many companies similar to Didi have made continuous progress, indicating that the mass entrepreneurship and innovation have deeply rooted in the heart of the people. During its development, the company Didi has not just created job opportunities but also made a great contribution to emission reduction. The company wants to become the world's largest one-stop travel platform, the largest car operator and the leader of global intelligent transportation.
By comparing the top ten traditional multinational companies and the top ten platform-based economies, Ou Yangcheng pointed out that the digital economy and technology are the trend of future enterprises' development. The Internet has improved significantly consumers' shopping experience by offering advanced logistics, finance and technology. China's Internet economy accounts for 7% of its GDP, and has affected our daily lives profoundly. Furthermore, the cross-border e-commerce has grown very fast in China and become a new force driving China's economic development. As the EWTP (Electronic World Trade Platform) continues to develop, Ali Group will work on exploring new development model for cooperation among the countries along the road and belt region, so that all consumers around the world be able to enjoy the benefits of the e-commerce and digital economy, and ultimately to build a common community of shared future.
Zhang Yongjun believes that China's economy has made remarkable achievements in innovation, thanks to the contribution made by leading enterprises, government's guidance and supporting policies. In terms of promoting industrial development, however, he said that government policies need to play its role continuously. On the one hand, the policy-maker should create a better environment for the Internet-based economy and shared economy to further expand through deregulation. On the other hand, the government should improve its current regulation on these new industries. He noted that rural e-commerce and the service sector are the weak links of the Internet-based economy, and thus, the regulators need to formulate relevant policies to gradually improve them.
In the Q&A section, experts answered various questions from the media and audience. Researchers from CCIEE, representatives from enterprises, research institutions and news agencies took part in the event.