On December 23, 2017, China Center for International Economic Exchanges and Xinhua News Agency High-end National Think Tank co-hosted the Annual Meeting of China Economy 2017-2018 in Beijing. Zeng Peiyan, Chairman of CCIEE, and approximately 300 entrepreneurs, experts and scholars, and representatives from relevant departments and think tanks attended the meeting. Wei Liqun, Executive Vice Chairman of CCIEE, presided over the meeting.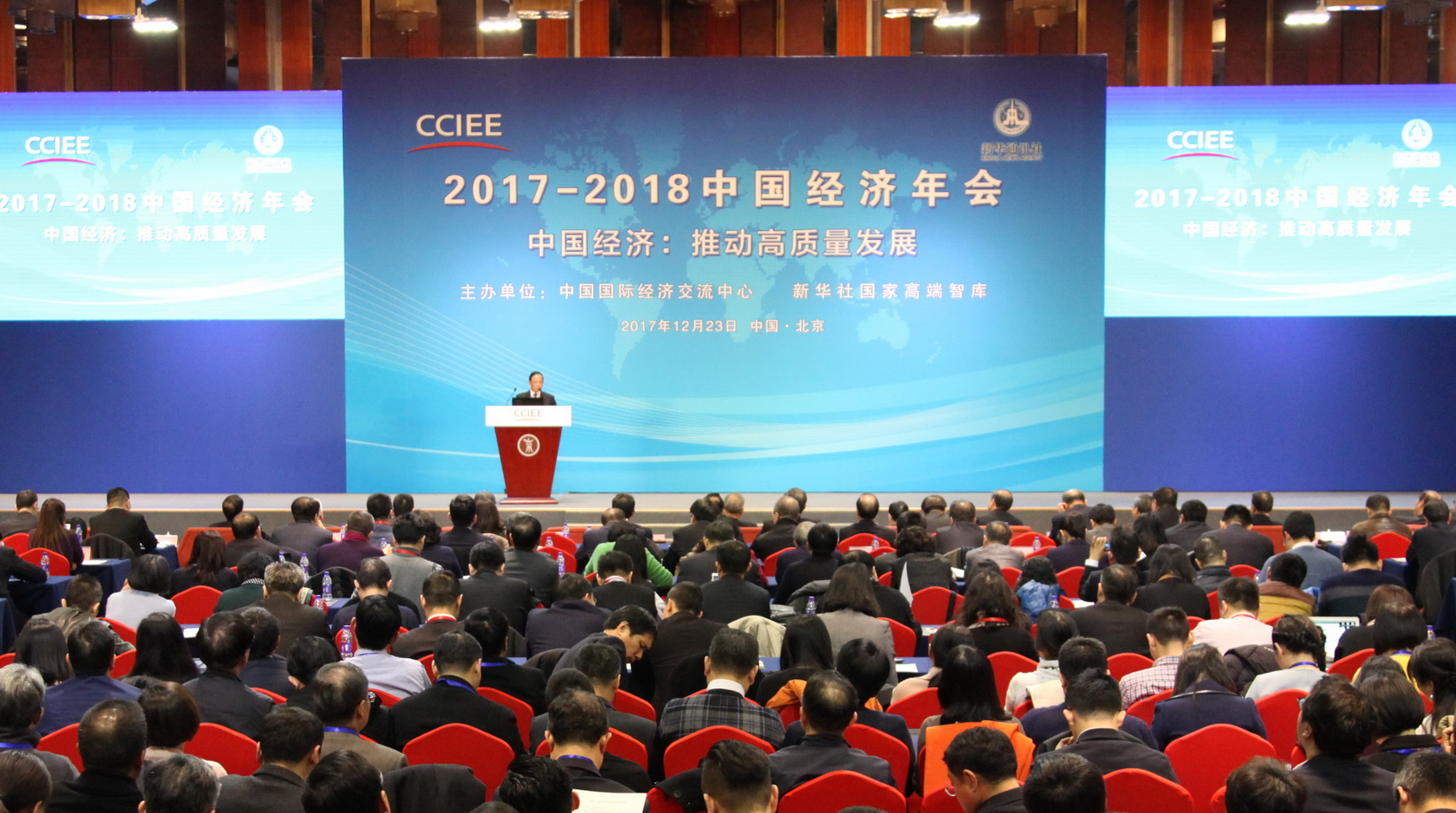 The theme of this annual meeting is "China's economy: promoting high-quality development," with the aim of studying the spirit of the 19th National Congress of the CPC, implementing all tasks and arrangements made by the Central Economic Work Conference. Guided by Xi Jinping's theory of socialist economy with Chinese characteristics in the new era, the meeting focused on the requirements of high-quality economic development and the participants conducted in-depth discussions on such topics as China's development after the 19th National Congress of the CPC, improve the quality of the supply system, promote innovation-driven development, and the formation of a new pattern of opening up.
The participants of the meeting suggested that the current international economic situation is still complex and volatile, the global economic recovery is gaining stronger momentum and the new economy, represented by the digital economy is developing rapidly. However, there are still new uncertainties, such as the spillover effect of US economic policies. From the domestic perspective, the supply-side structural reform has been steadily pushed forward under the guidance of the new concept of economic development since the 18th CPC National Congress. The economic growth has stopped falling and become stabilized, and economic restructuring has been implemented. Nonetheless, problems such as insufficient and unbalanced development remain to be unsolved.
All the participants agreed on that China's economic development should be guided by Xi Jinping's theory of socialist economy with Chinese characteristics in the new era. We must uphold the general principle of seeking economic growth while maintaining stability, and implement properly the economic work laid by the 19th National Congress of the CPC.
Representatives from relevant organizations and government departments shared their views on different aspects of China's economy, including the Central Leading Group on Financial and Economic Affairs, National Development and Reform Commission, Ministry of Science and Technology, People's Bank of China, State Administration for Industry and Commerce, Xinhua News Agency, Development Research Center of the State Council, and China Council for the Promotion of International Trade.