CCIEE Holds the 110th Monthly Economic Talk
Date:2018-08-30
Source:CCIEE
On August 28, 2018, China Center for International Economic Exchanges held the 110th Monthly Economic Talk, under the theme of Analysis of China-US Trade Conflicts. Xu Hongcai, Deputy Chief Economist of CCIEE, presided over the meeting. Wei Jianguo, Vice Chairman of CCIEE and Executive Deputy Director of the CCIEE Executive Board, Chen Wenling, Chief Economist of CCIEE and Deputy Director of the Executive Board, and Zhang Monan, Researcher of CCIEE, delivered their speeches respectively.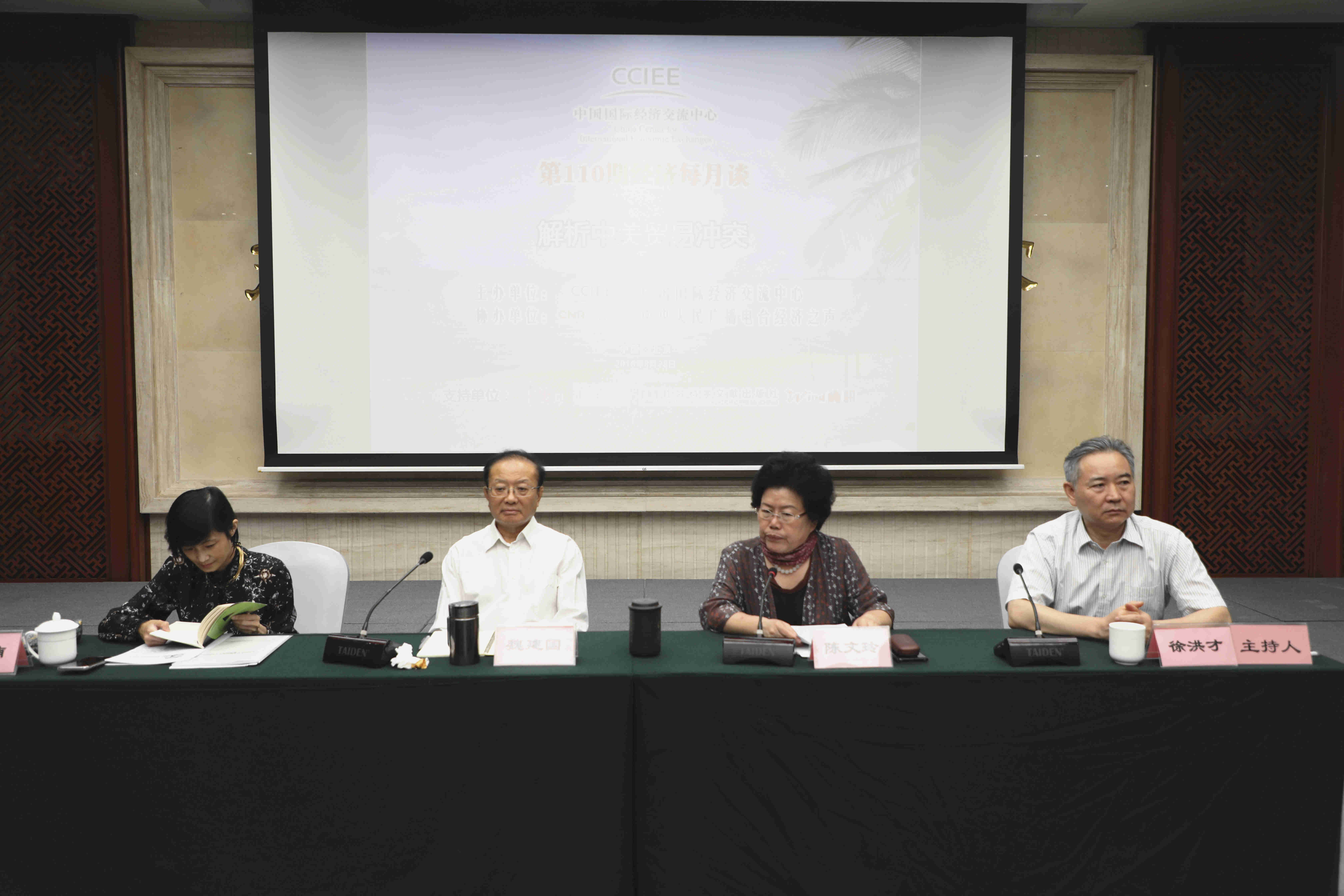 Wei Jianguo disagreed with the pessimists who argue that foreign capital has started to escape from China since the outbreak of the trade war. He believes that China has great advantages in the trade war due to its economic resilience, flexibility, integrity of the industrial system, and huge consumption potential. Currently, China should focus on promoting a new round of reform and opening up and the supply-side structural reform. We should remain realistic and confident.
Chen Wenling pointed out that the trade war will bring great uncertainty and instability to the world economic growth, and it will fundamentally change the world structure. The dollar hegemony and the adjustment of the US dollar and exchange rate will have a great impact on the global financial system. The impact of the trade war on the world's manufacturing industry will also be enormous. China should strengthen the tax reform, adjust the tax structure, and reduce the tax burden, so as to reduce the panic and uncertainties brought by the trade war.
Zhang Monan believes that the US trade protectionism is fully reflected in the tax reform with the goal of "reducing costs, increasing strength, and encouraging the backflow of the US companies and capital". The tax reform has brought advanced technologies, capital, and talents back to the United States, posing a great challenge to the global multilateral trading system and tax governance. China should come up with a top-level design to enhance its core competitiveness. Amid the new round of industrial revolution and global manufacturing restructuring, China's should improve its overall competitiveness in four aspects, reducing costs, strengthening competitiveness, optimizing structure and promoting value retention.
In the Q&A section, experts answered various questions from the media and the audience. Researchers from CCIEE, representatives from enterprises, research institutions and news agencies took part in the event.