Wang Yiming, Vice Chairman of CCIEE, Meets with Caroline Elizabeth Wilson, British Ambassador to China
Time:2021-08-18
source:CCIEE
On 18 August, Wang Yiming, Vice Chairman of CCIEE, met with Caroline Elizabeth Wilson, British Ambassador to China, upon invitation. Wang briefed on macroeconomic trends in China and the two sides exchanged views on issues of both concerns in China-Britain economic and trade relations.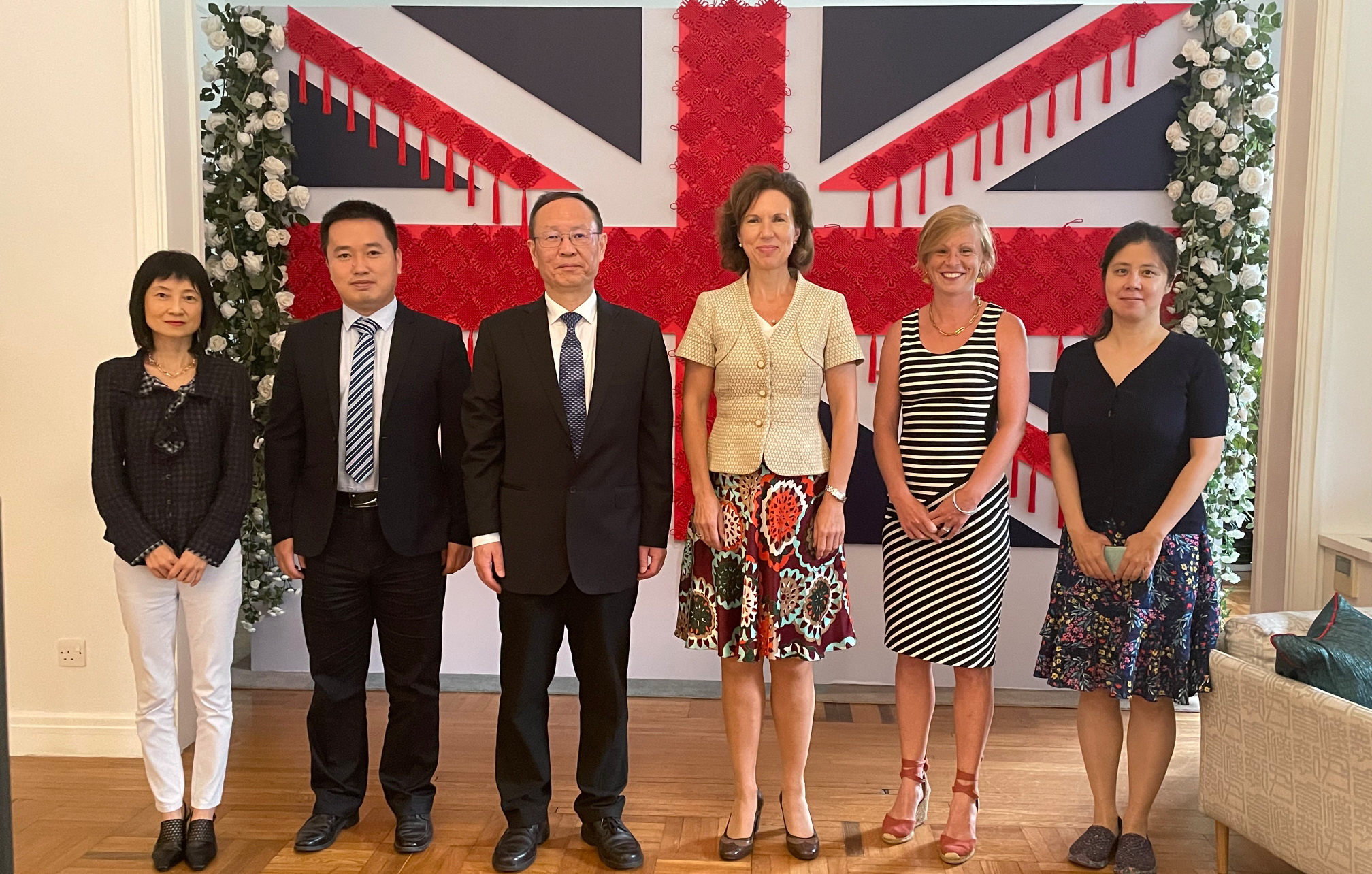 Wang Yiming said that China's economy has remained good momentum of recovery this year. Thanks to the low base effect of last year, the GDP of the first half of this year increased by 12.7%. The export has kept strong growth beyond expectation and the contribution of net export to economy is dramatically increased. For the second half of this year, the economic growth would gradually slow down with the base effect weakening. The annual growth rate of GDP this year is likely to reach 8.5% while the dual-annual average growth rate would roughly keep aligned with the estimated level of the Fourteenth Five-Year Plan period.
Wang pointed out that there would be various factors influencing the trend of China's economy for the second half of year. First, the export would grow slower as western countries gradually recover their productions and reduce orders from China. Second, the consumption would be influenced by factors like post-pandemic resident income growth, consumption expectation and recovery of service consumption. Besides, the production of a part of enterprises would be influenced because of increased cost brought by higher prices of upstream commodities like crude oil and iron ore and shortage of chip supply. Last but not least, earlier quantitative easing policy adopted by the Federal Reserve would cast large impact on external environment of financial market to China's economy.
Generally speaking, China's economy would enjoy a potential growth rate of about 5.5% during the Fourteenth Five-Year Plan period. It is reasonable considering larger aging population, lower saving rate and less investment. But, as the investment in research and development increases and human resources accumulates, the quality of development will continue to improve as technology evolution and higher productivity contribute more to economy.
Wang Yiming and Caroline Elizabeth Wilson also communicated on China's pursuit of double goals of carbon reduction, China-Britain economic and trade relations and bilateral cooperation on addressing climate change. The two sides agreed that China and Britain should smoothen channels for exchanges to enhance cooperation on economy and trade, renewable energy and green finance, etc. The two countries should take a long-term approach, boost ties through deeper and extensive cooperation and reach more consensus.
Attending the meeting were also Zhang Monan, Principal Research of CCIEE Institute of American and European Studies and Lottie Murphy, first secretary of British Embassy in Beijing.